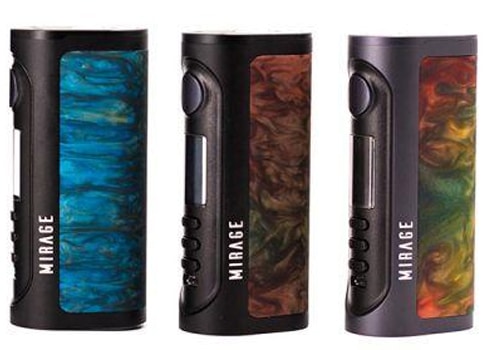 Update: The
Lost Vape Mirage DNA75C
100W Box Mod Has Been Discontinued – Check  Newer Evolv DNA Mods
Or
All Mod/Kit Deals
Here are cheap deals for the Lost Vape Mirage DNA75C 100W Box Mod.  This mod is made with Evolv's DNA75C chip board and features a full color display, 21700/20700/18650 battery compatibility, exquisite resin dyed panels and efficient operation. The device retails for over $150, so check out the blowouts below
Overview
The Lost Vape Mirage is built with a DNA 75C chip and features a color screen, 100 watts of power, efficient operation, 21700 & 20700 or 18650 battery compatibility and accurate temperature control.
Design-wise, this mod is made from zinc alloy for longevity and has a unique resin dyed panels. The frame is available in either dark grey or black with green agade, red blaze, purple blaze, dark blaze and rose wood resin finish. Size-wise the Mirage DNA 75C measures 93mm x 43.5mm x 28.00mm, so it is quite portable. At the top of the mod, you will find a 510 atomizer bezel that has a springloaded center pin for level atty installs. The control face of this mod has a DNA 75C screen which allows it to display vape data in full color, change the background and change the wallpaper via Escribe software. Navigating the menu is further made easy thanks to a third select button that allows easily selecting of menu items.
Technically, this mod is state of the art with available output modes that entail variable wattage, TCR and three variable temperature preset modes for stainless steel, titanium and nickel heating elements. There is also a preheat capability for temperature control modes, as well as the ability to set initial resistance. The maximum power the Mirage DNA75C is capable of is 100 watts and in temperature control modes the max output is 600 Fahrenheit with a heating elements resistance down to 0.15ohm.
For power, this mod utilizes either a 21700 (longest possible vape times), 20700 or you may install an 18650 battery with the included battery sleeve adapter. A micro USB charging port allows you to top off the cell while it is installed and the port is also used for future firmware upgrades. The Mirage DNA 75C also has an entire suite of safeties that include low voltage protection, overheating protection, short circuit protection, low resistance protection, atomizer protection, cell balancing and cell-by-cell monitoring.
Total Views Today: 1 Total Views: 226