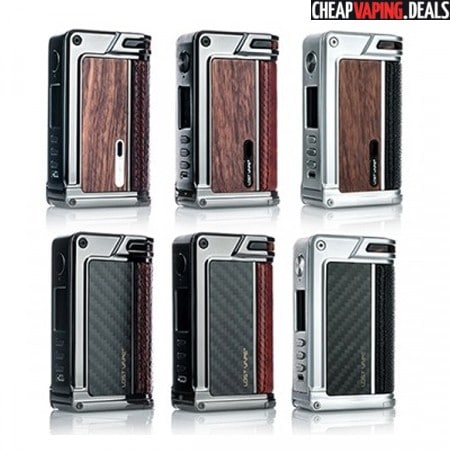 Here's a discount for the Lost Vape Paranormal DNA 75C Box Mod that features an updated Evolv DNA chip with full color display.
Update: This Item Is Out Of Stock Everywhere – Check  Similar Evolv DNA Mods Below
Paranormal Box Mod Review
Overview
The Paranormal is the most recent Lost Vape box mod that utilizes the latest DNA 75C chip board.  It features the classic design with new exotic colors/materials, swappable panels, a full color display, changeable display themes, changeable fonts, adjustable menus, triple adjustment buttons for easier operation, dual 18650 batteries and the same efficient, precise operation as you have come used to from any Evolv powered device.
Machined from die cast zinc alloy, the body has the traditional lost vape look and similar dimensions of previous devices at 91.5mm x 27.5mm x 55mm.  But, the design looks to be more exquisite with different chassis color options (silver, black, gun metal) combined with different combinations of panelss/inlays that can include leather, carbon fiber, wood, abalone and artificial turtle shell. Panels can also be removed with included suction tool to swap them out.  Many more combined colors and materials are set to be released.  All the buttons, the faceplate and the 510 atomizer connector are also made of stainless steel for durability.
On the control face, you will find a full color TFT screen that brilliantly displays vape date in a convenient way. The screen is programmable to customize your favorite settings — change the font or upload themes — via Escribe software that can be downloaded from the Evolv website. Below the screen, you will also see three adjustment buttons that result in effortless menu operation.
To ensure long vaping times, the Lost Vape Paranormal utilizes dual 18650 batteries to ensure long vaping times without recharges. The cells are accessed via a sliding bottom battery door.  Micro USB charging technology allows for easy recharges that occurs at a 1A rate and utilizes a balanced charging system to ensure each cell achieves equal voltage.
The maximum power output of the Paranormal Box Mod is 75W, temperature can be varied up to 600 Fahrenheit with nickel, titanium, stainless steel and the minimum resistance capability is .15ohm for temperature coils and 0.25ohm for kanthal coils.  With the DNA 75C, there's also an improve voltage output of 9 volts.
Features & Specs.
Updated Evolv DNA 75C chip board
Dimensions: 91.5mm x 27.5mm x 55mm
Weight: unknown
Colors: black, silver, gun metal
Vacuum vapor plating with UV protection
Swap out magnetic panels (carbon fiber or wood) with included suction cup
Many material combinations available

Artifical turtle shell
Abalone
Wood
Carbon fiber
Leather

Large full color OLED

Compatible with Escribe software
Customize font
Upload customized theme
Customize menus
Vertical menu

LED indicator light
Stainless steel buttons
Stainless steel face plate
Stainless steel/spring-loaded 510 connection bezel
Three adjustment button for easy navigation
Utilizes dual 18650 cells

Bottom loaded
Springloaded/sliding battery cover
Springloaded contacts
Clearly marked polarities
Micro USB 1A charging
Balanced charging system

Power output range: 1W to 75W
Temperature Control range: 100°C-315'°C or 200°F-600°F
Output modes: TC-Ni/TC-Ti/TC-SS/VW/TCR
Temperature control minimum resistance: 0.15Ω
Power mode minimum resistance: 0.30Ω
Maximum output voltage: 9.0V
Included: micro USB charging cable included
Included: panel remover
User's manual
Pictures
Total Views Today: 1 Total Views: 261