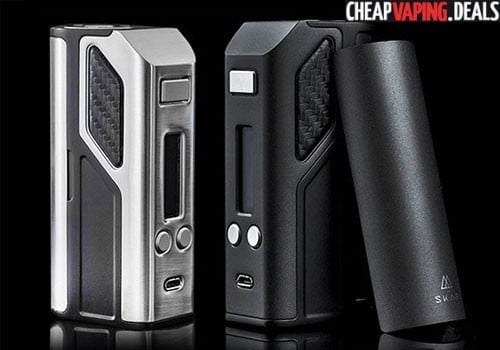 Update: The
Lost Vape Skar DNA 75 Box Mod
Has Been Discontinued – Check  Newer Evolv DNA Mods
Or
All Mod/Kit Deals
Overview
The Skar Box Mod by Lost Vape is a DNA 75 mod that features an Evolv chip board, an amazing design, a portable form factor and can be powered by either a 26650 or 18650 battery.  It is available in black or silver.
The vape mod measures 90mm x 45mm x 30mm so it is both portable and lightweight.  The device is made from die cast zinc alloy and is built with custom leather side inlays that make the device look elegant.   To allow for large diameter builds or tanks, the atomizer bezzle at the top measures 30mm across and  features a stainless steel threaded 510 connection with a spring-loaded center pin for maximum adaptability.
On the control face of the Skar, there's a large rectangular fire button, two adjustment buttons, a USB port and  an OLED screen with a popular DNA 75 menu.  The device also features USB upgrade capability in case Lost Vape makes a new operating system in the future.  The port is also used to charge the single 18650 or 26650 battery which is stored behind a magnetic battery door at the back.  To use an 18650, simply insert the included 18650 battery sled into the bay.  Using a 26650 battery will allow for longer vape times, with less frequent recharges.
The Skar mod utilizes an Evolv DNA 75 chipset, known throughout the vape industry for extremely stable performance and easy customization.  The chip board permits the device to fire atomizers up to 75 watts, control temperature up to 600 Fahrenheit, work with atomizers down to 0.08Ω and supports titanium, nickel and stainless steel coils in variable temperature mode.  The unit's preset modes can also be customized via Escribe desktop software for maximum customization.  Escribe also allows you to see puff statistics and more.
And, you can be assure you'll have a safe vaping experience with this DNA mod as it has built-in atomizer protection, low resistance protection, short circuit protection, over heat protection and low voltage protection.
Features & Specs
Dimensions: 90mm x 45mm x 30mm or 3.54″ x 1.77″ x 1.18″
Weight: 193g or 6.81oz
Compact, portable, light
Made from die cast zinc alloy
Colors: black or silver
Leather or carbon fiber inlays for high-end look
30mm atomizer bezzle
510 spring-loaded stainless steel threaded connection with nickel plated brass pin
Power range: 1W to 75W
Temperature range: 200°F to 600°F
Power mode minimum resistance: 0.15Ω
Variable temperature minimum resistance: 0.08Ω
TC mode supports Ni200, SS, Ti
Use 26650 or 18650 battery will included sled
Magnetic battery door for easy swaps
85% efficient
Cell by cell monitoring
Cell balancing
Firmware upgrades
Escribe customization
Many safety features
 Pictures
Video Review
Not available yet
Total Views Today: 1 Total Views: 164