Here are cheap deals to purchase the Lost Vape Thelema Quest Mod or Thelema Quest Kit.  The mod features 200 watts of power from dual 18650 batteries, tons of modes including temperature control, a full-color display, triple adjustment buttons for easy menu navigation, three memory slots, and fast Type-C charging.  The kit comes with UB Pro Sub Ohm Tank and features a 5mL juice capacity, triple airflow slots, and an effortless side filling slot.  This setup is for sale in 11 different colors.
Blowout Deals
Thelema Quest Box Mod
The Lost Vape Thelema Quest is the more affordable version of the Thelema DNA250C mod. Like the more expensive device, it has many finishes and colors for sale. Feel free to choose from the transparent series (clear, gunmetal, SS), the carbon fiber series (black, gunmetal, SS, matte blue, matte red), or the calf leather series (black, gunmetal, SS).  If you look at the overall design, the finishes are simply unbeatable, and the appearance is dazzling.
This mod also features 200 watts of power from dual 18650 batteries, conveniently hidden behind the grip that easily slides off.  This makes swapping the batteries effortless and has a bonus that you can swap the grip for a new look every time you go out.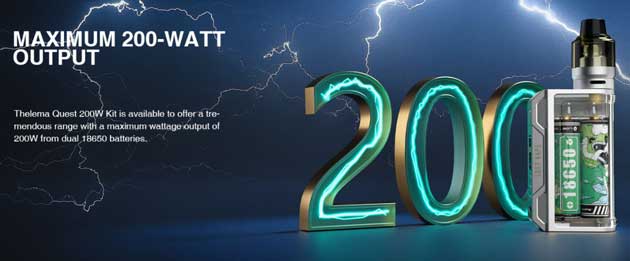 Don't fear if you have a charger to recharge the two 18650 batteries.  You see, just like the DNA250C version of this setup, the Lost Vape Thelema Quest Mod also features a Type-C charging port on the control face that works with a 5V interface to achieve a full charge quickly.  Whenever you connect the cable to a power source, a battery icon on the screen will animate until fully charged.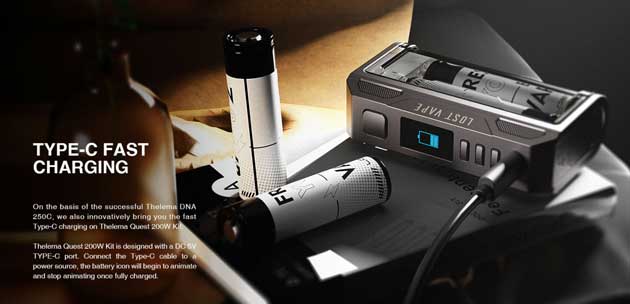 The mod also does not disappoint on the technical level as there are five vaping modes: vpc, bypass, wattage, voltage, and temperature control that works with SS, nickel & titanium coil heads.

And there are also three additional firing modes for a more personalized experience.  These include a soft fire mode that lowers the standard wattage, the normal fire mode, which utilizes the standard settings of your vaping mode, and a hard mode that cranks up the initial output above the standard level.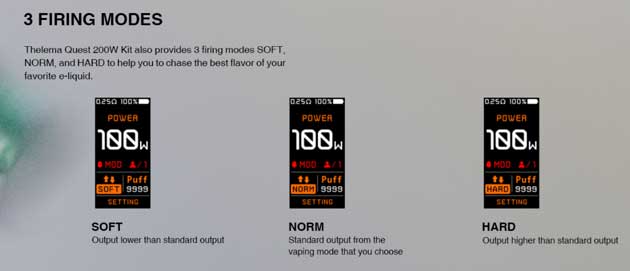 The Thelema Quest Box Mod also has three available memory slots.  This way, you can easily save and use your favorite vape settings.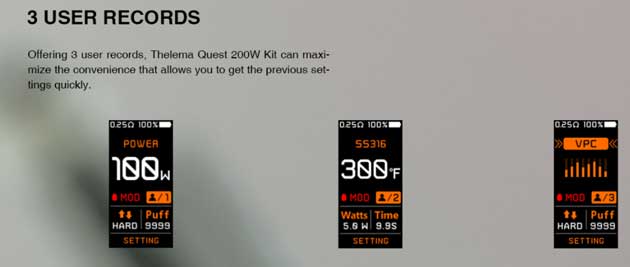 Thelema Quest Kit
With the purchase of the kit, you'll receive the UB Pro Sub Ohm Pod Tank.  This affordable atomizer can store 5mL of e-liquid and perfectly matches the mod.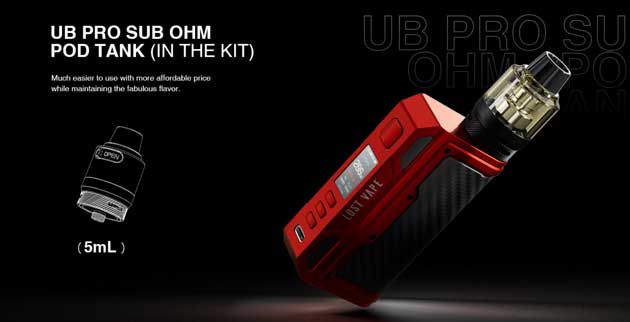 The tank features triple adjustable airflow inlets to produce flavorful vapor exactly how you want it.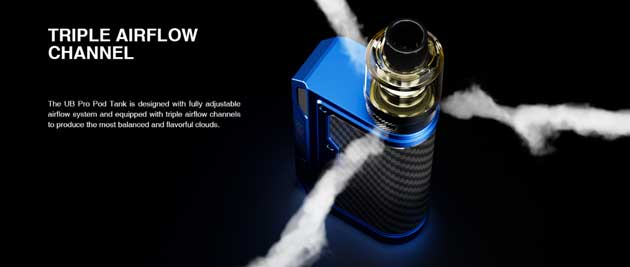 Refilling the Thelema Quest Kit is also a breeze and uniquely takes place.  The pod tank has a side-fill port with an easily removed stopper.  Lift the plug and inject e-liquid into the exposed juice port to add vape juice.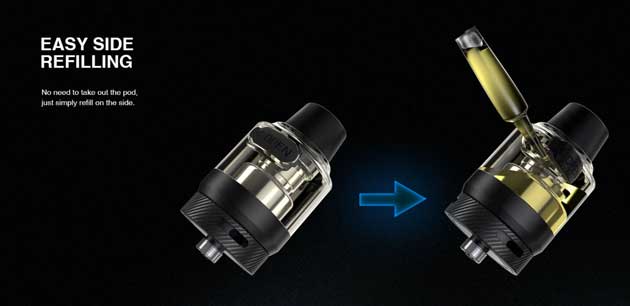 Finally, the vape system uses UB Pro coils, two of which you'll receive with purchase.  The first is the 0.15ohm UB Pro P1 mesh coil that works from 70 to 90 watts for a direct-to-lung experience.  Or, you can instead use the UB Pro P3 mesh coil with a 0.3ohm heating element, a 60 to 70-watt range, an operating temperature range from 500 to 550 degrees Fahrenheit, and a direct-to-lung style of puff.  For more experienced vapers, there's also the UB Pro RBA deck, but that is not included.

Features & Specifications
Mod Only
Dimensions: 56.1mm x 27.6mm x 92.5mm
Weight: 150g
Battery: Dual 18650 Lithium Battery (Not Included)
Input Voltage: 6.0V-8.4V
Battery Voltage: 3.0V-4.2V
Output Voltage: 0.7V-8.0V
Power Range: 5-200W
Input Current: 1A-40A
Temperature Range: 200°F-600°F
Coil Resistance Supported: 0.112Ω-5.012Ω
Coil Material Supported: Nickel, Titanium, SS316, SS904, Kanthal
0.96″ Display Screen Pixel: 80×160
Body Material: Zinc Alloy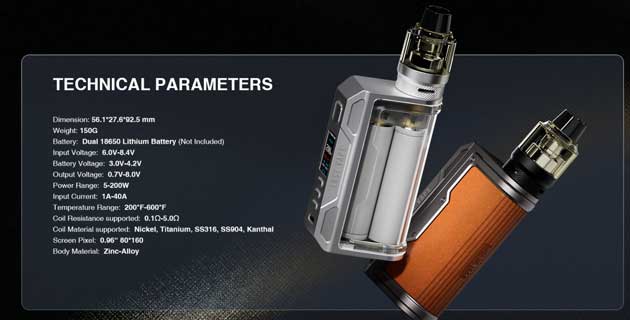 Kit
Kit Includes The UB Pro Pod Tank
Cartridge Material: Plastic
Base Material: Metal
Capacity: 5ml
Compatible with UB Pro Coils
Side Filling Juice Port
Triple Airflow Channels
Optional RBA Deck
In The Box (Kit)
With the purchase, receive the mod, a UB Pro Pod Tank, a 0.15ohm UB Pro P1 Coil, a 0.3ohm UB Pro P3 Coil, four extra o-rings, and a user manual.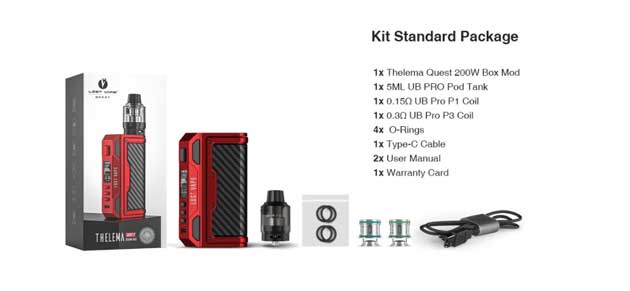 Total Views Today: 20 Total Views: 14,432