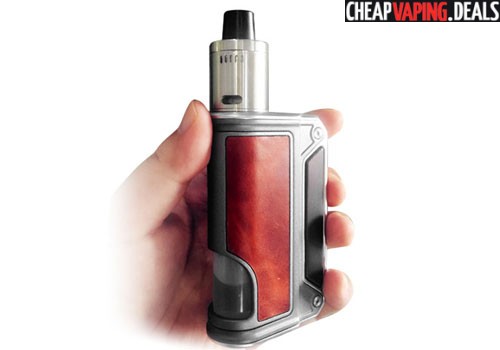 Update: The
Lost Vape Therion BF Squonker DNA 75 Kit
Has Been Discontinued – Check  Newer Evolv DNA Mods Below
Overview
A squonker version of Lost Vape's Therion is here and it is now available as a bundle with the Therion BF (Bottom Feeder) RDA. The setup features an e-juice bottle inside the leather battery sleeve that directs e-juice up to the RDA when squeezed.
Unlike the regular version of the Therion, the BF only utilizes a single 18650 battery as there's an internal e-liquid tank in place of one of the batteries.  The bottle has a large e-juice juice capacity.  E-liquid levels are easily monitored via a large cutout on the bottom of the battery sleeve which is also used to to direct juice upwards when squeezed.  Another change is the nickel plated/brass 510 connection bezel features a springloaded hollow pin to allow juice to enter the RDA.  If you would like to use a different atomizer, the connection should easily accommodate any build or tank up to 27mm in diameter.
As far as the design, everything else is pretty much the same as the regular Therion.  The chassis is made of a dye cast zinc alloy with a combination of real ebony wood and leather battery sleeve.  The measurements are also identical and come in at 54mm x 91mm x 27mm.  The entire build is outstanding and looks amazing with clicky power/adjustment buttons, an amazing DNA display, a USB port for charging/upgrades and two adjustment buttons.
The Therion BF is built with a DNA 75 chip board, known throughout the vaping world for stable and accurate operation.  The maximum power output is 75 watts and temperature can be adjusted from 200 to 600 Fahrenheit.  Compared to the non-squonk Therion, the BF version's menu features more presets including kanthal, Ni200, SS430, SS316L, SS316, SS304 and Ti modes.
The Therion BF RDA features large adjustable bottom  airflow via two intake slots and air holes at the top.  The deck is Kennedy style and is built with dual posts with two large 3mm terminals each, to work well with large wire.  In between the posts, you will find the squonker pin that allows juice to enter the chamber from the mod.  From seeing the reviews. the RDA puts out big flavorful vapor which are cooler because of the mod's lower wattage.
Video
Features & Specs
Squonker Therion BF mod and Therion BF RDA
Mod dimensions: 54mm x 91mm x 27mm
Mod constructed from dye cast zinc alloy with ebony wood and leather
RDA made from stainless steel
Built with Evolv DNA75W Chipset
Large e-liquid bottle behind battery sleeve
Utilizes a single 18650 battery cell
USB charging
Customize via Escribe PC software
Firmware upgrades
Power range: 1W to 75W
Temperature control range: 200°F to 600°F
510 spring-loaded connection with hollow pin
Magnetic battery door
Top and bottom adjustable airflow
Dual posts with 3mm wire holes
Pictures
Total Views Today: 1 Total Views: 173