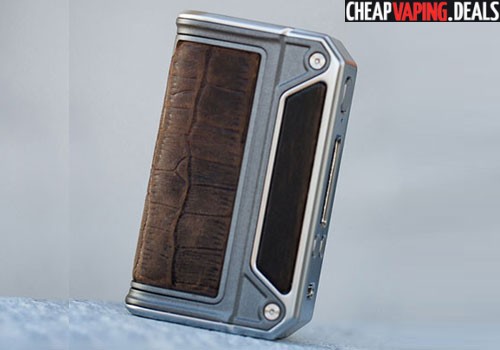 Check out this awesome price for the Lost Vape Therion DNA133.  
$113.47 & Worldwide Free shipping 

  Flash sale, use coupon code

133WDEAL

 if ended or for red Therion DNA133
Overview
If you loved the Therion DNA 75, but didn't think it had enough power, you're in luck.  Lost Vape has upgraded the Therion with a DNA 200 board which increases its power to 133 watts while keeping the same stunning form and design.
With an identical design to the DNA 75 version, the Therion 133 features incredible machining and is made from die cast zinc alloy to give it longevity.  The unit's sleeve features genuine leather and ebony wood panels make this mod a sure head turner while fitting comfortably in the palm of the hand.  To atomizer bezel is built with a 510 connection that is made from stainless steel and has a springloaded center pin to ensure convenient installation of any tank or build.  On the control face, you will see a bright DNA OLED that has a virtually identical menu to its predecessor.  Encircling the screen, there's a USB port, adjustment buttons and a large clicky fire button.
The USB port can be used to charge the two external 18650 cells that power the DNA 133.  Batteries are located inside the unit and are convenient to swap out as the leather sleeve, which is held in place with powerful magnets, easily comes off to reveal the battery bay.
The Therion 133 is built with Evolv's DNA 200 chip board, known to result in the best, most accurate and stable vape technology in the world.  As a result, its maximum output power is 133 watts, its minimum resistance is 0.15Ω during variable temperature operation and 0.25Ω in power mode.  Temperature can be adjusted from 200 to 600 degrees Fahrenheit.  With these specifications, this mod will be able to fire most atomizers out there.
Overall, the upgraded Therion 133 with more power looks amazing.  While it's pricey, it's worth every penny because of its premium finishes and the best chip board on the planet.
Videos
Not available yet
Features & Specs
Dimensions: 88.0mm x 47mm x 25.0mm or 3.46″ x 1.85″ x 0.98″
Weight: 270g
Constructed from die cast zinc alloy
Sliding magnetic battery cover with genuine leather
Ebony wood inlays
Portable
Laser etched logo on top top
Springloaded stainless steel 510 connector
Nickel plated brass spring loaded center pin
Springloaded silver plated center pin
Intuitive OLED display
Built with Evolv DNA 200chip
Ouput efficiency: 85%
Voltage output range: 0.2V to 6V
Power output range: 1W to 133W
Temperature control: 200°F to 600°F
Temperature control lowest resistance: 0.15Ω
Power mode lowest resistance: 0.25Ω
Temperature control supports nickel, titanium and stainless steel
Powered by dual 18650 cells installed in parallel for extended battery life
USB charging
Programmable multicolor LED indicator
Escribe software to customize settings
Firmware OS upgrades
Short circuit portection
Low voltage protection
Cell by cell monitoring
Cell balancing
Atomizer protection
Overheat protection
Pictures