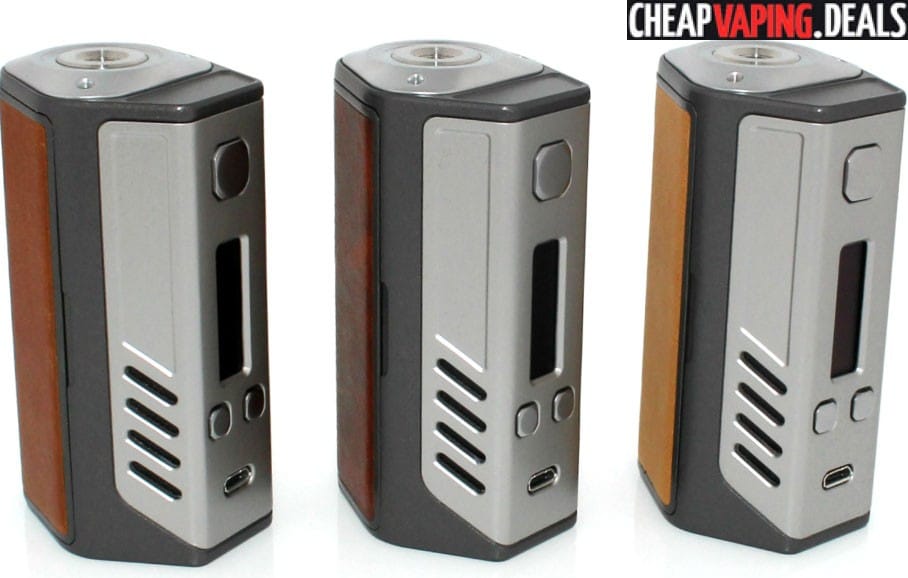 Update: The Lost Vape Triade DNA 200 Box Mod Is Discontinued – Check  Similar Evolv DNA Mods Or Lost Vape Mods & Kits
Overview
Made in the United States, the Triade by Lost Vape is a powerful temperature control box mod that utilizes the popular Evolv DNA200 chip set. DNA 200 vape systems are known to be the best plaforms with accurate temperature control, a massive 200W of power, many safety features and customization flexibility.
The box mod features a die cast zinc alloy chassis with a real leather battery door for a luxurious look and feel.  You can get the leather in three alternate colors: tan, light brown or dark brown.   It was designed to be ergonomic and the fire button is lare large for easy access.  At the top of the device, there's a stainless steel 510 connection with a nickel plated/brass spring loaded center pin to make sure your atomizers sit flush and electrical conductivity is optimal.   The 0.91 inch OLED is a standard DNA 200 screen with a simply yet through menu that displays all the readouts one could possibly want.
To power the whopping 200 watts, the Triade stores three 18650 batteries behind the leather battery panel.  The door is held in place with two powerful magnets for easy access to the cells.  In addition to using an external charger, the mod is also built with on board charging.  Simply plug it into any USB outlet or computer with the included cable. Inside the battery bay, there's gold plated contacts with a negative spring loaded one to properly fit any 18650 battery cell.  Best of all, you can vape while it's charging as there's passthrough charging technology.
In addition to its massive power outpout, the Triade box mod also features accurate temperature control from 200°F – 600°F.  Because it is a DNA 200 device, temperature control is compatible with many coil wire types and can handle resistance as low as 0.08Ω.  And, an Evolv DNA 200 chip  is technologically advanced so you know it will have a 97% operating efficiency, accurate variable temperature regulation and can be customized with up to 93 alternate settings  via any PC with the downloadable eScribe software.
The Triade is also built with many safety protections including reverse polarity, low resistance, high temperature, low voltage and short circuit protections.
Features & Specs.
Dimensions: 88mm x 50mm x 40mm
Constructed from die cast zinc alloy
Ergonomic design with leather battery door
510 connection made of stainless steel
Spring loaded, nickel plated brass center pin
Magnetic battery door for easy battery swaps
Utlizes 3 external 18650 batteries
USB charging
Passthrough capable
0.91″ OLED screen
DNA 200 chip by Evolv
Power mode range: 5W to 200W
Temperature range: 200°F – 600°F
Power mode resistance: 0.10Ω or higher
Variable temperature mode resistance: 0.08Ω or higher
97% efficiency
Customize settings with Escribe software
Firmware upgrades to keep up with evolution in vaping
Stealth Mode
Many safety features
Video Review
https://www.youtube.com/watch?v=WbcG-mKXRbM
Total Views Today: 1 Total Views: 341