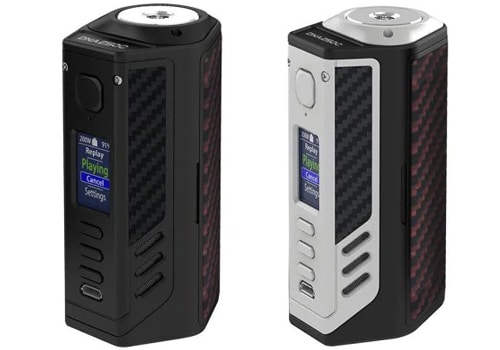 Lost Vape Triade DNA 250C
This Triade DNA 250C is built with an Evolv DNA color chipset and features a simplistic design, a leather back cover, a 0.96 inch full color TFT display, uploadable themes, changeable backgrounds, a select button for easy menu navigation, efficient & accurate operation, 300 watts of power, triple 18650 batteries, a myriad of safety protections and versatile/curate temperature control.
Premium Finishes & Full Color Display
In the design department the Triade DNA 250C looks very similar to the previous Triade Mod. The appearance is simplistic with a durable zinc alloy chassis and premium leather grip and color options include black frame/black leather, black frame/red & black leather, silver frame/black-grey leather and , silver frame/red-black leather.
On the control face, you will see a power button and three adjustment buttons. The middle button is somewhat unique as it allows for easy selection of items on the menu. In the middle of the control face, you will see a 0.96 inch full color TFT display. Its menu can be customized via escribe 2 software and you may also change the background and even upload themes.
Triple 18650 Battery Support With Onboard Charging System
By removing the back, you may expose the battery bay which holds triple 18650 batteries for long vaping times, even at 300 watts of power. Output from the batteries occurs with a staggering 98% output efficiency. Additionally, cell-by-cell monitoring and a balanced 2A micro USB charging system ensure the batteries achieve equal charge level for safety and that the charging process finishes with lightning speed.
Patented Evolv DNA 250C Chipset For Accurate Operation
Technically, the Lost Vape Triade DNA 250C Mod will certainly not dissappoint thanks to its patented Evolv chip board which is popular in the vape marketplace because of its accurate operation and efficiency. While previous DNA 250C mods were capable of only 200 watts of power, The Triade DNA 250C can achieve 300 watts of output because it utilizes three 18650 cells.
Plus, there are also temperature control modes that work with titanium, nickel and stainless steel atomizer heating elements, as well as hybrid builds. Temperature tops out at 315 degrees Celsius while atomizer resistance is compatible down to 0.08ohm in variable temperature mode and 0.10ohm in temperature modes. Additional functionality that may be of interest to you is boost mode for ramp-style vaping and a replay function.
Finally, the Lost Vape Triade DNA 250C has multiple safety features, including short circuit protection, overheat protection, low resistance protection, cell by cell monitoring, cell balancing, reverse battery protection and low voltage protection.
In The Box
With purchase, you will receive the Triade DNA 250C, a micro USB 2A charging cable, a USB OTG charging adapter and a manual.
Features & Specifications
Dimensions: 49.3 x 39.8 x 89.3mm
Made from zinc alloy with leather grip
Colors: black frame/black leather, black frame/red & black leather, silver frame/black-grey leather and , silver frame/red-black leather
0.96″ full color TFT screen

Fully customizable with Evolv's Escribe software

Change themes
Change backgrounds

510 threaded connection

SS bezel
Brass/nickel plated spring-loaded contact

DNA250C chip board

Powered by triple 18650 batteries

Remove back cover to access battery bay
Fast 2A micro USB charging system
Use as power bank with included cable
Balanced charging system
Cell by cell monitoring

Power output range: 1W to 300W
Temperature Range: 200℉ to 600℉ or 90℃ to 315℃

Works with nickel, titanium, stainless steel elements
Will work with hybrid builds

Power mode resistance: 0.1Ω to 2.0Ω
Temperature modes resistance: 0.08Ω to 1.0Ω
Upgrade firmware
Power preset mode
Lock mode
Stealth mode
Resistance lock
Power lock mode
Boost mode for ramp vaping
Replay function
Safety protections

Low resistance protection
Low voltage protection
Reverse polarity Protection
Cell by cell monitoring
Short circuit protection
Atomizer protection
Cell balancer
High temperature protection
More DNA 250C Box Mods
Related Evolv DNA Mods
Total Views Today: 1 Total Views: 100