Here are cheap deals to buy the Lost Vape Ultra Boost X Tank, also known as the UBX Tank.  This tank features a 5mL juice capacity, an MTL & DTL drip tip, an easy refill system, adjustable airflow, and coils for nic salts or standard vape juices.  Get it in black, gunmetal, SS, matt black, green, red, or blue.  This tank is also included with the Lost Vape BTB Kit.  This tank is outdated, but there are many better vape tanks available.
Ultra Boost X Tank Overview
With seven different color options, the Ultra Boost X features a 4mL reservoir effortlessly topped off via a leakproof top-fill design.  You'll also receive two drip tips with purchase: a 510 mouth-to-lung mouthpiece and a direct-to-lung one.   And airflow can also be set to MTL or DTL by rotating an AFC ring at the bottom.  In this way, you may easily achieve your favorite air intake setting.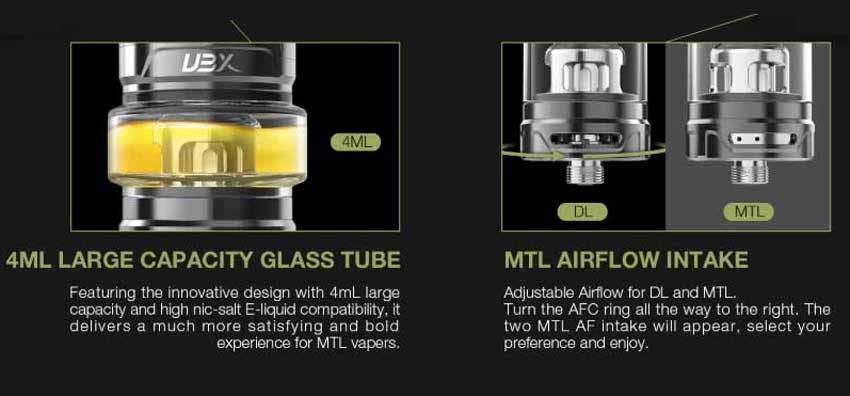 Moreover, there are six compatible coils for the UBX Tank, even an RBA deck, for maximum versatility.   With purchase, you will receive two 0.15ohm Ultra Boost M3 coils that work from 40 to 70 watts and the 1 ohm MTL coil for nic salts or high nic vape liquids at 8 to 15 watts of power.   Other optional coils are the 0.2ohm M4 coil (40 to 60W), the 0.3ohm M1 (30 to 40W), the 0.6M2 (20 to 28W), and the RBA deck with a 0.15 to 3ohm rating.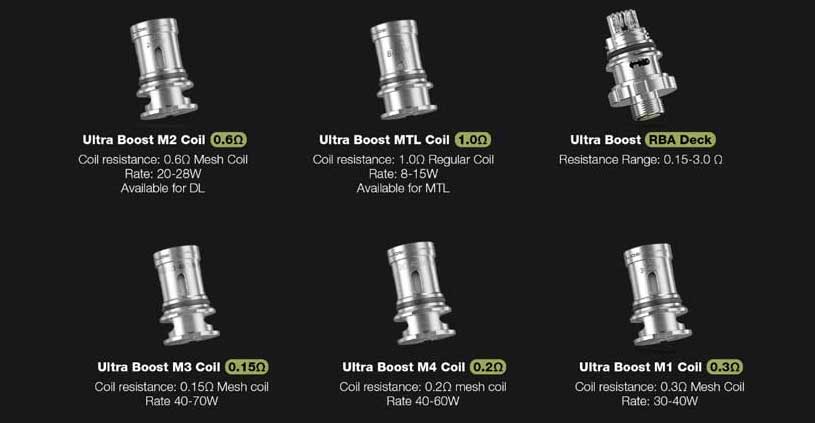 Package
In the package, you will find the Ultra Boost X Tank, two M3 0.15ohm coils, a 4mL bubble glass, a 1ohm MTL coil, a DTL drip tip, an MTL drip tip, a bag of accessories, and a manual.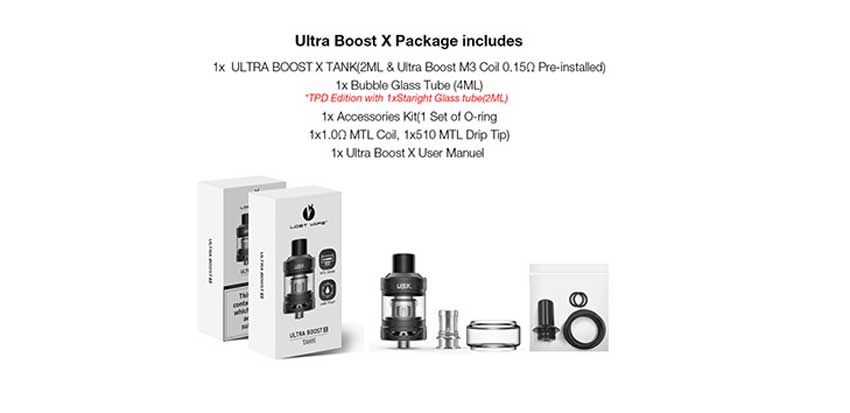 Total Views Today: 1 Total Views: 1,064