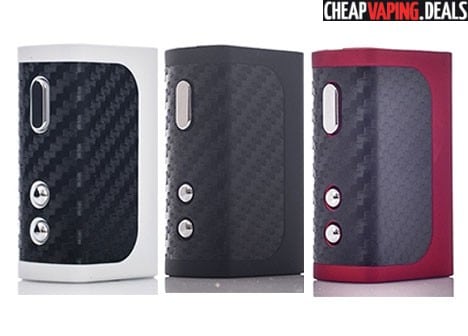 Check out this awesome price for an authentic Mini Volt 40W V2 by The Council of Vapor. 
Overview
The Mini Volt 40W V2 is the exact same box mod as its predecessor the Mini Volt, but with some new features.  What's new? The Mini Volt V2 features much faster charging in less than 90 minutes. And, if the voltage drops too low, it will warn of this on the display and power down.  And some safety features were added such as high voltage and high current protections.
Other than those features, nothing else was changed.  The mod is still very small and  features the same amazing performance you would expect from any CoV device.  The unit sports an amazing look with its tiny body that features a rubber finish with carbon fiber.  It is as stylish as you can get for a micro mod and it was made to fit perfectly into the palm of the hand.  On the control face, you'll find a smart OLED display and durable buttons that are responsive.  At a 510 threaded spring loaded connection assures it will fit your atty.
In spite of its small form factor, The V2 Mini Volt has a high output power of 40W making it perfect to take with you on the go.  The device is compatible with atomizers that have a resistance as low as 0.20Ω , making it a perfect combination with the majority of sub ohm tanks.  You can fire the unit in three alternate modes from slow ramp to fast ramp.  The battery has a 1300mAh capacity and with version 2 of the Mini Volt, you can top off the cell within one and a half hours.
Overall, the Mini Volt V2 may be a good buy since it features high quality materials in a tiny chassis.  Just stick it in your purse or pocket and you're good to go.
If you'r looking for other portable mods, check out our Mini Mods section.
 Features & Specs
Dimensions: 3.50cm x 2.20cm x 5.60cm or 1.38″ x 0.87″ x 2.2″
Weight:  0.096 kg
Made from stainless steel
Rubberized/carbon fiber finish
Tiny and portable
Pre-built 1200mAh battery
NEW FEATURE: Faster charging within 90 minutes
Wattage output range: 5W to 40W
Compatible resistance: 0.2Ω or higher
OLED screen with wattage, resistance, battery level
Micro USB charging
510 spring loaded connection
NEW FEATURES: over current protection, over voltage protection
NEW FEATURE: low voltage warning on screen and auto shut down
Video  Review
https://www.youtube.com/watch?v=p4I4r1CwA9I