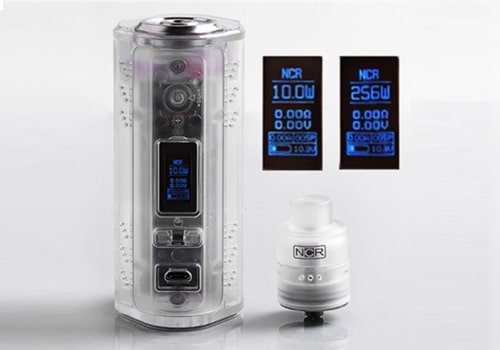 Update: The NCR Nicotine Reinforcer 256W Box Mod Kit Has Been Discontinued – Check  Newer Box Mods & Starter Mod Kits Below
Overview
The NCR Nicotine Reinforcer Box Mod features 256 watts of power, a semi-transparent white chassis, triple 18650 compatibility, curve modes, fast charging, multiple protections and temperature control with all types of heating elements. You can also purchase a kit with the revolutionary NCR RDA that uses a ceramic wafer instead of wire.
Although the dimensions have not yet been released, the mod looks to be decent sized for a triple cell powered device. Available in only white, the chassis is semi-transparent, so you can sort of see the chip boards inside the mod and get a hint of the batteries in the bay. At the top of the unit, you will find a 510 threaded connection bezel to work with all types of standard atomizers. The control face is located on the front and has a display that features a menu with vertically oriented vape data in blue font on a black background. The back of the Nicotine Reinforcer Mod is where you will find the battery bay that stores the three 18650 cells (not included). To install or swap out the batteries, the magnetic back cover easily comes off or you may charge the cells via the USB port that has a 2 amp fast charging system.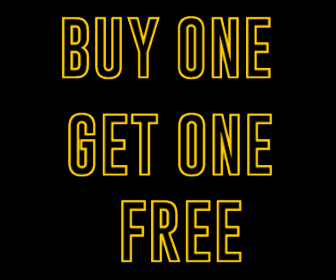 With amazing versatility, the Nicotine Reinforcer is capable of operating in several modes that include power, temperature control with nickel, titanium, stainless steel, bypass mode, curve mode (ramp vaping) and NCR mode which was specifically made to work with the NCR RDA included in the kit. At 236 watts, output on the mod is massive, temperature control can reach 600 degrees Fahrenheit, voltage tops out at 12.6V and the minimum atomizer resistance comes in at a very low 0.06ohm. Multiple safety features ensure a safe experience while vaping.
If you purchase the full NCR Nicotine Reinforcer Kit, you will also get the NCR Reinforcer RDA which is a revolution in rebuildable dripping atomizer technology because of its wire-free coil system. Instead of a build or coil, you will see a ceramic WAFER heater that has a 600,000 puff lifespan, will give out flavorful vapor, is easy to clean and has a resistance of 0.4ohm to 0.5ohm. The RDA is made from stainless steel with a PC chuff cap, has a 24mm diameter and is built with a 510 threaded connection pin at the bottom. With the kit, you will also receive the NCR Nicotine Reinforcer Mod & RDA, a super cooker, a micro USB cable, a manual and a warranty card.
Total Views Today: 1 Total Views: 86