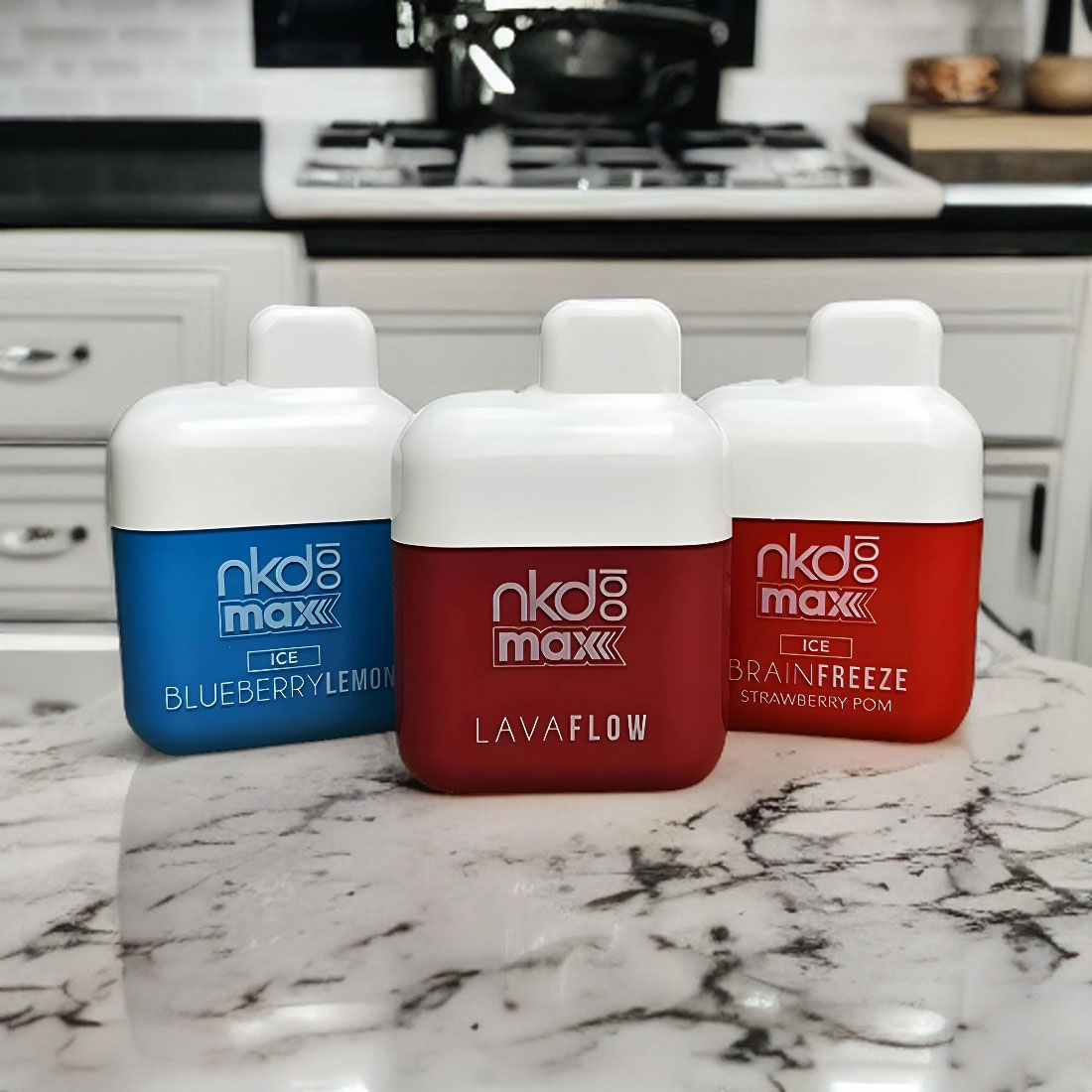 Here are cheap deals to buy the NKD 100 Max Disposable at a low price.  It features 4500 puffs, a 10mL pod, a 500mAh integrated battery, 5% nic salt vape juice, a 1.2ohm coil, and eight flavor options.  Also, check out the Max G-Box Disposable with 5500 puffs.
USA BOGO Deal:

$8.99/2Pcs

  Add 2 NKD 100 Max Disposables to your cart & one will be free at checkout (more BOGO disposables here)
Description
For those who love Naked 100 Vape Juices, the brand new NKD 100 Max Disposable may be right up their alley.  Available in 8 of the renowned juice flavors, this new disposable vape features 4500 puffs thanks to a 500mAh rechargeable battery in combination with a 10mL vape juice cartridge.  The internal tank is chockful of 50mg nic salt e-liquid to produce tons of throat hit whenever a puff is taken from the ergonomic mouthpiece.  And the NKD 100 Max also has a 1.2ohm coil to produce incredible flavor.  This vape setup also looks great and can be tossed whenever it has met its lifespan.
Specs
Around 4500 puffs
Small & lightweight
Bright finishes
Puff-activated
10 mL cartridge

Nic salt vape juice
50mg (5%) nicotine strength
Naked 100 & NKD 100 blends
1.2ohm mesh coil
Eight flavors

500mAh integrated/rechargeable battery

USB-C port
Cable not included
Flavors
Ice Peach Mango:  Tasty peaches and tropical mangoes topped off with menthol.
Ice Watermelon: Watermelon fused with a cold finish
Ice Apple: Sweet apples combined with menthol.
Lava Flow: An amalgamation of coconuts, strawberries, and pineapple.  One of the most popular Naked flavors.
Ice Blueberry Lemon: Blueberries and menthol flavors.
Ice Guava Berries: Mixed berries blended with guava and menthol.
Ice Brain Freeze: Kiwis, strawberries, and pomegranates joined with menthol.
Ice Cherry Lemon: Chilled cherry lemon flavors.
Similar Disposables
Total Views Today: 5 Total Views: 7,932