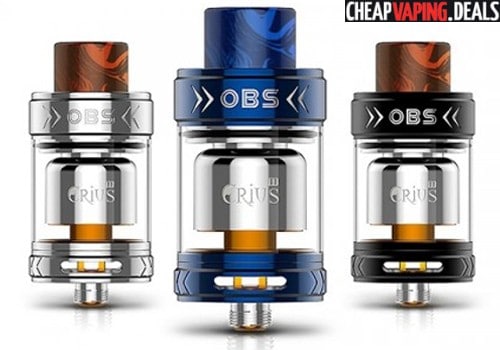 Update: The OBS Crius 2 Has Been Discontinued
– Check  Newer RTA Deals Below
Overview
The OBS Crius has been upgraded!  The Crius II rebuildable tank atomizer features a new single coil deck, super-easy coil building, a highly durable Zirconia deck clamp and huge vapor with nice flavor.
This new RTA measures 25mm x 53mm, weighs 60g and is available in silver, blue and black colors. The tank section is made from quartz glass that has been installed within an all stainless steel chassis. Unfortunately, the tank capacity is not listed (+/- 4ml), but the unit does have the same effortless side fill system that we have seen in other OBS tanks. Included with purchase, you will receive a 15mm wide Resin drip tip that doesn't just look great but is also durable, healthy and environmentally friendly.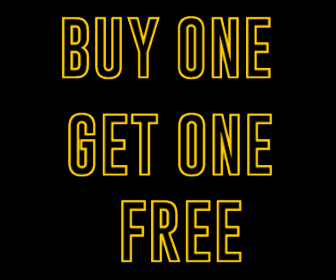 The build deck is single coil compatible and is gold plated for good electrical conductivity. Installing wire looks very easy thanks to a large clamp that keeps coils in place with a single screw.  The black-colored clamp is made from Zirconia which is temperature resistant, corrosion resistant, is very hard, non-volatile, eco-friendly and inhibits oxidation. Underneath the deck, there's internal airflow that travels from dual external adjustable air slots to maximize vapor and flavor.
OBS Crius II RTA Features & Specifications
Measurements: 25mm x 53mm
Weight: 60g
Materials

Stainless steel body
Quartz glass tank

Resin drip tip

15mm wide
Eco-friendly
Durable
Healthy vaping

Single coil build deck

Gold-plated for electrical conduction
Zyrconia clamp

Easy coil installation
Single Phillips head screw
Extremely hard
Corrosion resistant
Temperature resistant
Anti-oxidation
Non-volatile
Eco-friendly

Dual bottom adjustable ariflow

Designed for amazing flavor
Maximize vapor production
Pictures
Total Views Today: 1 Total Views: 222