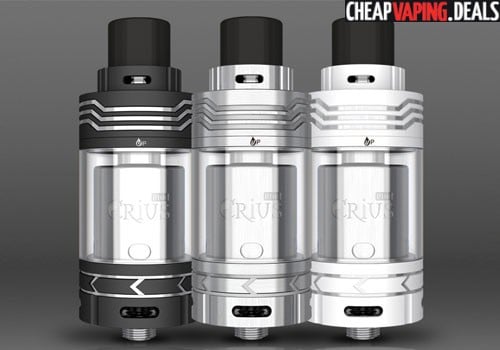 Update: The
OBS Crius Plus RTA
Has Been Discontinued
– Check  Newer RTA Deals Below
Overview
The OBS Crius Plus RTA is the new version of the Crius.  The rebuildable tank has been improved and can hold 5.8ml, features two alternate build decks and a full glas tank window.
The Crius Plus is constructed from 304 high strength stainless steel with a food grade quartz glass tank.  It has a classic, fashionable design and the tank's window allows for a full a 360 degree view for easy monitoring of the e-liquid level.  Included with purchase, you will get a Delrin wide bore drip tip that is durable and environmentally friendly.  All parts of the Plus are easily disassembled for cleaning.  You can get the tank in either stainless steel, white or black colors.
The tank features a massive 5.8ml e-juice capacity and is easily refilled via a side fill system without disassembling any components.  Just turn and lift the top cap to add juice.  The RTA also features juice flow control to allow for any ratio of PG/VG.  Vape 100% PG or 100% VG without flooding or leaking!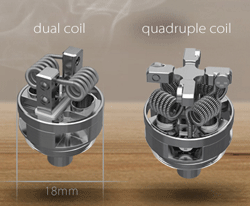 The OBS Crius Plus features adjustable airflow control that is flexible to allow for either mouth to lung, direct to lung puffs or somewhere in between. Airflow enters the RTA from below the drip tip at the top, and also through airslots on the bottom.
The deck on the Crius Plus has also been improved over its predecessor.  The diameter has been increased to 18mm to allow for more build room. And, the device includes two decks: a classic velocity style one and a brand new innovative quad coil design to allow for all types of Clapton builds.  The included Clapton coils are made with organic cotton for health.
Features
Dimensions: 25mm x 66.2mm or  0.98″ x 2.61″
Weight: 2.47oz or 70g
Made from 304 stainless steel chassis
Quartz glass tank
Top side refill system
360 degree viewing window
Tank capacity: 5ml
Top airflow
Bottom airflow control
510 threaded connection pin
Two decks: quad coil and velocity
Video Review
https://www.youtube.com/watch?v=rVakH4yAi4c
Total Views Today: 1 Total Views: 135