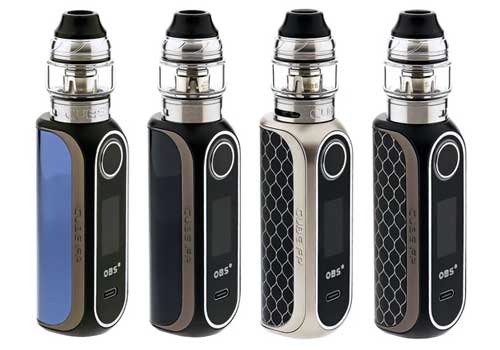 OBS Cube FP: Compact 80W Box Mod With Fingerprint Unlock System
The OBS Cube FP box mod is the follow-up to the OBS Cube and OBS Cube X.  The new setup features new colors, fingerprint unlock, 80 watts of power, multiple protections, a type-C micro USB charging port, single 18650 battery support, and an LED screen
Components
The Cube FP has a concise appearance and is said to be easy to use. The control face features a fire button which also doubles as the fingerprint sensor and is surrounded by an LED light ring. Underneath, there's a display screen and at the bottom, you will find a type-C charging port which is reversible, making it effortless to plug in. The back panel is made of 3D curved tempered glass and hides the battery bay that stores a single 18650 cell. Navigating the menu and making changes to your settings occurs via conveniently located adjustment buttons on the side.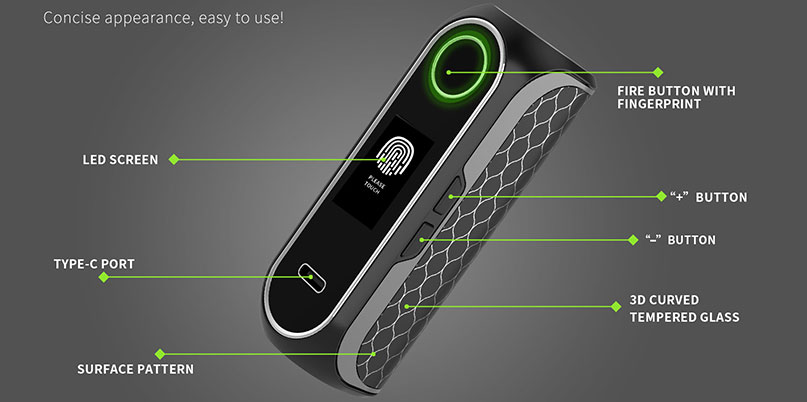 Curved Tempered 3D Glass Cover
The magnetic back panel is made with curved tempered 3D glass. You may choose a grey or black chassis with different panel patterns: blue, shiny black, matte black, silver black. There is also a transparent back panel, but that option is not available at the time of this writing.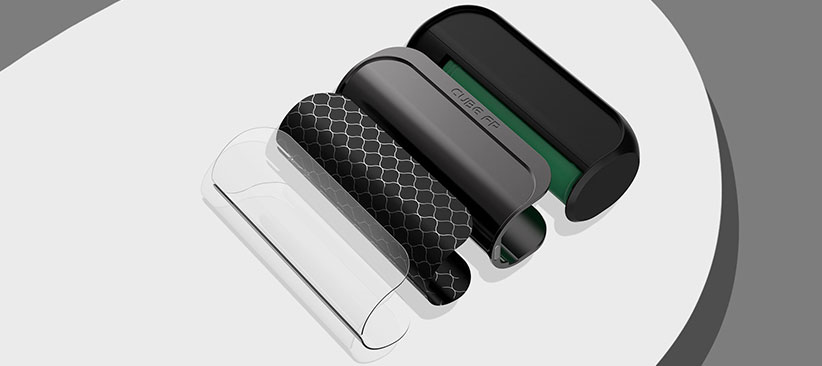 Safe & Reliable Fingerprint Unlock
You can be assured that the Cube FP truly only belongs to you thanks to fingerprint unlock technology that is said to be accurate and safe.

The fingerprint system is set up with three security modes. The first is the security mode which protects personal privacy and stops children from using the mod. In fingerprint mode, you must always touch the fire button to unlock the device and fingerprints are set up in administrator mode.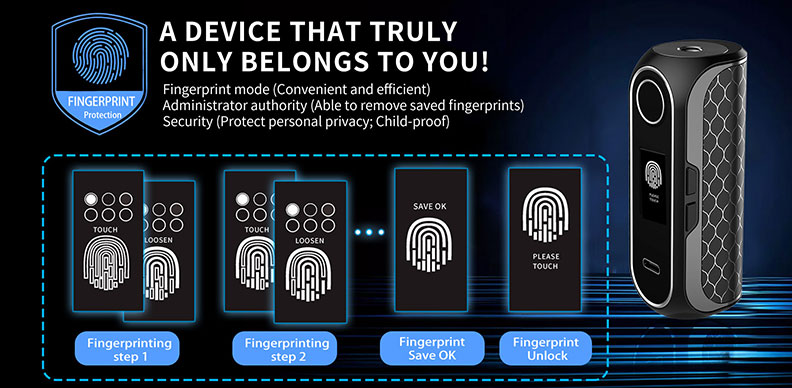 While in administrator mode, you will have to touch the fire button 6 times to store your fingerprint to ensure accuracy. The LED ring around the fire button will turn from red to green when fingerprint entry was successful.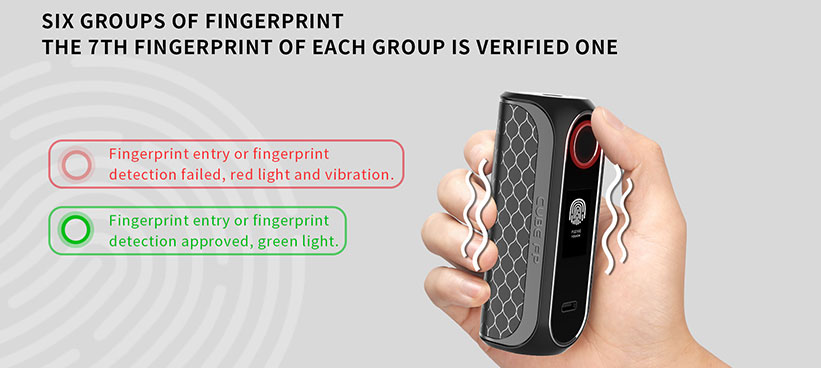 Type-C USB For Effortless Charging
The charging port on the control face is built with a type-C micro USB port which permits faster charging and easy attachment of the included cable. The charging system works with a 1.6 amp current for an efficient process that completes in less than 1.5 hours.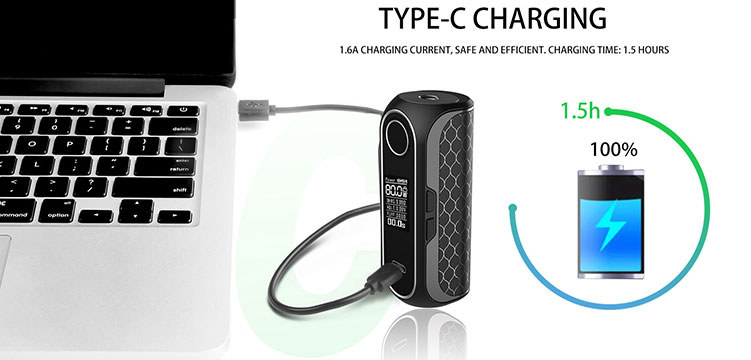 Intelligent Circuit Protection
The chipset monitors temperature and engages multiple protections instantly, if required. In addition to the fingerprint protection technology, there's short circuit protection, over-current protection, charging protection, over-puff protection, high temperature protection and low voltage protection.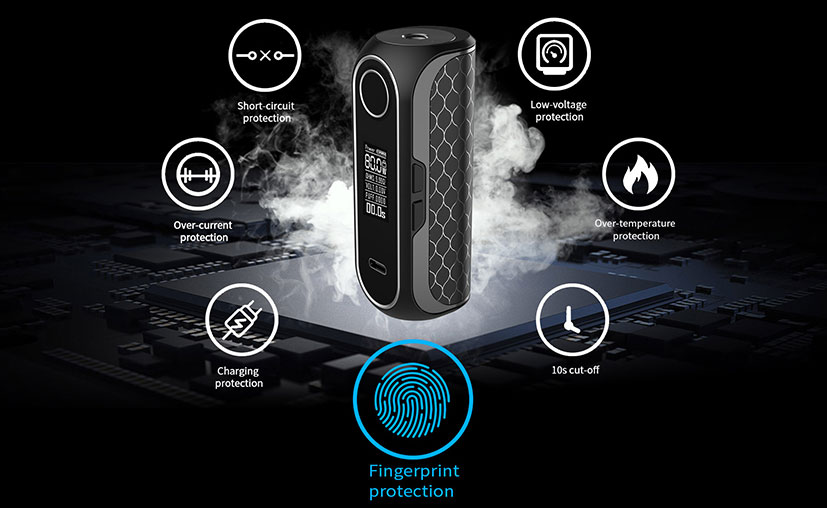 Features & Specifications
The OBS Cube FP Box Mod is constructed from zinc alloy, weighs 158 grams making it light and measures 86mm x 28mm x34mm for portability. It operates with a single 18650 battery that is easily recharged via a USB-C port with an included USB cable. The power range of the OBS Cube FP is from 5 to 80 watts and the device is compatible with atomizers with a resistance between 0.1 and 3.0 ohm.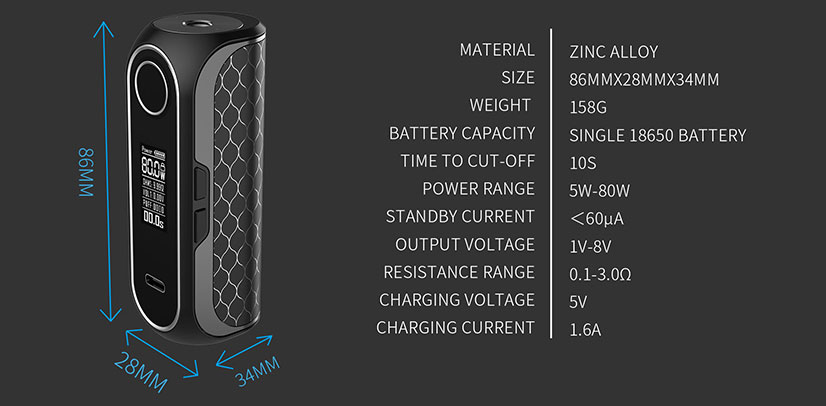 In The Box
OBS Cube Mod
Charging Cable
Manual
Related Deals
Total Views Today: 1 Total Views: 323