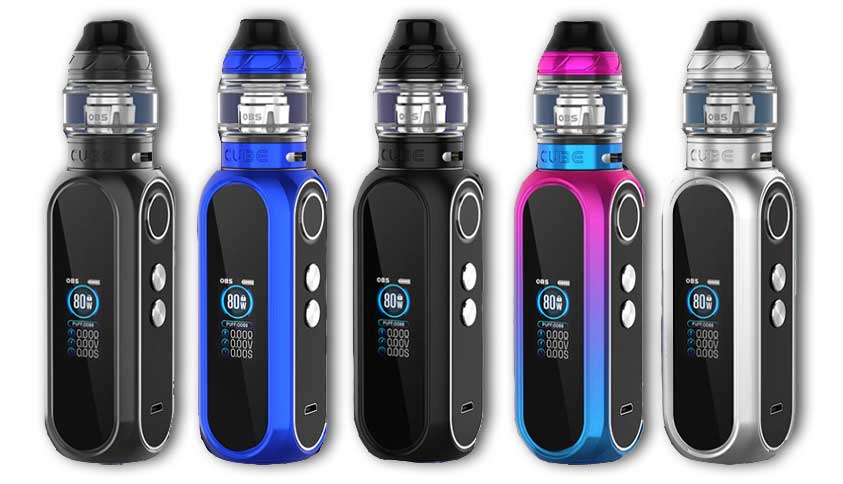 OBS Cube Pro: Compact 3000mAh/80W Mod Kit With Fingerprint Unlock
Here are cheap deals to buy the OBS Cube Pro, for sale as a Box Mod only or Kit. This fingerprint unlocked mod features a 3000mAh integrated battery, 80 watts of power, type-C charging, multiple protections, almost instant firing, and a plethora of safety protections.  It is for sale in black, gunmetal, silver, rainbow, and blue.
Unlock With A Touch
Just like was the case with the Cabo and Cube FP, the OBS Cube Pro truly belongs to you because you can lock or unlock it with a simple touch of the fire button.  This is due to an accurate fingerprint unlock system that is simple to use while protecting your privacy and instantly responds to the touch of your finger.  There are three different modes you will use with the unlock system. Security mode means the Cube Pro is currently locked, user mode indicates you've unlocked the mod and it can be fired, while in administration mode, you may add fingerprints. Using admin mode is as easy as touching the fire button six times and the LED ring will light up in green after the successful entry of a new fingerprint.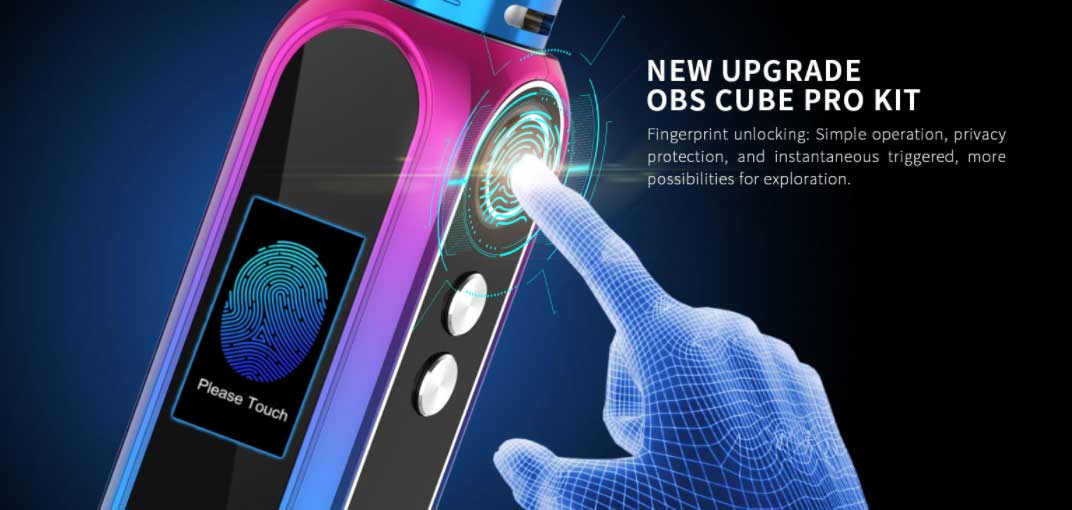 Innovative Design
Previous versions of the OBS Cube were very popular due to their amazing design and the OBS Cube Pro is no exception.  The new device has been updated with ergonomic contours to ensure it is comfortable to hold.  Plus, its zinc alloy body will stand the test of time and is available in blue, rainbow, silver, gunmetal, and black. Best of all, the control face comes with a 0.96-inch color display screen that is visually attractive and makes it effortless to take note of the vape data. On the UI, you will see vape data such as current wattage, a battery bar, current puff, atomizer resistance, current voltage, and the number of seconds the previous puff lasted.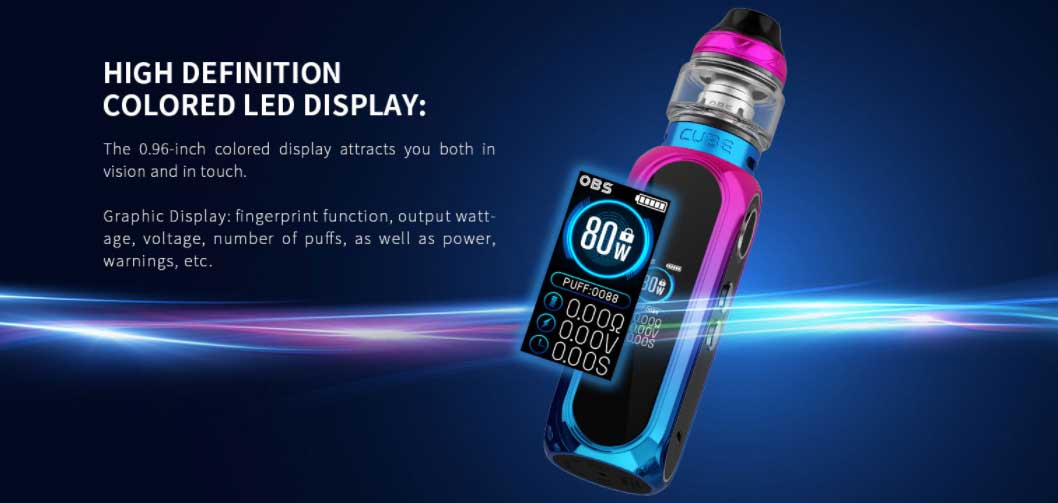 80W Of Output From A Powerful Battery
Inside the OBS Cube FP, there's a durable and powerful 3000mAh battery that extends vape times while ensuring safety. This cell is recharged via a micro USB interface on one of its sides and power output tops out at 80 watts.  Wattage is adjustable from 5 watts for a versatile vape experience and a myriad of safety features ensure you don't get hurt while puffing the Cube FP Kit.  These are charging protection, high current protection, short circuit protection, low voltage protection, high-temperature protection, and 10 seconds cutoff.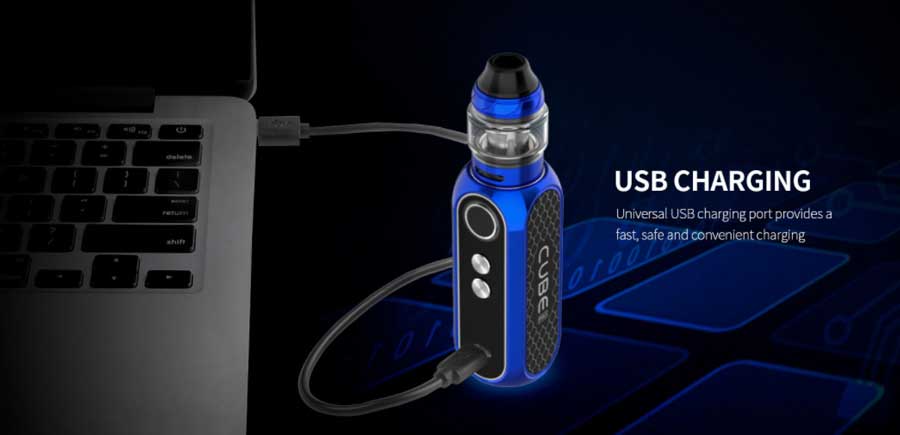 4mL Cube Tank With Mesh Coils
When buying the OBS Cube Pro kit, you'll receive the Cube Tank that can hold either 2mL or 4mL of e-liquid.  Either of these reservoirs is easily refilled by unscrewing the top cap and adding e-liquid thru one of two massive filling slots.  And, the Cube Tank utilizes the M1 mesh coil, two of which you will find in the package.  The M1 has a 0.2ohm heating element, fires in the range of 50 to 80 watts, and is best from 65 to 75 watts.  Due to the integrated mesh wire, airflow is increased for huge vapor with pure flavor production.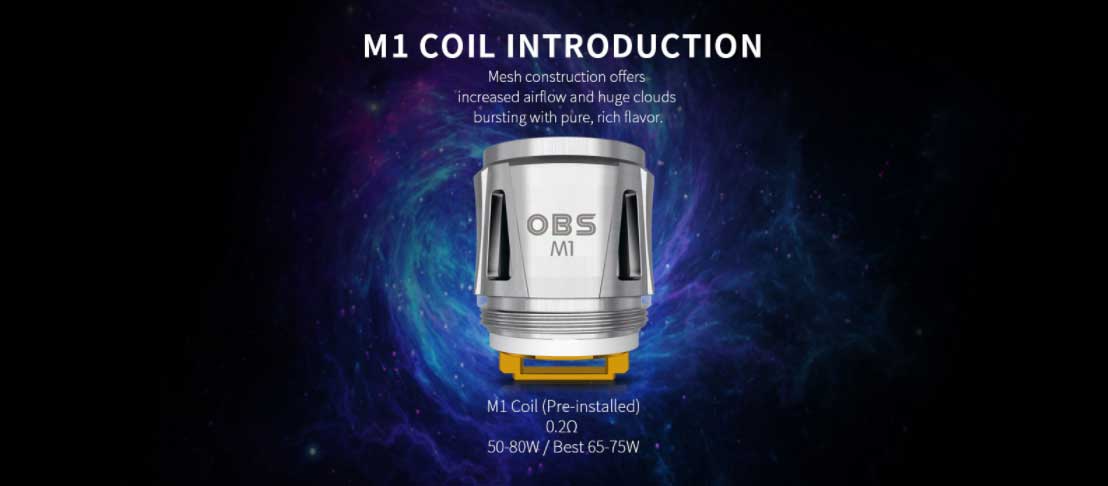 OBS Cube Pro Kit Features & Specifications
Please access the infographic below to see all the specifications for the OBS Cube Pro.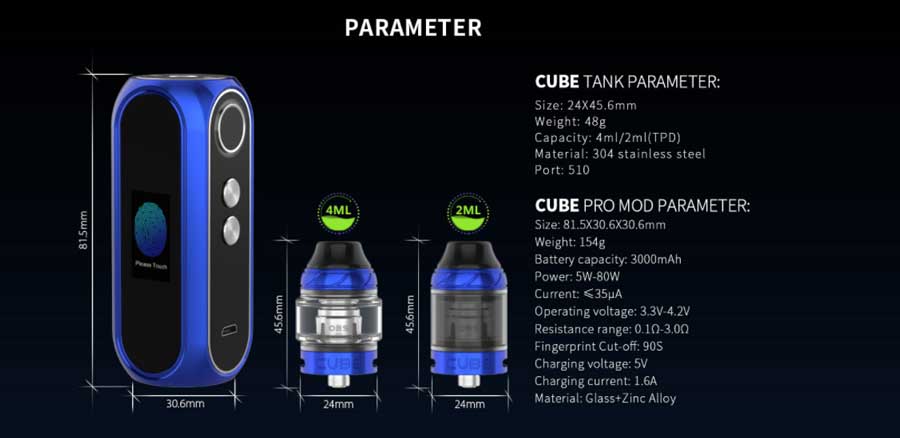 In The Box
With the purchase of the mod only, you will receive the Cube Pro Box Mod, a Type-C cable, and a manual. The Cube Pro Kit contains the same items as the mod, but you will also get the Cube Tank with an extra 2mL glass section, two 0.2ohm M1 Mesh coils, and six extra o-rings.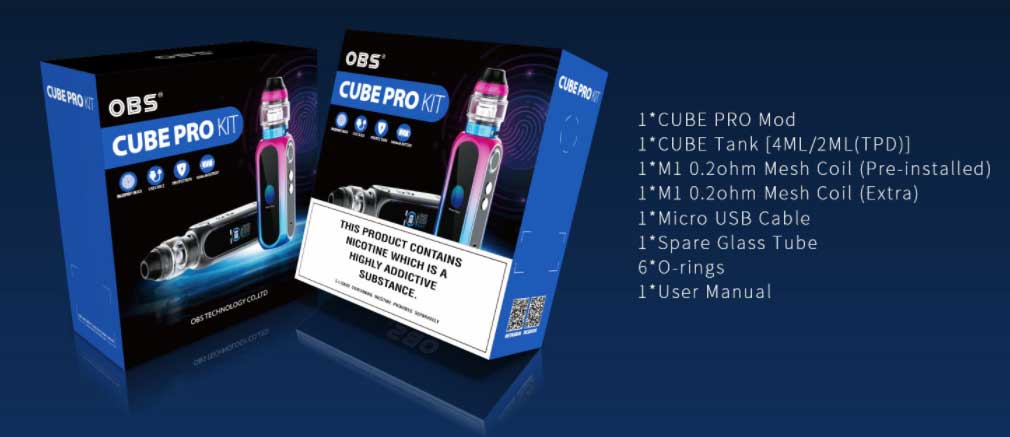 Related Deals
Total Views Today: 1 Total Views: 324