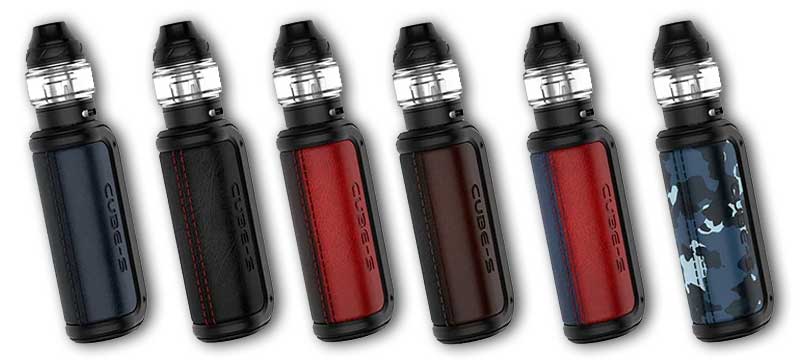 Here are cheap deals for the OBS Cube-S, for sale as a Box Mod or Kit at a low price.  The Cube-S Box Mod features new leather material, an external 18650 battery, type-C charging, 80 watts of maximum output, power mode, an advanced chipset, and multiple safety features. The Cube-S Kit comes with a Cube Tank and has a 4mL juice capacity, bottom adjustable airflow, and two mesh sub-ohm coils.
Ergonomic Design & Leather Grip
With quality leather overlays, the OBS Cube-S Mod is soft and comfortable in the hand, and the material also resists perspiration and scratches.  The chassis is always black, but the leather grip has the following options: black/blue, all black, black/red, black/brown, blue/red and blue/camo.  For ease of use, there's a crystal clear display screen on the control face that has a full-color UI and is easy to navigate with the power button and adjustment buttons.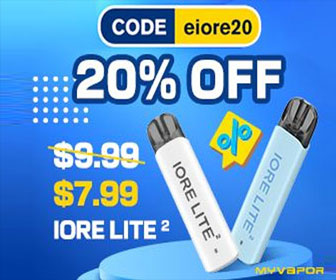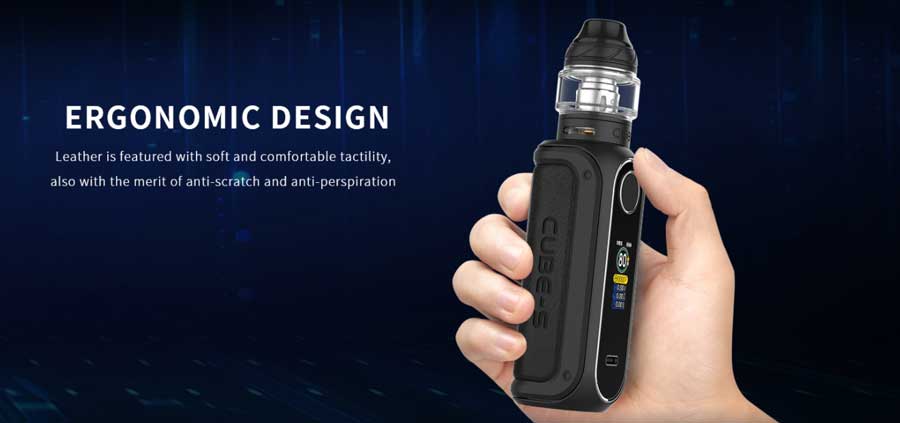 External 18650 Battery With USB-C Charging
The leather grip on the OBS Cube-S easily comes off to reveal the battery bay that holds a 18650 battery. With 80 watts of adjustable power, customizable from 5 watts, the cell recharges via a Type-C USB port that is easily plugged in because it is reversible.  Best of all, charging completes within 1.5 hours, so you can get back to vaping very fast.  And, multiple protections on the advanced chipset ensure the safest possible vape experience.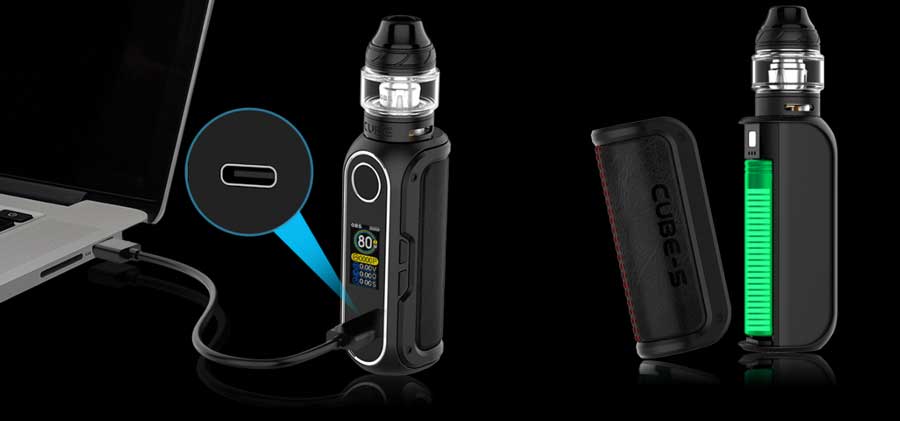 4mL Capacity Cube Mesh Tank
If you decide on the OBS Cube-S Kit, you will also get the Cube Tank that is easily refilled and utilizes a mesh coil, two of which are found in the package.  The 0.2ohm Mesh Coil works in the range of 50 to 80 watts, but is most efficient between 65 and 75 watts.  Adding e-liquid to the 4mL tank is quite effortless: unscrew the top cap to expose two filling slots that will fit the tip of any of your favorite juice bottles.  There's also a 2mL tube section included if you want a more portable setup, or if you are located in the EU where the reservoir's capacity is limited to 2mL. And, two adjustable intake slots at the bottom ensure you get the best airflow experience form the Cube-S Box Mod Kit.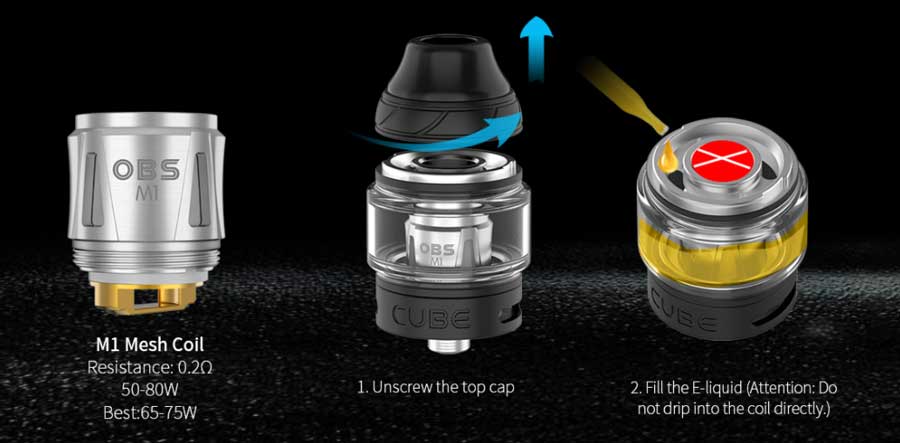 OBS Cube-S Box Kit Features & Specifications
The Cube-S Mod is constructed with leather and zinc alloy and has dimensions of only 86mm by 28mm by 24mm. In power mode, the device has a 5 to 80 watt range which comes from a single 18650 battery with fast USB-C charging. The front features a 0.96 inch OLED display screen with full-color UI. And, the mod can fire any atomizer in the range of 0.1 to 3ohm. The Tank in the Cube-S Kit is made from 304 stainless steel, weighs 48 grams, and measures 45.6mm by 24mm. The device also has a 4mL juice capacity, a top fill system, and works with M1 0.2ohm mesh coils.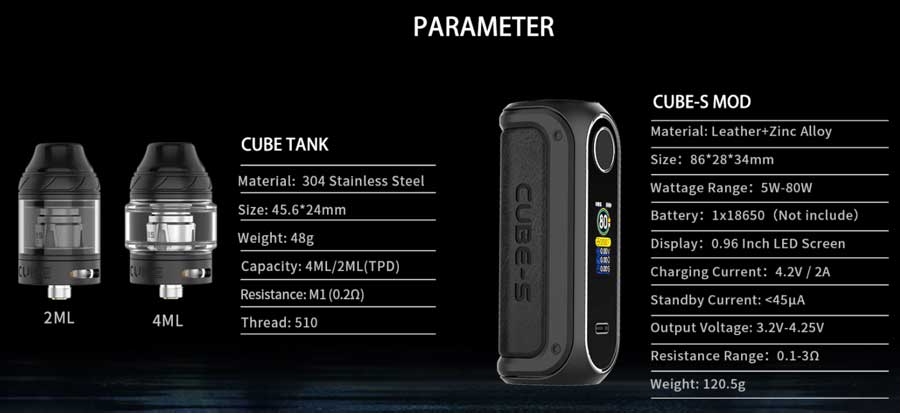 In The Box (Kit)
1 x Cube-S Mod
1 x Cube  Tank
2 x 0.2ohm Mesh Coils
1 x Type-C USB Cable
Extra glass section
Extra O-rings
1 x Manual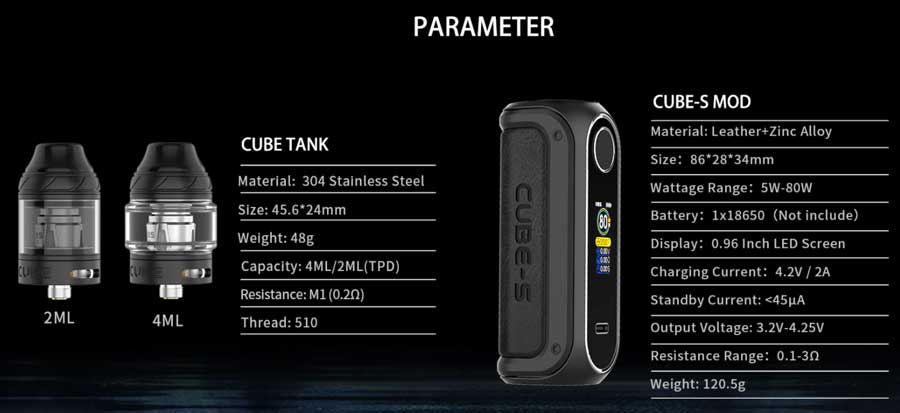 Related Deals
Total Views Today: 1 Total Views: 562