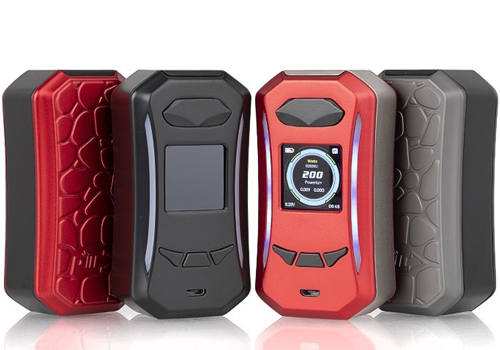 Here are cheap deals for the Pioneer4You iPV Trantor 200W Box Mod.  This mod's Yihi  chip board rivals any Evolv DNA mod out there and does it at a much lower price. And, the device has an amazing design that includes a full color display with customizable wallpaper, easy menu navigation thanks to a third adjustment button and dual LED stripes that can be customized to 7 different colors.
Overview
The iPV Trantor features the latest Yihi chip board, a full color TFT IPS HD display, wallpaper customization, customizable LED lights, 200 watts of power, Sxi-Q taste mode, flavor modes and anti-dry burning temperature control. Design-wise, this mod measures 90.2mm x 47.7mm x 31mm and weighs 169 grams. The curved design looks exquisite and is available in champagne, bronze, gunmetal, red and black color options. On the side, there are two LED strips that light up during mod firing for a cool experience in dark environments. These lights can also be customized to red, green, blue, yellow, cyan, magenta or white.
At the top of the device, there's a 510 threaded connection that should work with a wide range of atomizers, including large ones. The Trantor Box Mod's control face is all located on the front. In the middle, you will see a full color TFT IPS high definition screen that has several customization options including changing the background wallpaper. The menu looks modern and has vape data that includes battery charge level, current watts or temperature, current voltage, current taste mode, current resistance, mode and more. Navigating the menu is also effortless due to a select button for choosing menu items. At the bottom of the control face, there's a micro USB port that is used to recharge the dual 18650 batteries that power the Pioneer4You iPV Trantor Box Mod. They are accessed via a back magnetic panel that is easily removed to reveal the battery bay. Near the top of the control face, there's a fire button that has a modern shape and is said to be ergonomic.
Powered by a YiHi SX500A chipset, the Trantor Box Mod's performance will rival any expensive Evolv DNA250C Mod. The device has a unique innovative technology, the SXi-Q control system, which allows you to customize your own taste settings. In addition to SXi-Q, there are several preset flavor modes that include powerful, powerful plus, soft, standard. The temperature control modes all utilize anti-dry burning technology for the purest possible taste and are compatible with stainless steel, nickel and titanium heating elements. There's also an SX Pure mode and the ability to manually enter TCR values for your particular heating element. From a power perspective, the mod has a maximum output of 200 watts for high wattage vaping, a max 572 degree Fahrenheit capability in temperature mode and a resistance range of 0.15 to 3.0ohm. The Trantor was designed with safety in mind as well and that's why it was made with reverse polarity protection, low voltage protection, overheat protection, overcharge protection and low resistance protection.
Trantor Mod Features & Specifications
Measurements: 90.2mm x 47.7mm x 31mm
Finish colors: champagne, bronze, gunmetal, red, black
TFT IPS HD Screen

Full color
Customize your own wallpaper
Select button for easy selection of menu items

Dual LED stripes

Customize to red, green, blue, cyan, yellow, white, magenta
Light up during firing

Powered by dual 18650 batteries

Magnetic back battery panel
Micro USB charging

510 threaded connection
Built with YiHi SX500A chip

Output power: 5W-200W
Output voltage: 1.0v-9.5v
Temp. control with SS316L/ Ni200/ Ti 01/SX Pure/ Manual TCR
Output joule: 10J-120J.212-572 F/100-300?
Standard resistance: 0.15ohm-3.0ohm
Joule mode resistance: 0.05ohm-1.5ohm
Temp control. Anti-dry burning tech
Flavor mode: Powerful, Powerful+, Soft, Standard and SXi-Q-S1
New innovative tech: SXi-Q control system-customizer your own taste
Safety features

Reverse polarity protection
Low voltage protection
Overheat protection
Overcharge protection
Low resistance protection.
Total Views Today: 1 Total Views: 1,125