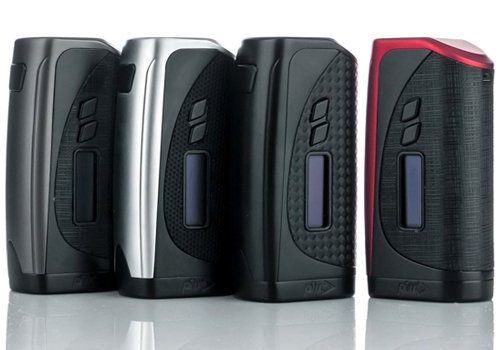 Check out this cheap price on the Pioneer4you IPV Vesta, a Yihi powered box mod. Yihi chip boards rival their Evolv DNA counterparts in accuracy and efficiency.
Overview
The 200 watt IPV Vesta by Pioneer4you is the next generation mod in the IPV series.  It features the newest technology thanks to its latest Yihi 410 chip that allows for SXi-Q temperature curve system for precise operation.
Although it is already available for pre-order, very little is known about the IPV Vesta, except that it is powered by a Yihi chip.  These chips are known for their precise operation at a much lower price point than DNA mods.  In this case, the mod is built with the latest Yihi 410 chip board which allows power output up to 200 watts and surely features accurate temperature control that is compatible with all coil types.  At the least, the device will  include three variable temperature modes,  a TCR mode and an ability to fire with low resistance,  down to probably 0.05ohm.  What is a fact is that the IPV Vesta mod is built with the SXi-Q Intelligent Taste Curve system which ensures the most precise output thanks to its one-of-a-kind algorithms.  And, the unit will feature a wide range of safety features such as reverse polarity protection, short circuit protection, low battery warning, low resistance protection and overheat protection.
The  Pioneer4You IPV Vesta is powered by dual 18650 batteries that are bottom loaded by opening a hinged battery door.  An integrated on-board charging system allows for charging via the USB port.
From a design point of view, the Vesta looks sleek with curved corners and an ergonomic form factor. Its dimensions come in at 40mm x 95mm x 35mm and you can get the mod in all black or in a combination of red/black.  The firing button is located on the side, while the adjustment buttons are located on the front, above the OLED display.  The screen's menu is in a horizontal configuration and features indicators for current wattage/temperature, voltage, resistance and two bars that show the current charge levels of each cell.  At the top of the mod, there's a 510 threaded connection bezel for flush & easy atomizer installs.
While detailed specs are not available yet, this mod with the latest Yihi chip may operate as well as any DNA mod, but at a much cheaper price!  If you liked the IPV 400 or IPV 8, then perhaps you'll love the IPV Vesta box mod.
IPV Vesta Features & Specs
Powered by the latest Yihi 410 chip board
Measurements: 40mm x 95mm x 35mm or 1.57″ x 3.74″ x 1.38″
Materials used: unknown
Colors: black, black/red
510 threaded connection
OLED screen
Side power button
Frony adjustment buttons
Power mode output range: 10W to 200W or 220W
Resistance range: unknown
Temperature control compatible with nickel, titanium, stainless steel, TCR
Joules mode
SXi-Q Intelligent Taste Curve system for precise operation and prevent dry hits
Utilizes dual 18650 batteries
Bottom hinged battery door
More specs coming soon!
IPV Vesta Pictures
Total Views Today: 1 Total Views: 124