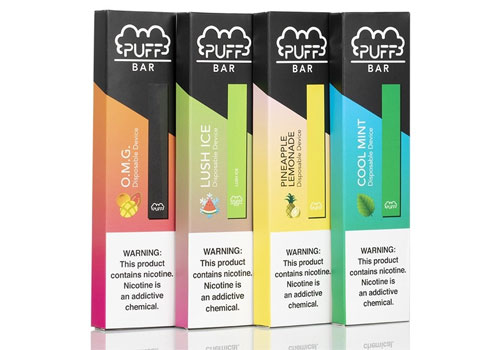 Update: The Puff Bar Disposable Has Been Discontinued – Check  Better Disposable Deals Below
Here are cheap deals for the Puff Bar Disposable Pod Device.  This disposable vape system features portability, a 280mAh rechargeable battery, 5% (50mG) nicotine salt juice, and approximately 200 puffs per device. Available in 9 flavors! These kits continuously fly off the shelves due to their popularity. Don't miss out before they are gone!
Flavor Options
Lush Ice – Freshly sliced candied watermelon with a bit of delightful menthol.
Strawberry – Summertime Strawberries plucked at the top of maturity, exuding a delectably delicious aroma.
Blueberry – Bursting blueberries erupting with uplifting taste that will delight the flavor buds.
OMG – A candied strawberry sour belt sprinkled with sweet yet sour sugar that will activate the taste buds.
Cool Mint – An Arctic-inspired production, combining cooled crisp mint into a compelling nicotine salt infusion.
Pineapple Lemon – Tangy tropical pineapple is joined with a mouth-puckering lemon for a gratifying nicotine salt creation.
Features & Specifications
Disposable – Non-Rechargeable & Non-Refillable
50mG nic salt juice pre-filled
Each device is like 20 Cigarettes
200 Puffs
Draw-Activated Firing Mechanism
Internal 280mAh Battery
1.3mL e-Juice
Total Views Today: 4 Total Views: 21,842