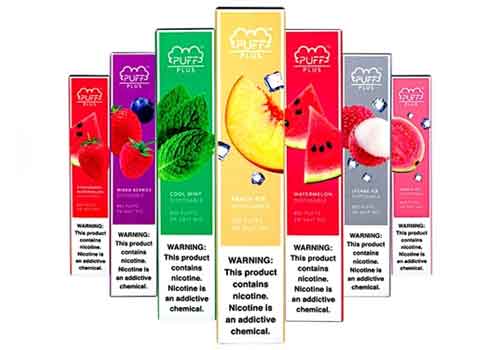 Puff Plus by Puff Barr: Nic Salt Disposable with 800 Puffs Per Device
Update: The Puff Bar Plus is quite old and mostly out of stock everywhere.  Check out better disposable deals with more puffs below
Overview
Compared to its predecessor, the updated Puff Bar Plus continues its amazing disposable nic salt vape system, but each pod now holds 3.2mL of nic salt and an internal 550mnAh battery for up to 800 puffs.  As a result, the Puff Barr Plus is somewhat bigger, but still remains portable and a draw-activation system for convenience. The Puff Plus disposable is ideal for both vape veterans and beginners because it provides pure satisfaction in a disposable e-cig device. Many flavors are available including tons of fruit, mentol and tobacco vapes. You are sure to find the one you like and each Puff Plus has a nice throat hit for instant enjoyment and to satisfy the cravings.
Review
Flavors
Tangerine Ice – Sweet tangerine with sweet citrus and menthol.
Cool Mint -A nic salt vape for winter with a satiny mint flavor.
Lychee Ice –  Asian lychee topped off with an icy finish
OMG (orange, mango, and grapefruit) – amaze your tastebuds with a  tasty trifecta of grapefruit, mango and orange.
Strawberry – Get this sweet tasty strawberry fruit juice that is perfect for summer.
Cafe Latte – Inhale your coffee with this smooth coffee flavored juice and sweet delicious cream.
Mango – Relish tropical nic salt taste for fruit lovers.
Blue Razz – A fusion of raspberries and blueberries that will activate your tastebuds with a windstorm of tart and sweet flavors.
Lush Ice – A sweet, tasty watermelon vape finished off with menthol for a burst of cold.
Pineapple Lemon – Transport yourself to Hawaii with this pineapple  vape that is said to have a any finish
Blueberry – Tasty ripe blueberries for a fruit fest. Ideal for summer.
Grape – Grape soda that is sweet and delicious.
Watermelon -Another summer taste which can transport you to the beach with this ideal watermelon vape.
Cucumber – A refreshing light cucumber flavored e-liquid and surprisingly unique.
Banana Ice – Frozen bananas that will remind you of banana frozen yoghurt.
Pomegranate – Sweet tangy exotic pomegranate fruit.
Sour Apple – Tart green apple fused with a  sweet candy flavor.
Guava Ice – Tropical guava fruit flavors finished with a burst of menthol for an icy experience.
Tobacco – A fantastic smooth tobacco nicotine salt juice. Not harsh.
Peach Ice – Vape cold peaches that just came out of the fridge.
Pink Lemonade – Tasty lemons that are sweet and smooth
Blueberry Ice – Blueberries and menthol for a cold winter storm experience.
Melon Ice –  A tasty fusion of melons paired with icy cold menthol.
Strawberry Banana – The best fusion of banana and ripe strawberries and a menthol chill.
Features & Specifications
Hassle-free disposable: use and throw away.
Portable
50mG of pre-filled nic salt juice pre-filled
Each device is like 4 packs of cigarettes
800 Puffs
Draw-Activated Firing
Internal 550mAh Battery
3.2mL e-Juice
Total Views Today: 1 Total Views: 3,363