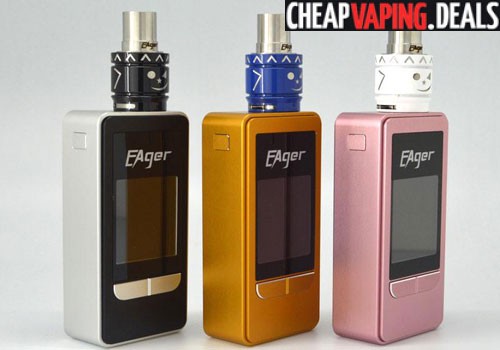 Puxiusi Eager 120W Box Mod Deal
Get an authentic Puxiusi Eager 120W Box Mod for just $36.01 and free shipping.  It's an incredible deal on this amazing device.
$36.01

   + Free Shipping
The Puxiusi Eager box mod is an excellent buy.  With a temperature control features and ability to fire up to 120W, this is one powerful mod.    It's also a very good-looking device.
The output voltage anges from 0.35V to 8.4V.  Wattage is changeable from 5w to 120W in increments of 0.1W.   Temperature control range is between 200 and 600 degrees Fahrenheit in increments of 10.  With a resistance range of  0.2 to 3.0 ohm, this device can be used on most of the sub ohm atomizers or tanks on the market.
The Puxiusi Eager has a 510 spring loaded, chromed brass pin connection.  The fire button is located on the side, without a locking ring.   Changing the two 18650 batteries is easy.  Simply remove the magnetized back cover panel. Or you can charge the battery through USB.
The coolest feature of this mod is the large OLED which displays resistance, vaping times, length of last puff, wattage and voltage.  The colorful kick-ass screen looks will remind you of a smart phone display.
The Eager also has all the protections built-in as seen with other devices: under-voltage & reverse polarity protection, short circuit and temperature protection and much more.