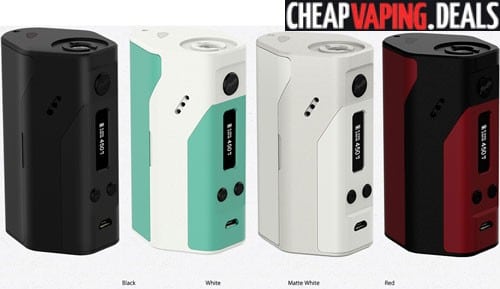 Get the Wismec Reuleaux RX200 TC Box Mod for a cheap price.
UPDATE

: By upgrading the firmware, the RX200 is now a 250W device!  Here's the steps:
Download the Wismec updated firmware version 3.10.  Donwload the update for Mac here or Windows here.
Find the downloaded file,  extract its contents and run "UpdateWismec.exe" file.
Install the application.
Connect the RX200 to your computer with a USB cable. If your computer is unable to detect the mod, it may due to a bad USB cable.  Try another one.
A window will pop up with your current firmware version
Select the "Reuleaux_RX200_V3.10.bin" in your downloaded file folder (step 2)
Click "update" and you're done
Overview
The  Reuleaux RX200 is a 200 watt box mod from Wismec.  The company recently brought their DNA200 box mod to market, but it's pricey and there is a shortage of DNA200 chip boards.  With the RX200, they've copied the design of their DNA200 to a less expensive device, with a cheaper Joyetech chip.
With its sleak curves and compact design, this unit has a clean look and its finish is resistant to fingerprints and scratches.  With the batteries installed, it's quite heavy.  It's powered by three lithium polymer 18650 batteries, permitting a very long battery life.  Depending on your vape frequency, the device will have power for days, without a need to plug it in.  Batteries can be charged externally or through the USB port, which can also be used for future firmware upgrades.
On the side, you will find a 0.69 inch OLED mini which is bright & clear and features an easy to navigate menu.  The top of the device features a springloaded 510 connector, with stainless steel threads and a gold plated pin to increase  conductivity and maximize longevity.
The maximum output power of this device is 200W, allowing the RX200 to power virtually all atomizers in the marketplace.  Temperature control is available with all coil types in the range of 200°F to 600°F.
Overall, this looks like an excellent device with all the same features as Wismec's DNA200.  Since Joyetech's TC chip has been reported to be an excellent product, the RX200 should have accurate temperature control, at a fraction of the price of its predecessor.
Features
Dimensions: 50mm x 40mm x 84mm
Weight: 150 grams
510 connector with stainless steel threads
Gold plated center pin
Utilizes three 18650 external batteries
USB charging
Firmware upgradeable
Variable wattage mode range: 1 to 200 watts
Temperature control modes: TC-SS & TC-Ni & TC-Ti
Temperature range: 200°F-600°F or 100°C-300°C
Bright OLED mini screen
Optimized cooling
Compact design: feels great in hand or pocket
Wear resistant
Magnetic battery door
Video Review
Video Tutorial
Pictures