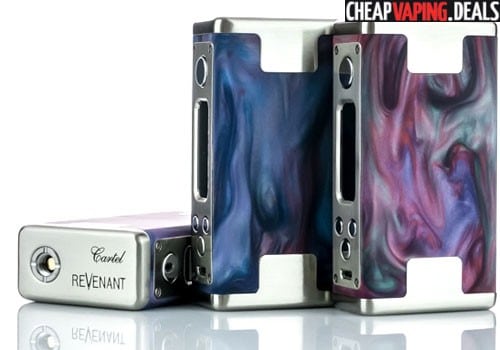 Check out this low price for the brand new Revenant Vapes Cartel 160 Mod. This premium resin mod retails for $150 so check out the blowouts below.
Update: This Item Is Out Of Stock Everywhere – Check  Similar Mod  Deals Below
Overview
The Cartel 160 is the latest box mod from Revenant Vapes.  It features a high quality full resin body, is compatible with atomizers down to 0.05ohm, can fire in ramp modes and has a maximum output of 160 watts.
The mod has dimensions of 92.5mm x 51.2mm x 26.2mm and has a stainless steel frame with a unique full-resin body.  As a result, each mod has a unique color/pattern due to the inherent variance of resin and wood.   The control face of the device is located on the side and features an amazing 0.91″ OLED screen.  The display menu conveniently shows current wattage, temperature, resistance voltage and battery indicators for each cell in a horizontal orientation.  Surrounding the screen, there's a large all-metal fire button and smaller metal adjustment buttons.  Because there are three adjustment buttons, switching between modes can be done with one click.  At the top of the Cartel 160  mod, you will see a hexagon 510 connection bezel that is built with a gold-plated/springloaded center pin for easy atomizer installation and amazing electrical conductivity.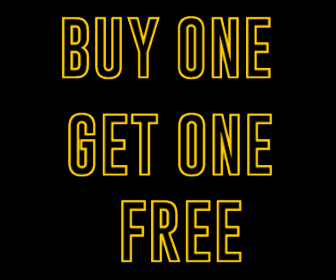 In addition to durable materials used, the Cartel 160 is also technically advanced and features a wide range of vape customization options.  It is built with the latest OMNI chip board which results in flexible output modes.  These include power mode, curvature of wattage mode (ccw), curvature of temperature  mode (cct), smart mode, temperature coefficient of resistance mode (TCR) or bypass mode.  With CCT/CCW, you may put in an initial temp/power level that is sustained for number of seconds upon mod firing while TCR mode allows entering more accurate resistance settings. For further atomizer compatibility, the mod can fire at a whopping 160 watts,  is capable of a low atomizer resistance of 0.05ohm and can fire with a temperature of up to 600 degrees Fahrenheit. To sustain 160 watts over time, the Cartel 160 Box Mod utilizes dual 18650 external batteries.  The cells can be charged via the USB port which also doubles as the firmware upgrade port.  To top off the cells, you can optionally use an external charger by accessing the bottom battery door that features a flip cover with clearly marked polarities.
For safety, the Omni chip board features integrated overpuff protection, overheat protection, anti-loaded protection, low resistance protection, short circuit protection, over-current protection and low voltage protection.
Video Review
Features & Specs
Dimensions: 92.5mm x 51.2mm x 26.2mm
Stainless steel frame
Unique full resin finish with marble pattern
Each mod unique look
510 hexagon connection
Springloaded pin
Goldplated pin
All metal buttons
Three adjustment buttons for easily interchanging modes
0.91″ OLED with 2-line menu
Powered by dual external 18650 batteries
Bottom battery cover with hinged door
Omni chip board
Recommends best output
Smart power mode output range: 5W to 160W
Temperature mode ouput range: 200°F to 600°F
TC works with: Ni, Ti, Ni200
TCR mode for precise resistance settings
Resistance range: 0.05Ω to 5.0Ω
CCW mode for ramp up/down firing in power mode in increments of 0.5s
CCT mode for ramp up/down firing in temperature mode in increments of 0.5s
Bypass mode
Firmware upgradable
Low voltage protection
Current protection
Output short circuit protection
Load protection
Low resistance protection
Over-temperature protection
Anti-loaded protection
Timeout protection
Pictures
Total Views Today: 1 Total Views: 447