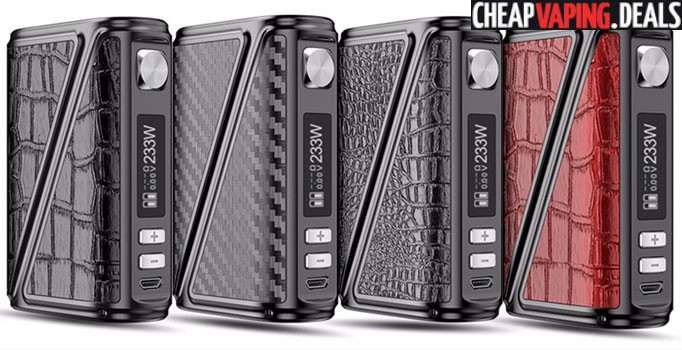 Rofvape Warlock Z-Box Mod
It is a tiny but powerful device that features 233 watts of output, exquisite finish options, dual 18650 battery support, low atomizer resistance capability and versatile temperature control.
Review
Overview
The Rofvape Warlock Z-Box is the smallest and most powerful two battery mod in the market place. It features 233 watts of power, an ergonomic design, durable materials, a Zorro theme, an easy hinged bottom battery door and four temperature modes.
From the perspective of design, the mod uses a Zorro theme by way of a long cut in the chassis on both sides that forms the letter Z. This groove on the black calfskin version is surrounded by high quality Spanish calfskin that is handmade and trimmed for a perfect fit.  You may also choose a carbon fiber finish or a red/black lion crocodile pattern.  On their website, Rofvape has stated that the design ensures superior ergonomics with the greatest hand feeling possible.  With measurements of only 54mm x 80mm x 25mm, the Warlock Z-Box is  the smallest and highest wattage two-battery operated mod in the marketplace.  This mod may be perfect if you need a high wattage device while you're out and about!
At the top of the 233 watts mod, you will see a stainless steel threaded 510 connection bezel that is corrosive resistant and will never wear down.  The center pin is also gold plated for better conduction and to prevent power loss.  Ahe large ergonomic fire button and rectangular adjustment buttons on the side control face are made of high quality CNC aluminum used in aviation.  In the middle of the controls, you will see a bright screen with horizontal vape data that includes a battery bar, resistance, voltage and wattage/temperature.
The Rofvape Warlock Z-Box is also technically capable.  The device is said to have gone thru thousands of hours of testing to ensure stable and precise operation.  Five preset modes are built in that include power mode, TC-Ni, TC-Ti, TC-SS and TC-CE modes.  Atomizers with a resistance of 0.07ohm or higher are compatible with this mod.  And, the maximum temperature output is 600 degrees Fahrenheit while the power output tops out at 233 watts. A series of protections are built into the device such as low voltage, high temperature, short circuit, overpuff time, overcharge and low battery prevention.
The two 18650 batteries that power the Z-Box are accessible from the bottom by way of a magnetic flip door that automatically opens by sliding a lock switch.  Polarities are clearly indicated to ensure cells are properly inserted.  While it is always a good idea to charge the cells externally, the included USB cable does allow for on-board charging via the micro USB port on the control face.
Features & Specifications
Dimensions:  54mm x 80mm x 25mm
Smallest & most powerful 2-battery mod in the marketplace
Luxurious materials
Utilizes zorro theme via z-cut on chassis
Colors: gun metal chassis with either black calfskin, carbon fiber, black lion crocodile or  red lion crocodile
SS316 510 atomizer connection – anti-corrosion & durable
Gold-plated center pin
Large round ergonomic fire button
Smaller rectangular adjustment buttons
Stable and precise operation after long testing period
Powered by dual 18650 cells
Easy magnetic bottom battery door with lock switch
Modes: TC-Ni, TC-Ti, TC-SS, TC-CE
Maximum power output: 233W
Resistance range: 0.07Ω to 2.50Ω
Temperature range: 200°F to 600°F
Low voltage protection
High temperature protection
Short circuit protection
Overpuff  protection
Overcharge protection
Low battery warning
Gallery
Comparable Products
Total Views Today: 1 Total Views: 342