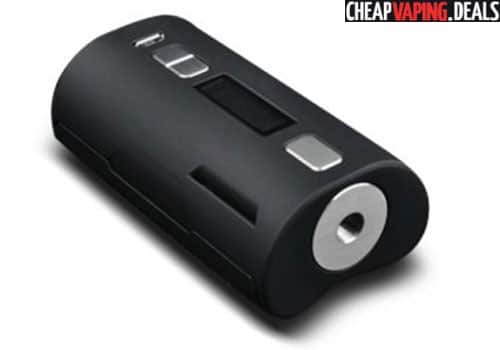 Update: The
S-Body Vapedroid C2D2 DNA 250 TC Box Mod
Has Been Discontinued – Check  Newer Evolv DNA Mods Below
Overview
The S-Body Vapedroid C2D2 is the follow up to the C1D2  and features a DNA 250 chip board.  The C2D2 features a similar design as its predecessor, but can put out up to 250 watts of power and is powered by dual 18650 cells.
The mod looks to have the same materials as the previous device with a zinc alloy body covered with a rubber coating.  Due to these materials, the C2D2 is built for durability.  The new mod's design looks similar to the lower power version, but has a more curved form factor and slightly bigger measurements at 36mm x 47mm x 86mm.  The mod's control face has also been moved to the front of the unit with the 0.91″ DNA OLED, adjustment buttons, a power button and USB port in a vertical orientation. The mod is features a springloaded 510 connection pin for easy installation of any tank or build.
The Vapedroid C2D2 is made with an Evolv DNA 250 chip board which allows for a maximum output power of 250 watts. The mod utilizes dual 18650 external batteries that are conveniently located in the battery on the back and uses an easy magnetic battery panel.  The USB port features 2 amp fast charging, so the cells will be topped off in no time and balanced charging technology ensures safety.
The unit can fire atomizers down to a resistance of just 0.1Ω in variable temperature mode with any coil type in the range of 200 to 600 degrees Fahrenheit.  As is always the case with any DNA mod, you can thoroughly customize the settings via Escribe computer software for the best vape experience.  The USB port also allows for future firmware upgrades in case new features are added.
Overall, the S-Body Vapedroid C2D2 is bound to be as popular as its lower power C1D2 with very accurate operation, amazing design and longevity.  The only negative may be that the mod may struggle to achieve 250 watts for extended periods with only two 18650 batteries.
Features
Measurements:  36mm x 47mm x 86mm or 1.2″ x 1.85″ x 3.39″
Weight: 174g
Zinc alloy construction with slip resistant rubber
Threaded 510 connection bezel
Spring loaded pin
Convenient battery cover with powerful magnets
Uses dual 18650 batteries
Micro USB charging & upgrades
Evolv DNA 250 chipset
Accurate temperature control
Power output range: 5W to 250W
Temperature range: 200°F to 600°F
Temperature control supports Ni, Ti, SS
Many presets
Power mode range: 1W to 250W
Minimum resistance: 0.1ohm
Customize via Escribe software
Pictures
Total Views Today: 1 Total Views: 144