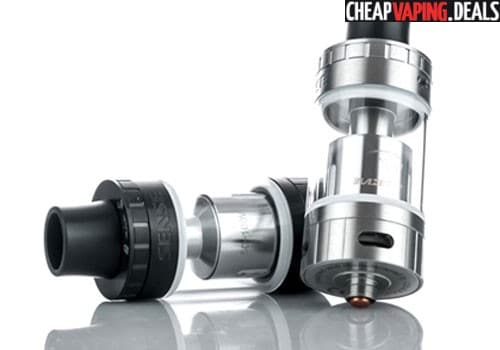 Check out this awesome price for the Sense Blazer 200 Tank. 
Overview
The Blazer 200 is the latest tank by Sense and is said to be a feature rich atomizer.   The device is built with a massive 6ml tank reservoir, features a ceramic coil system, is compatible with Smok TFV8 coils and has huge airflow for high power vaping.
The tank has a diameter of 26mm and features a stainless steel shell with a glass tank.  The unit's reservoir is capable of holding 6ml of e-liquid and is easily replenished via a hinge-style top fill structure that allows the top cap to flip open.   With purchase, you will receive a 12mm diameter drip tip as well as a drip tip adapter in case you have a favorite mouthpiece.   There's also a 510 connection at the bottom to work with any standard mod and to make certain there's maximum electrical conductivity.
Massive vapor production with pure flavors is said to be what the Blazer 200 was built for. Upon purchase, you will receive a coil that is made with food-grade ceramic materials, is built with three wicking holes for amazing taste and is made with Japanese organic cotton for healthy puffs.  This head can be used with 50 to 100 watts of power and fires with a resistance of 0.6ohm. Also included is a sextuple coil that is meant to be used between 60 and 200 watts for a high power vape experience.  The Blazer tank is also compatible with TFV8 coils.
Airflow is enormous because of the tank's four bottom air intakes that measure 7.5mm x 3mm and are fully variable.   Combined with the high wattage sextuple coil head, a cool yet massive vapor output is produced.
Video Review
Features & Specs
Diameter: 26mm
Amazing taste and enormous vapor production
Made from stainless steel body with glass
Tank reservoir: 6ml
Unique flip open top fill system
Dual fill holes with lock ring
12mm diameter heat-resistant Delrin drip tip
Drip tip adapter to use your own
Copper 510 connection pin for conductivity
Four changeable bottom airflow slots
Compatible with TFV8 Cloud Beast coils
 0.6Ω  food-grade ceramic coil head from 50W to 100W
 0.2Ω coil head from 60W to 200W
Quad enormous wicking holes
Coils are built with 100% Japanese organic cotton
Pictures
Total Views Today: 1 Total Views: 111