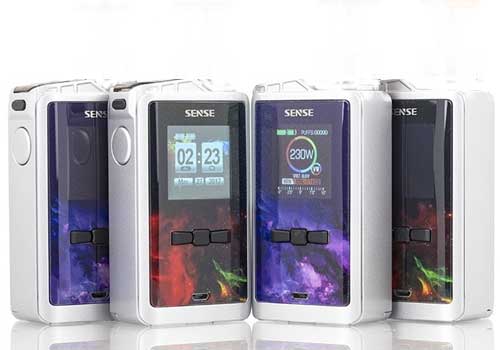 Here are cheap deals for the Sense Arrow 230W Box Mod.  This device features dual 18650 batteries, 230 watts of power, 128MB of flash memory, variable wattage mode, temperature control modes, TCR mode, TFR mode, a customizable 6-LED light on top, a full-color TFT display and a multitude of safety protections.
Review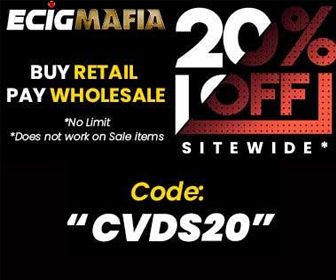 Overview
The Linked Vape Arrow by Sense features a 230W Box Mod and the Herakles 3 tank. From a design perspective, the futuristic appearing box mod looks to be exquisitely designed with a resin like control face that is available in red or purple colorways. Designed into the device are six LED lights that can function the way you customize them from 30 different options. The centerpiece of device is sure to be the control face which features a full colored LCD display with vape data such as current mode, current power/temperature, resistance, battery life, puff counts, puff time and even a clock. Navigating the menu is an effortless process thanks to five button control that entails a large fire button, angled adjustment buttons, a mode button and even an LED light button. At the top of the mod, you will find a springloaded/gold-plated 510 connection for effortless installation of your build or tank and best possible electrical conduction.
The Linked Vape Arrow Mod works with dual 18650 batteries that are bottom loaded and are hidden behind a battery panel that opens when pushed. You may charge the installed cells via the micro USB port which also doubles as a firmware upgrade port in case a new operating is released by Sense.
Built with the latest Cortex M4 chip board, this mod is able of up to 230 watts power and is compatible with atomizers that possess a resistance capability as low as 0.10ohm. In addition to variable wattage control, there are four variable temperature modes that include temperature control with nickel, titanium, stainless steel and TCR. A myriad of safeguards is also built into the Vape Arrow Mod such as low voltage, current, short circuit, load, low resistance, overheat, anti-loaded and timeout protections. The Herakles 3 tank included in the Sense Vape Arrow Kit has a 24mm diameter, features a 4.5ml juice capacity and is made with a top fill system for effortlessly adding e-liquid. Airflow is massive thanks to triple 9mm x 2mm air intakes that can be set from wide open to closed. With purchase, you'll get an exquisite 11mm wide bore drip tip that is made from resin. And, you'll receive a 0.4ohm and 0.6ohm V-Jet Coil both of which have kanthal heating elements, a power capability of 40 to 100 watts, a vertical coil orientation and are built with organic cotton for health and tasty vapor production. The kit also comes with a 510 drip tip adapter, an extra glass section, a micro USB charging cable, a manual and a warranty card.
Total Views Today: 1 Total Views: 740