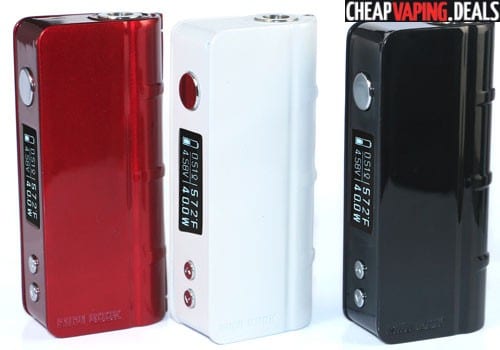 Sigelei Mini Book Overview
The Mini Book is made of a zinc alloy and features durable construction.  With a high gloss finish and compact design, it's a perfect mod to take with you on your night out.  It is available in black and blue.
The device has variable wattage/temperature control functionality and can fire atomizers up to 40W with resistance as low as .05Ω.  This makes it compatible with the majority of sub ohm tanks and atomizers on the market.  Temperature can be controlled between 212°F to 572°F.
At the top, the Mini Book has a stainless steel 510 connection with a spring-loaded pin.  The buttons on this device are high quality and clicky.   The mirrored screen looks similar to the Sigelei 75W with indicators for battery level, ohms, voltage, temperature and wattage.
On the bottom, you will find a micro USB port for charging.  To access the 18650 external battery, simply lift the front panel.  It's almost like opening a book, hence the name Mini Book.   The battery door is held down by two magnets.
The Mini Book is a nice little 40 watt device.  The overall quality and its compact size make it an amazing portable device.
More information on the Sigelei Mini Book
Sigelei Mini Book Box Mod Features
Dimensions: 85mm x 22mm x 39.5mm
Weight: 118g
Variable wattage mode: from 5W to 40W
Supported resistance range: from 0.05Ω to 2.5Ω
Voltage output: from 0.5V to 7.5V
Temperature control mode: 212°F to 572°F or 100°C-300°C
Maximum current: 25A
Support Ni200 and kanthal coils
Takes one high drain 18650 battery (not included)
Safety features: low resistance, overheating short-circuit, overheating and low voltage protection & input high voltage alert
Sigelei X Tank Overview
The Sigelei X Tank is a sub ohm device with a tank capacity of 2.5ml.  It comes pre-installed with a 0.10Ω Ni200 coil and can handle up to 70 watts of power.   It has an amazing design and is top-fill capable.  It is made of a pyrex glass tank and stainless steel.
Sigelei X Tank Features
Diameter: 22mm
2.5ml Tank Capacity
Made of Pyrex glass and stainless steel
Widebore drip tip
Bottom adjustable airflow
Top filling
Resistance: pre-installed 0.1Ω Ni200 nickel coil
Includes: 0.5Ω coil, 30W to 70W
Leak proof design
Total Views Today: 1 Total Views: 213