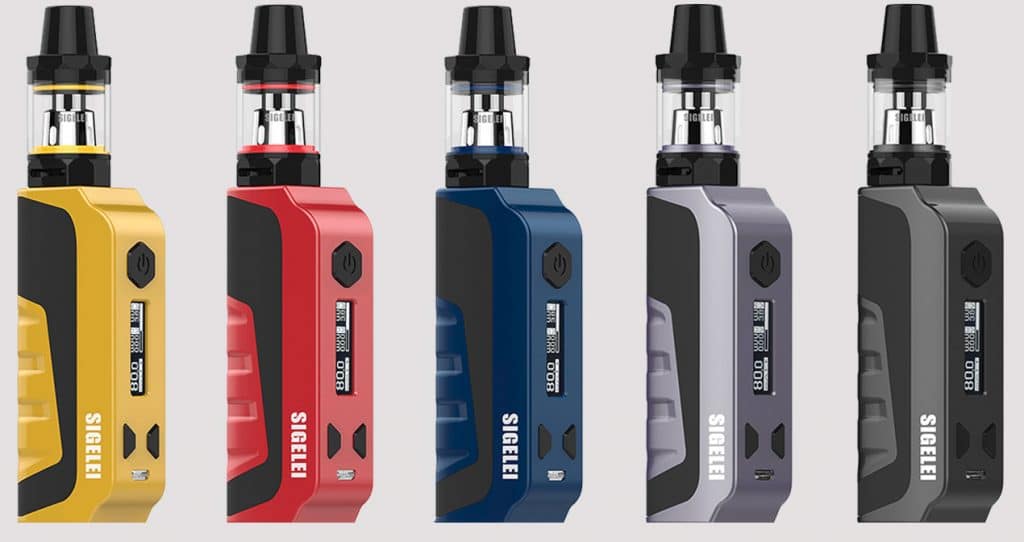 Overview
The Sigelei E1 Mod is a portable device that features 80 watts of power, a large range of modes, a 0.91 inch display, a modern appearance and an ergonomic design.
This new device is made of zinc alloy with plastic, is compact, measures 35.5mm x 25.5mm x 85.5mm and is available in yellow, red, blue, grey and gunmetal. The profile features a rounded look to give an elegant appearance that also makes the device easy to hold.  Further adding to the modern design are the adjustment buttons that are shaped like trapezoids and the fire button that looks like a hexagon. In between the buttons, there's a 0.91 inch display of which the menu system is unknown. Eight holes on the bottom keep the mod and battery cool. The unit utilizes a single 18650 battery that can be accessed by removing the back cover and is rechargeable via a micro USB port. The charging process takes place with a fast 2 amps of current, so the cells will be fully charged before you know it.
The E1 Box Mod by Sigelei supports a wide range of heating elements in a versatile number of modes. These include power mode, temperature control with stainless steel (304,316,317), titanium or nickel. The highest temperature output is 572 Fahrenheit while the minimum atomizer resistance is a rock bottom 0.05ohm. With these specifications, the mod is sure to work well with a wide range of builds, tanks or other atomizers in the market place.
Features & Specs
Dimensions: 35.5mm x 25.5mm x 85.5mm
Colors: gunmetal, grey, blue, red, yellow
Portable modern design
Ergonomic
Tiny
Elegant
Constructed from durable zinc alloy with plastic
Ventilation holes
Hexagon fire button
Trapezoid adjustment buttons
Works with a single 18650 battery

Slide off battery cover to reveal battery comparment
Micro USB charging system
Eight ventilation holes

Power mode range: 10W to 80W
Input voltage range: 3.2V to 4.2V
Output voltage range: 1.0V to 7.5V
Temperature range:200℉ to 572℉ or 100℃ to 300℃
Resistance range: 0.05Ω to 3.0Ω
Pictures
Total Views Today: 1 Total Views: 216