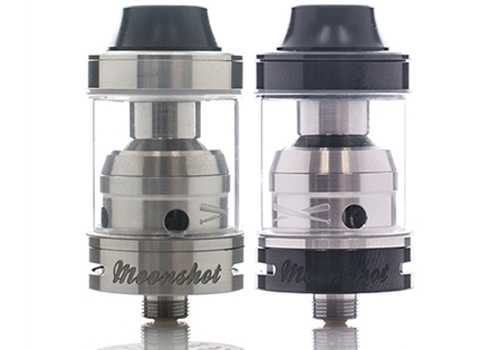 Here's a great deal on the Sigelei Moonshot RTA
Overview
The  Moonshot is a 200W capable RTA designed by Suprimo for Sigelei.  The easy to use device is said to produce amazing flavor and huge vapor clouds  that surpass similar rebuildable tank systems in the marketplace.
The Moonshot is a compact device that is constructed from 304 stainless steel and a glass tank. The RTA measures 22mm x 32mm (without drip tip) which gives it an amazing profile.   It was designed for those who enjoy high powered dripping , but also like to the benefits of an e-liquid repository.  With a 2ml tank capacity and a top fill system, getting an RDA experience in an RTA setup has never been simpler or convenient.
The RTA's cotton control build deck was designed  for simplicity and easy of use.   The deck features a 2 post design with 2mm terminals in order to easily work with dual coil builds.  The setup also has four 3mm wick ports to ensure steady wicking, even when power is driven up to 200 watts.  And, the combined size of the chimney and build deck has been reduced to ensure maximum flavor delivery.
The Moonshot also has high precision dual adjustable airflow to achieve the most personalized vape experience and ensure maximum vapor production.  Two 13mm x 1mm airslots redirect the air to dual 5mm diameter holes on the build deck.
For maximum electrical conduction and to eliminate voltage drops, the RTA also features a 24 karat gold plated connection pin.
Overall, the Moonshot looks like an excellent high powered rebuildable tank system.  If you enjoy high wattage vaping with amazing vapor production and flavor, this one may deserve a place in your vape collection.
Features & Specs
Dimensions: 22mm x 32mm
Body constructed from durable 304 stainless steel
Glass tank tube
2ml e-juice tank capacity
200W capable RTA
Designed for consistent performance
Dual adjustable airslots 13mm x 1mm
5mm bottom airflow
Two post build deck with 2mm terminals
Peek insulator on build deck
Gold plated 510 connection
Quadruple 3mm diameter wick ports
Small chamber for best flavor
Top fill capable for easy refill
510 compatible delrin drip tip
Extra screws, o-rings and hex keys
Total Views Today: 1 Total Views: 355