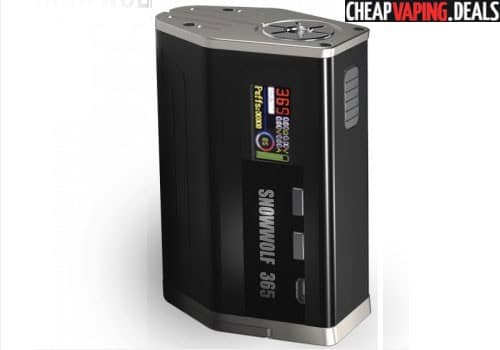 Update: The Sigelei Snowwolf 365 365W Box Mod Has Been Discontinued – Check  Newer Box Mods & Starter Mod Kits Below
Snowwolf 365 Overview
The Snowwolf has been upgraded to become the highest wattage mod in the marketplace today!  The Sigelei Snowwolf 365 features a brand new design, up to 365 watts of power, a large full color TFT screen, temperature control with all coil types and can be powered by either dual or quad 18650 batteries.
To allow for the storage of four cells, the new mod is bigger than its predecessor.  Its measurements come in at 87.5mm x 40.7mm x 60mm and features zinc alloy with aluminum materials.  The design is also completely different from the previous version and the form factor is rhombus-like, reminiscent of mods such as the Ijoy Maxo Quad Mod.  The control face is located on the side of the device and features the identical 0.96″ full color TFT screen that we first saw in the two-battery operated Sigelei Fuchai 213 Plus. The adjustment buttons are also similar to the Fuchai line of mods are are located underneath the display.  At this time, you can get the mod only in black, but more colors will be released in the near future.
The Snowwolf 365 is the highest wattage mod available in the vape market place today.  With 4 batteries installed, the unit's maximum power is 365 watts.  You can also use just two 18650 cells, in which case output tops out at 220 watts.  Obviously, the mod will be much heavier with 4 batteries, but will also need to be charged less frequently via the USB port.  While this item is still in pre-sale, it is uncertain where the battery door is located, but since this is a Fuchai 213 Plus on steroids, the compartment is most likely accessed from the bottom via a hinged battery door that easily flips open.
This box mod can be powered in several modes including power mode, temperature control nickel, temperature control titanium, temperature control stainless steel (304, 316, 317) and precise TCR mode.  The resistance capability ranges between 0.1ohm and 3.0ohm while temperature operation is allowed between 212 and 572 Fahrenheit.
To ensure the Sigelei Snowwolf 365 always stays in sync with new technologies, the mod supports firmware upgrades via the micro USB port.
Lately, Sigelei has been making high quality mods at an affordable price and this powerful mod is bound to be no exception.  For $56, you also get a 365 day warranty, so perhaps it deserves a place in your mod collection.
Snowwolf 365 Video
Snowwolf 365 Features & Specs
Measurements: 87.5mm x 40.7mm x 60mm
Made from zinc alloy and aluminum alloy
0.96〞TFT full color display
Stainless steel/threaded 510 connection
Spring-loaded center pin
Use dual or quad 18650 cells
Power mode range:10W to 220W (2 cells) / 10W to 365W (4 cells)
Temperature range:212℉ to 572℉ or 100℃ to 300℃
Voltage input range:6.4V to 8.4V (2 cells) / 12.8V to 16.8V (4 cells)
Voltage output range:0.5V to 7.5V (2 cells) / 0.5V to 12.0V (4 cells)
Highest output current:40A
Resistance range (power & variable temperature):0.1Ω to 3.0Ω
Ouput modes: VW / TC SS / TC ti / TC Ni / TCR
Preheat power adjustment for customized firing profile
Bottom hinged battery door
USB charging DC 5V/2A
USB firmware upgrades
Short circuit protection
High input voltage warning
Reverse battery protection
Overheating prevention
Snowwolf 365 Pictures
Total Views Today: 1 Total Views: 345