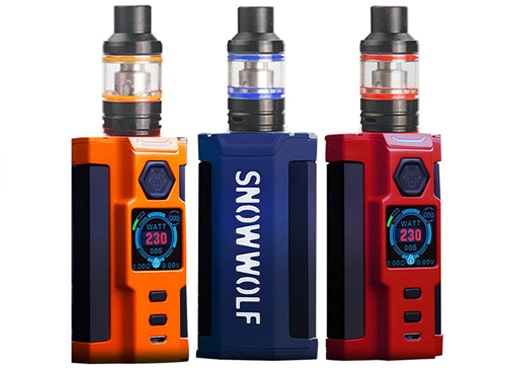 Update: The
Sigelei Snowwolf Vfeng-S 230W TC Box Mod
Has Been Discontinued – Check  Newer 230W Box Mod  Deals Or
All Mod/Kit Deals
Deal
Video
Overview
The Snowwolf Vfeng by Sigelei has been upgraded.  The new Snowwolf Vfeng-S features new colors, a lower price, lower minimum resistance, 230 watts of power, a robot type appearance, a 1.3″ TFT display, a customizable LED and utilizes dual 18650 batteries.
Compared to the predecessor, there really is not much difference. The unit is now available in more futuristic colors that include dark blue, red and orange.  Plus, you may also be able to find a kit that includes a tank, but it is uncertain what type of atomizer you will get. With dimensions of 46mm x  34mm x 87mm and zinc alloy/plastic construction materials, this powerful device has been made very portable and light.  Except for the new colors, the appearance of the Vfeng-S has not changed and it still features robot-like appearance with a back LED and a smaller front LED that adds to the mod's futuristic appearance, especially in the dark.
When you see the front-located control face on the Snowwolf Vfeng-S, you will notice a large hexagon  firing button that has the easily distinguished Snowwolf logo.  A massive 1.3 inch full color TFT screen underneath has an almost identical futuristic menu as the previous mod with vape data such as voltage, resistance, power, temperature, a puff counter, puff time, mode and battery charge level. As an added bonus, the mod's color scheme can be changed, although details are not available.
Dual 18650 batteries are used to power the Vfeng-S, but it is uncertain how they are accessed. However, you can see a micro USB port which means this unit certainly features an onboard charging system.  Technically, this mod is also versatile thanks to a myriad of operating modes that include power mode and temperature control with nickel, stainless steel, titanium and TCR.  The maximum power is 230 watts and the unit is compatible with atomizers down to 0.05ohm.
Features & Specs
Measurements: 46mm x  34mm x 87mm
Weight: 145g
Materials: stainless steel/plastic
Colors: blue, red, orange
Robot theme
LED lights

Back Snowwolf logo LED
Smaller front LED
Change colors to green, red, purple, blue, yellow or pink

Large fire button
1.3″ TFT screen
Powered by dual 18650 cells
Power output range: 10W to 230W
Full temperature control suite with TCR
Resistance range: 0.05Ω to 3.0Ω
Similar 230W Mods
Total Views Today: 1 Total Views: 608