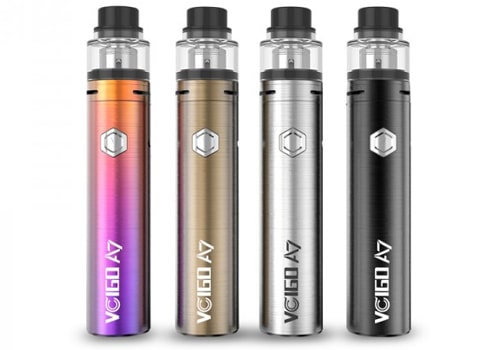 Here are cheap deals for the Sigelei Vcigo A7 3000mAh Starter Kit with 09 Tank. This starter kit features a powerful 3000mAh battery for long vaping times, a battery LED light, lightning fast 2 amp charging, a full suite of safety features, a 2ml tank capacity and an effortless top fill system.
Overview
This kit combines the Sigelei VCigo A7 battery mod with the 09 Sub Ohm Tank. The small A7 tube mod has measurements of just 24.5mm x 86.5mm and is available in black, copper, rainbow and stainless steel colors.
The unit is made with a massive 3000mAh internal battery that is recharged via a micro USB interface. An LED battery indicator will light up in different colors to ascertain the battery's status. A green light means the the cell's charge level is above 60 percent, a yellow light above 30%, a red light above 10% while a red flashing light means it's time for a recharge. The USB port supports 5 volts 2 amp charging which means the charging process will be lightning fast. This mod is mechanically styled, but output is still regulated and thus does not depend on the current state of the battery. And, there's also a full suite of safeties that include low voltage, atomizer low resistance, overheating and short circuit protections.
The Vcigo 07 Tank connects to the A7 mod via threaded connector, so it has an identical 24.5mm diameter. The tank tube stores up to 2ml of e-liquid and is refilled via a threaded top fill setup for a mess-free way of adding juice. At the bottom of the atomizer, you will see three 12mm x 1mm airflow intakes that are adjusted via the o-ring and have the ability to be closed off completely. For longevity, the 07 is made from stainless steel with a glass tank section.
Coil-wise, this tank has five different options that are all part of the SM Coil Family. Included with purchase, you will receive the SM2 M2 single vertical coil that fires in the range of 70 to 90 watts. But, there are four more optional coils: the SM2-H (0.2ohm, 60 to 100W), the SM2 (0.4ohm, 40 to 75W), SM4 (0.15ohm, 30 to 65W) and the SM6 (0.2ohm, 40 to 120W). In addition to the A7 mod, the 09 Sub Ohm Tank and 2 coils, you will also get a USB cable, two manuals, spare parts and a warning card with purchase.
Total Views Today: 1 Total Views: 144