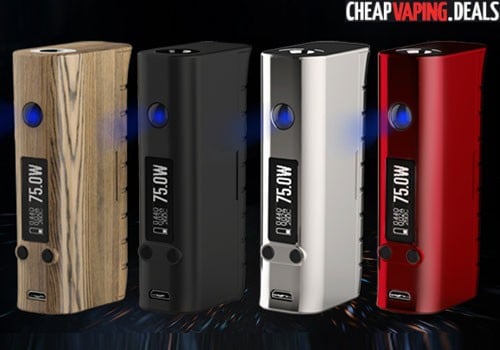 Update: The
SMY SDNA75 75W TC Box Mod
Has Been Discontinued – Check  Newer Evolv DNA Mods
Or
All Mod/Kit Deals
Here are some fantastic deals on the brand new Simeiyue SMY SDNA75 75W TC  Box Mod which features an Evolv DNA 75 chip board.
Overview
The SMY SDNA75 is a brand new box mod that was designed by Simeiyue and was built with the latest Evolv DNA chip.  It features 75W of ouput power, accurate temperature control and an amazing design.  SMY has stated that they wanted to put SDNA 200 in a more compact chassis and this box mod was the result.
The device is constructed from zinc alloy, is compact and has a gun-handle form factor.  It was made to feel amazing in the palm of the hand. On the fire button, there's an adjustable soothing blue LED. You can get the unit in four different colors: wooden, black, red or silver.
At the top of the mod, there's a stainless steel threaded 510 connection with a copper springloaded center pin.  This allows the device to be highly adaptable to the majority of atomizers, while ensuring resistance to wear and tear.
The control face of the SDNA75 features a 0.91 inch OLED that displays the same information you would find in other mods that are powered by Evolv DNA chips.  Here's some of the indicators you will find on the screen: battery charge level, current resistance, current amperage, current temperature and current wattage.
The power range of the box mod is 1W to 75W and it can control temperatures from 200°F to 600°F. It can be powered in several modes: temperature control (TC) w/ nickel wire, TC titanium, TC stainless steel and variable wattage modes.
The SDNA75 utilizes one 18650 removable battery.  The battery cover slides of the back and is held down by two strong magnets, yet it is easily removed.  The battery cell can also be replenished via the unit's on board charging technology.  Just plug the SDNA75 into any USB outlet with the included cable.
Because of the Evolv chip, this mod is also easily customized using  eScribe.  Simply install this software on your PC and you can personalize many of the box mod's settings.  To keep the device up to date, SMY also continually updates the firmware.    The company has said that it will soon release a new firmware for the SDNA 75 that has all the TCR pre-settings.
Overall, the Simeyue SDNA 75W TC Box Mod looks like it is really easy to use, ergonomic & portable.  And, it will have the stable performance and accurate temperature control you've come to expect from any device built with an Evolv DNA chipset.
More on the SDNA75 on the SMY website
Features & Specs
Dimensions:  44mm X 23mm X 84mm
Made from zinc alloy
Colors: Black/ Red/ Stainless Steel/ Wooden
Latest genuine Evolv DNA75 chip
Portable
Ergonomic
Gun handle design
0.91″ OLED display
Stainless steel threaded 510 connection
Copper, springloaded center pin
Power button: adjustable LED light
Power range: 1W to 75W
Power mode resistance range: 0.1‎Ω to 2.0‎Ω
Temperature control resistance range: 0.08‎Ω to 1.0‎Ω
Temperature range: 200°F to 600°F or 100°C to 300°C
Output voltage: 0.2v to 6V
Powered by single external 18650 battery
Magnetic battery door
USB charging
Firmware upgrades
Customize via Escribe
Lock/Unlock
Many safety features: short circuit, over discharge, reverse polarity, over temperature and low resistance
Video Review
Not available
Total Views Today: 1 Total Views: 128