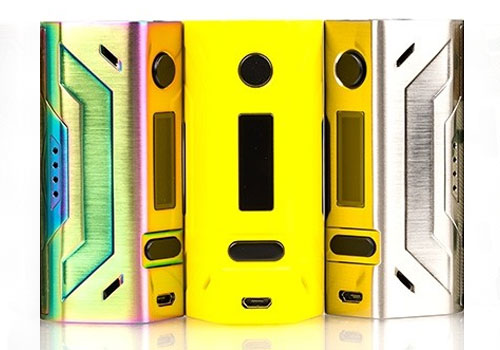 Here's fantastic deals on the Smoant Battlestar  Box Mod.  It features  200 watts of power, temperature control modes, a display screen, a portable design, two 18650 battery operation, micro USB charging and lightning-fast firing.
Overview
The Battlestar is a brand new box mod from Smoant and features true 200 watts of power, a small form factor, two battery operation and is said to fire without delay.  It is available in black, yellow and white.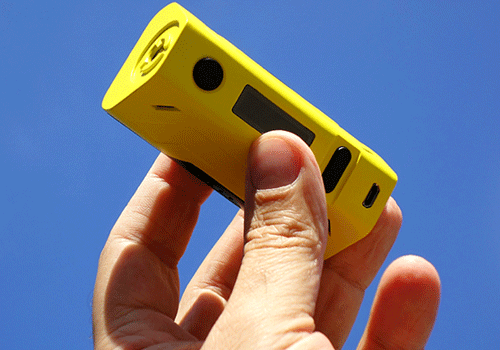 Even though the device features 200 watts of maximum output, it is quite portable as its dimensions are only 40mm x 83mm.  It also features high quality construction, fits nicely in the hand and the buttons are easy to access.  At the top, there's a stainless steel 510 threaded connection bezel that measures 25mm across.  On the control face, there's fire/adjustment buttons and a bright OLED screen.  Below there, there's a micro USB port that can be used to charge the two 18650 cells that power the unit.  They are hidden in the battery bay which features a magnetic battery cover for easy access.   While charging, you can continue to vape as the Battlestar is built with passthrough charging capability. The mod is also designed with several venting holes that ensure the entire system doesn't overheat and ensure the mod's longevity.
The Battlestar box mod is capable of up to 200 watts of power and is said to instantly fire, without any delay at all.   Temperature control on this box mod works with all coil wire types including Ni200, Titanium and stainless steel.  There's also a three TCR memory slots that will allow the mod to work with any wire type,as long as you enter the correct TCR value.  Atomizers can be fired with a resistance as low as 0.05Ω in variable temperature modes or 0.10Ω in power mode.  And, safety is also built into the device with several protections such as overheat, reverse polarity, over-puff time an low resistance protections.
Video
Features
Dimensions: 83mm x 43mm
Weight without batteries: 136g
Colors: white, yellow or black
Portable and ergonomic
Big OLED screen
25mm spring loaded 510 connection
Ventilation system
USB charging
USB upgrades
Passthrough charging: vape while charging
Magnetic battery door
Powered by dual 18650 battery cells
Power range: 1W to 200W
Temperature control: nickel, titanium, SS
Three TCR memory slots
Lowest atomizer resistance in power mode: 0.1oΩ
Lowest atomizer resistance in temperature control modes: 0.05Ω
Wide range of safety features
Pictures
Total Views Today: 6 Total Views: 302