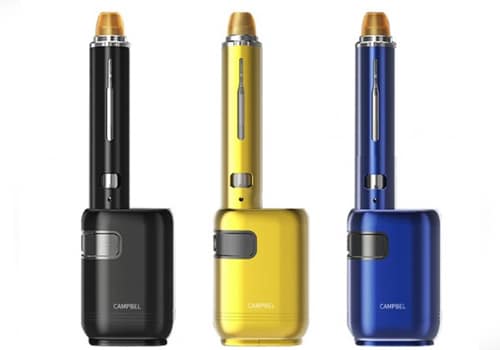 Here are cheap deals for the Smoant Campbel Kit 80W.  This unique starter kit combines vape juice and your choice of soft drink for a brand new vape experience. Additionally, this setup features a 3ml soda tank, a 2ml e-juice tank with easy fill system, 80 watts of power, multiple protections, a compact design, a single 18650 battery and a micro USB charging system with LED.
Smoant Campbel Video
Overview
Available in champagne gold, sapphire blue and classic black, the Smoant Campbel is quite unique because you can vape your favorite e-juice and fuse it with your favorite soft drink for a one-of-a-kind vape experience.
The Campbel Kit consists of the mod, an e-juice tank and a soft drink tank. The 2ml e-juice and 3ml soda reservoirs screw together, are easily disassembled to add more e-liquid/soda and have a cover that is made with viewing slits so you may see if it is time to refill either tank.  The juice tank is made from stainless steel and quartz and measures 19mm x 30.4mm. Inside the tank, you will see 0.2ohm Ni80 coils that fire in the range of 30 to 60 watts and are made with 100% organic cotton. The soda tank filter section has measurements of 23.5mm x 111mm and is made from aluminum alloy, stainless steel, resin and quartz glass.
The Campbel Mod is a mechanical device, so output depends on the charge level of the single 18650 battery that powers the device. The battery is recharged via a micro USB port and a 3 light LED will indicate if it is time for a recharge. With a fully charged cell, the unit can operate with a maximum 4.2 volts or 80 watts with any atomizer that has a range of 0.08 to 3ohm. Multiple safety protections include reverse polarity, overheat, low voltage, over-current, overtime and overcharge protections. With dimensions of 55mm x 30mm x 77mm, the Smoant Campbel box mod is compact and its rounded profile means it's also comfortable to hold.
With purchase of the Smoant Campbel kit, you will also receive two Ni80 coils, 2 extra glass tubes (juice & soda), a certificate of authenticity, a warranty, a manual, a bag of spare parts and a battery warning card.
Smoant Campbel Features & Specifications
Vape your favorite e-juice & any soda
Colors: champagne gold, sapphire blue, classic black
Campbel Mod
Dimensions:  77mm x 55 x 30mm
Power range: 1-80W
Voltage range: 3.2-4.2V
Power mode only
Utilizes single 18650 battery
5V/1A micro USB charging system
Resistance Range: 0.08ohm-3ohm
Soda Reservoir
Dimensions: 23.5mm x 111mm
Drip tip: 16 x 9mm
Soda capacity: 3ml
Easy refills
Made from aluminum alloy, resin, quartz glass, stainless steel
E-Juice Tank
Dimensions: 19mm x 30.4mm
Juice capacity: 3ml
Coil: Ni80 0.2ohm | rated 30W to 60W | 100% organic cotton
Made from stainless steel & quartz glass
Total Views Today: 1 Total Views: 506