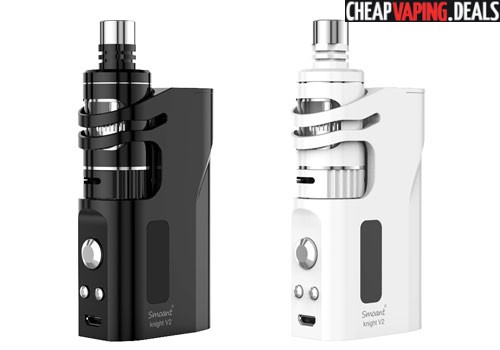 Here's an awesome deal on the brand new Smoant Knight V2 Starter Kit.
Overview
The Smoant Knight has been upgraded with this V2 version and includes both the Knight V2 Box mod and the Talos V1 tank.  Compared to the previous version, this bundle features an improved mod that is much lighter, a larger OLED screen, a magnetic battery door for convenience, TCR mode, easier access to the atomizer and a 510 adapter for RDA.
The new mod weighs 128g and, with dimensions of only 50mm x 79mm, is compact and portable. The build quality is top of the line, yet this kit remains very affordable.  The screen has also been enlarged, allowing the user to check and adjust mod settings very easily.  The buttons are located on the front of the unit and are metallic for a premium look.  The kit is available in either white or black.
As was the case with its predecessor, the Knight V2 features a submerged atomizer setup that was built for easy installation of atomizers up to 23.5mm in diameter, including tanks, RTA and RDAs. Each package includes a 510 adapter that is compatible with RDAs.   The design has also been slightly altered to make adjusting airflow on the inserted atomizer easier than ever.
The V2 mod utilizes a single 18650 battery which is stored in the battery bay behind a magnetic cover for easier access.  If you don't want to hassle with taking the battery out, you can also use on board charging to top off the battery cell.  Best of all, you can continue to vape while the unit is plugged in.  For safety and battery longevity, the mod is also built with a number of ventilation holes
The mod can power atomizers up to 80 watts, has a minimum resistance capability of 0.1Ω and has temperature control which supports nickel, titanium, nichrome, stainless steel coils and TCR mode for a more customized vape.  To ensure safer vaping, there's also overheat protection, low resistance protection, overtime protection and reverse polarity protection.
With measurements of just 22mm x 56mm, The Talos V1 atomizer tank is very portable and is a perfecty match with the Knight V2 box mod.  The tank features a top fill system for easily adding liquid to the adequate 4.5ml tank.  It is made from a Pyrex glass tube with 304 stainless steel shell and  can be completely disassembled for cleaning and maintenance.
There's an RBA deck available for this atty or you can choose from four alternate coil types.  First, there's a 0.3Ω kanthal dual coil that is rated from 20W to 50W.  Or, choose the SS316L 0.5Ω coil that can be used from 20 watts to 35 watts or in temperature control mode from 380 to 500 Fahrenheit. There's also a titanium coil head with a resistance of 0.5Ω for variable temperature mode only or use the 0.5Ω Clapton coil in power mode from 25 watts to 45 watts.
Video 
Features & Specifications
Knight V2 Box Mod
Dimensions: 79mm x 50mm
Weight: 128g
Colors: white or black
Compact & portable
Submerged atomizer bezzle
Fits up to 23.5mm diameter tanks, atomizers & RDAs
Stainless steel threaded 510 connection
Gold plated/spring-loaded center pin
Easy AFC ring access than version 1
Uses single 18650 cell
Magnetic battery door
On board charging with passthrough capability
Venting holes for heat resistance
Wide range of safety features
Talos V1 Tank
Measurements: 22mm x 40.5mm
Made from SS with pyrex glass
Colors: black or white
Tank capacity: 4.5ml
Top/side fill system for convenience
Easy cleaning
Many types of coils available
Japanese organic cotton for health and pure taste
RBA available
Pictures
Total Views Today: 1 Total Views: 264