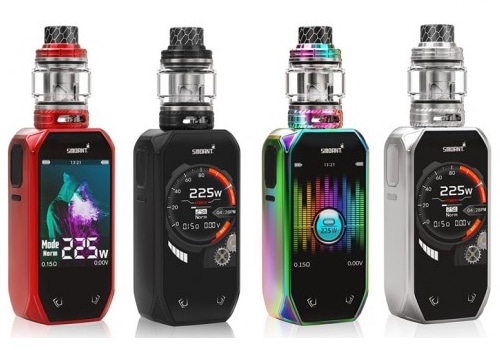 Smoant Naboo Kit: 225 Watts Of Power & Full Color Display
This device features the largest full-color display in the vape marketplace, three user interface options, an ergonomic design, a lock button, vibration-enabled virtual adjustment buttons, dual 18650 battery compatibility, balanced/fast 1.5 amp charging, a full temperature control suite, almost instantaneous firing, a plethora of safety features and 225 watts of max power.
Update: The Smoant Naboo Has Been Discontinued.  Please check the alternate vape kits below.
Review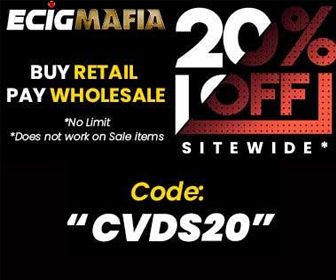 Compact Design
Design-wise, the Smoant Naboo is made from zinc alloy, has measurements of 91mm x 48mm x 31mm to make it compact, and is said to be ergonomic.  This box mod is available in black, stainless steel, rainbow, and red finishes.  At the top of the Naboo, you will see a centered 510 threaded connection that will work with many atomizers, builds, and tanks in the vape marketplace.
The Centerpiece of the Naboo Mod is certainly the front of the unit, which is built with a massive 2.4-inch screen that displays vape data in full color and a crystal clear manner. This screen has a 240 x 320-pixel level and 300 dots per inch resolution. Two user interfaces are available for the Naboo. The first is a classic menu with a card dashboard-type interface with current power, puff time, taste mode, time, battery life, and more. The second is dial mode which has a nice vaping background and vape data at the bottom.  Or, you may put the Smoant Naboo into music mode with a menu with colorful scales that beat according to sounds or music in the environment. While in standby mode, you can also set your favorite wallpaper or whatever background you prefer.
Underneath the screen on the front, you will see two virtual adjustment buttons designed with tactile feedback, so they will vibrate when pushed. On the side, you will find a rectangular fire button and a lock button that prevents the mod from firing or accidental adjustments when engaged.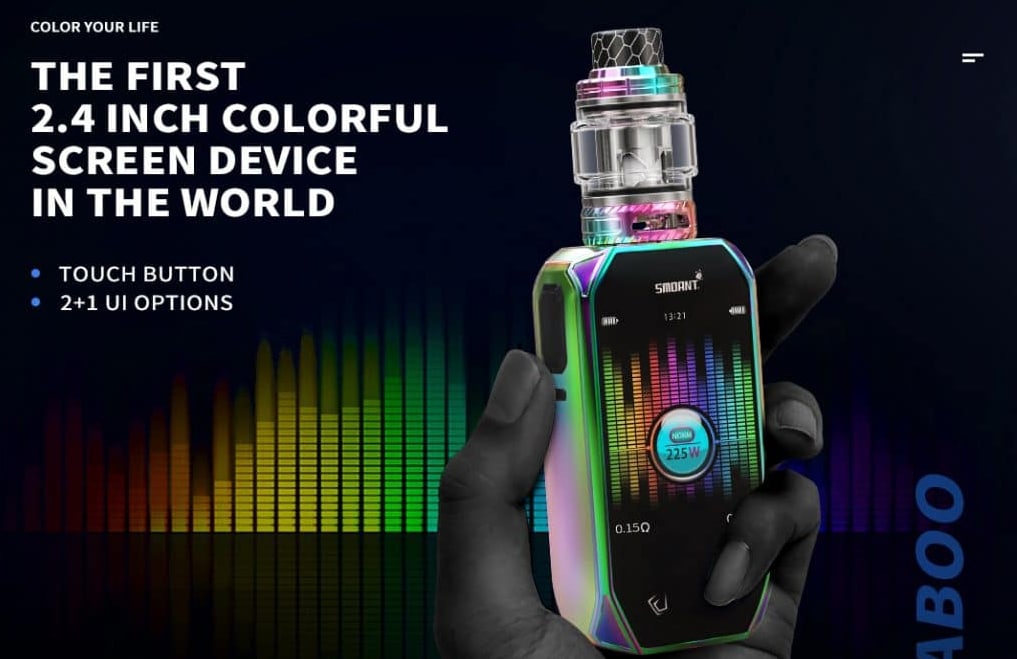 Dual 18650 Batteries
Powered by dual 18650 cells (not included), the Naboo by Smoant's battery bay is accessed by removing the back panel held down by three powerful magnets. The batteries may be charged via the micro USB port with the included cable. The charging system operates with a decent 1.5 amp current to reduce charge time and utilizes balanced charging to ensure both cells achieve equal charge for safety. When plugged in, the display will have two large battery icons that will fill and change from red to blue as the charging process completes.
225W Ant225 Chipset For 225 Watts of Power
Under the hood, the Smoant Naboo Box Mod is built with an updated Ant225 chipset, allowing it to operate up to 225 watts of power and fire lightning fast, within 0.015 seconds. This chipboard also allows the device to operate in a plethora of modes, including power mode (normal, max, and minimum taste setting options), power curve mode, and temperature control with all standard heating elements (nickel, titanium, stainless steel), temperature control curve mode and TCR. With the curve modes, you can set the power or temperature level to your desired output over a 10-second interval, resulting in a customized vape experience. In temperature control, the maximum setting is 600 Fahrenheit or 315 degrees Celsius, and the minimum resistance in all modes is a decent 0.1ohm.
A wide range of safety features is also built into the Smoant Naboo. These include over puff protection, short circuit protection, overload protection, low voltage protection, overheat protection, and reverse polarity protection.
Features & Specifications
Dimensions: 91mm x 48mm x 31mm
Made from zinc alloy
Compact & portable
Colors: black, stainless steel, red, rainbow
2.4″ full-color display

300 DPI resolution
240 x 320px
Three different user interfaces

Classic
Dial
Music
Set your favorite background while the mod is on standby

Uses  2 x 18650 batteries

Back battery panel
Micro USB 1.5A charging system
Balanced charging for safety
The screen displays two battery icons that fill & change color while charging

Updated Ant225 chipboard

0.015s firing
Output Modes: VW (Min, Normal, Max)/ VW Curves / Temp (Ni, Ti, SS) / TCR / TC Curves
Set custom power/temperature for a 10-second interval

Power range: 1W to 225 W
Temperature control range: 100°C to 315°C / 200°F to 600°F
Resistance range: 0.1ohm to 3.0ohm
Firmware upgrades
Protections

Overtime
Short circuit
Overload
Low voltage
Overheat
Reverse polarity
Gallery
Total Views Today: 1 Total Views: 2,144