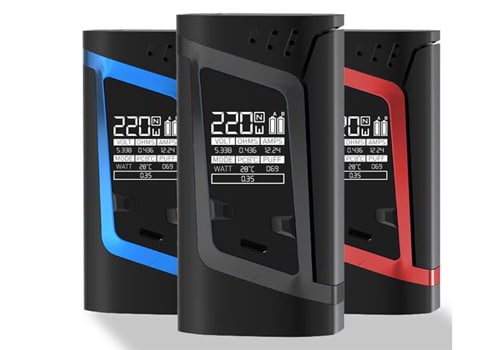 Here's fantastic offers on the Smok Alien 220W Box Mod/Starter Kit.  There are many different color options on various sites.
Overview
The Smok Alien Kit includes the Alien box mod and the TFV8 Baby Tank.  The Alien Box Mod features massive 220W of power and the TFV8 Baby tank puts out massive vapor.  In combination, these devices make a great vape bundle, at an affordable price!  The kit is available in black & gold and black & red.
The Alien 220 Mod has dimensions of 85mm x 44mm x 28.4mm so it is quite portable for a box mod that puts out a massive 220W .  The device is made from zinc alloy with carbon fiber inlays.  Its design is very unique with slanted gold or red lines encompassing the larger OLED screen, adjustment buttons and USB port.   The screen's easy-to-read menu features 6 lines and shows wattage, mode, battery level for each cell, resistance, coil type, puff time and number of puffs.   At the top of the Alien, there's a 510 connection and on the side, the oversized hidden fire button is beautifully integrated into the design.
The mod gets its 220W of power from dual external 18650  batteries, installed behind a magnetic battery door.  To top off the cells, you can charge them externally or you can use the on-board charging setup by plugging the unit into any USB wall outlet. In addition to power mode, there's also several temperature control modes that support nickel, titanium and stainless steel coil heads. Temperatures can be varied from 200 to 600 degrees Fahrenheit and atomizers can have a resistance as low as 0.06Ω.  There's also a TCR mode which allows the user to set the temperature coefficient of resistance for more accurate vaping and use with any coil type.
The Alien box mod is built with firmware upgrade capability.  This can be done either via the easy wireless firmware upgrade that uses over-the-air technology to update the operating system. There's also a smart app that utilizes Bluetooth so you can change the box mod's settings and more from your phone or tablet.
Although there are no details, the box mod is said to feature a wide range of safety protections.
The TFV8 baby tank is also included in this kit and is the latest portable tank from Smoktech with huge vapor and amazing flavor.   This portable tank atomizer works with 4 new coil heads, has a 3ml tank capacity, an easy top fill system and is black to match the Alien mod.
With purchase of this kit, you'll get the Alien 220 Mod, the TFV8 Baby Tank, one dual 0.4Ω Baby Q2 coil head (installed), one octuple 0.15Ω Baby-T8 coil, a USB cable, a replacement tank tube, a few spare parts and a manual.
Videos
Features
Alien 220W Box Mod
Dimensions: 85mm x 44mm x 28.4mm
Carbon fiber inlays
510 threaded connection bezel
Hidden fire key
Large OLED, easier to see and read
Power range: 1W to 220W
Lowest resistance: 0.06ohm
Temperature range: 200
Dual High-Amp 18650 Battery – Not Included
Maximum Wattage Output: 220W
Power mode atomizer resistance range: 0.1Ω to 3.0Ω
Temperature control/TCR mode atomizer resistance range: 0.06Ω to 2.0Ω
Temperature Range: 200°F to 600°F or 100℃ to 315℃
Compatible with stainless steel, titanium and nickel coil heads
TCR mode for accurate resistance
Powered by dual 18650 external batteries
USB charging
Easy magnetic battery panel
Bluetooth enabled 4.0 smart app
OTA (over-the-air) technology
Wireless or USB firmware upgrades
TFV8 Baby Beast Tank
Size: 22mm x 53mm
Weight:s 47g
Stainless steel chassis
Pyrex tank
Color: black
Huge vapor production in small device
Massive vapor in portable tank system
510 connection
E-liquid capacity: 3ml
Hinged top cap for easy refills
Redesigned bottom adjustable airflow control ring
Large air chamber
Four alternate coils
Wide Delrin drip tip
Pictures
Related Deals
Total Views Today: 3 Total Views: 20,243,393