Smok Arcfox: 230 Watt Waterproof, Shockproof  & Dustproof TC Box Mod Kit
Here are cheap deals to purchase the Smok Arcfox, available as a box mod only or kit w/ TFV18 Tank. The mod features a waterproof/shockproof/dustproof design, an exquisite appearance, a large fire key, a user-friendly UI, stable operation, 230 watts of power, variable wattage mode, temperature control mode, dual 18650 batteries, and ultra-fast 2 amp charging.  The TFV18 has a 7.5mL capacity, effortless refills, a resin drip tip, and meshed coils for instant, flavorful vapor production.
Deals
Waterproof Design
Design-wise, the Arcfox mod features a solid body with scratch-resistant silicone that ensures the unit will never slip from your hand.  In combination with the delicate metal chassis and leather shell, this setup catches the eye appearance-wise and will stand the test of time.  And there are countless finish options available: prism chrome, prism blue, prism red, prism gold, prism gunmetal, and bright black.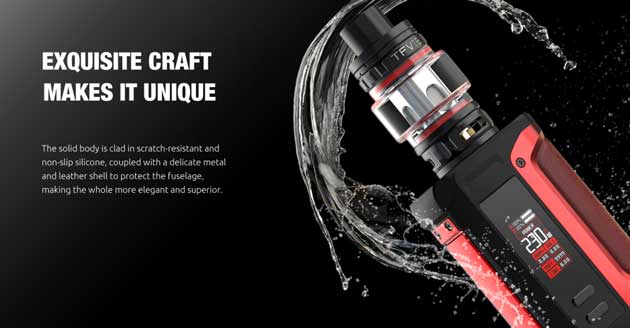 Moreover, this kit is ready for outdoor vaping because it is dustproof, shockproof, and IP67 waterproof.  This indicates that it can withstand water immersion from 15cm to 1 meter for up to 30 minutes.  This also prevents damage to the device due to dust, and there is no need to worry about unintentional collisions or accidental drops.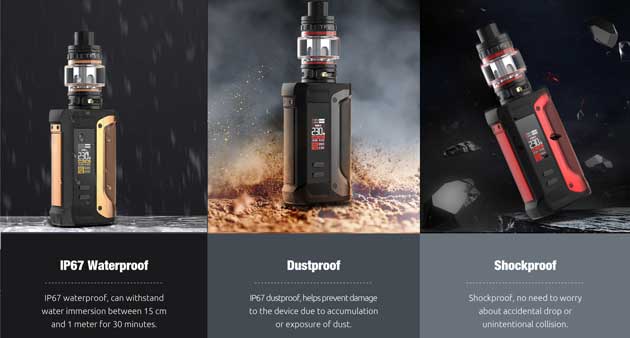 That is not the only new aspect of Arcfox's design.  On the side, there's a fire key that extends the entire mod length for convenient firing, and on the front control face, you'll see a user-friendly interface that provides tons of vape data for a high-efficient vape experience.  On the full-color screen, you will see two battery bars, current mode, current wattage/temperature, current resistance of the attached atomizer, a puff counter, and the last puff taken in seconds.  Because the display looks the same as previous mods,  it is almost certain that you will also be able to set the color theme of the user interface.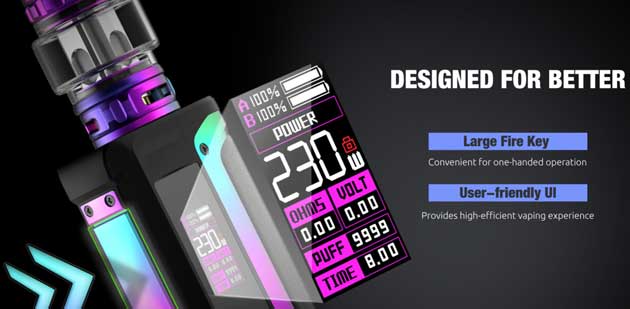 230 Watt VW Mode & TC
Powered by dual 18650 batteries, the device can generate up to 230 watts of power, adjustable starting at 5 watts.  The batteries are inserted by opening a bottom panel to expose the battery bay with clearly marked polarities.  Moreover, there's a 2 amp quick charging system on the side of the mod so that the battery may be topped off fast with an included cable.  And, to ensure no water can leak into the device, the Type-C charging port has a waterproof silicone plug.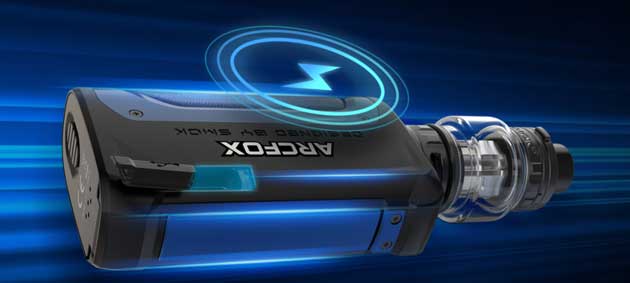 For versatility, there are two modes available with this mod: variable wattage and temperature control.  In variable wattage mode, the mod's range is 5 to 230 watts, but you may only power the unit from 10 to 80 watts in temperature control mode.  TC mode is compatible with titanium, nickel, and stainless steel atomizer heads, but unfortunately, there is no TCR mode.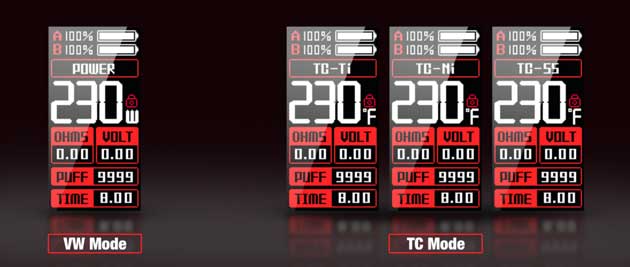 All this technical capability comes from the latest reinforced chipset, ensuring safety and stable performance with each puff.  In addition to being very reliable, the chipboard has intelligent safeguards such as reverse battery connection protection, battery over-discharge protection, power self-adaptive control, and reverse battery charge protection.   As a bonus, there's also an 8-second cutoff, intelligent atomizer recognition, overheat protection, short circuit protection, low battery warning, and a puff-monitoring system.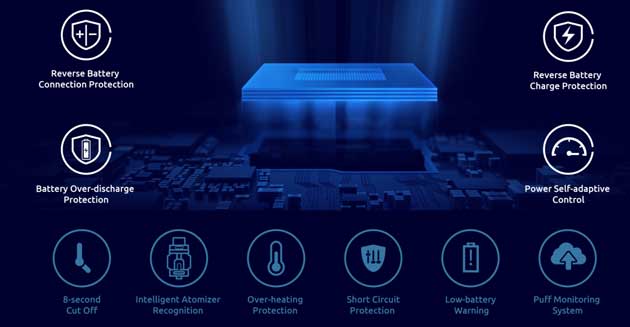 Massive Vapor
The Smok Arcfox kit includes the TFV18 tank, which is said to be a perfect match with the mod.  For sale in many colors, the tank's finish corresponds to the mod's color for the ideal appearance.  The tank in this kit comes with not one, but two straight wide bore resin drip tips: either gold black resin, red black resin, black white resin, blue black resin, or 7-color resin.  These drip tips are efficient at funneling the massive vapor from the coils, while 5 copper base braces efficiently transmit the energy generated by the batteries.  This results in fast, efficient heat transfer for instant, dense vapor.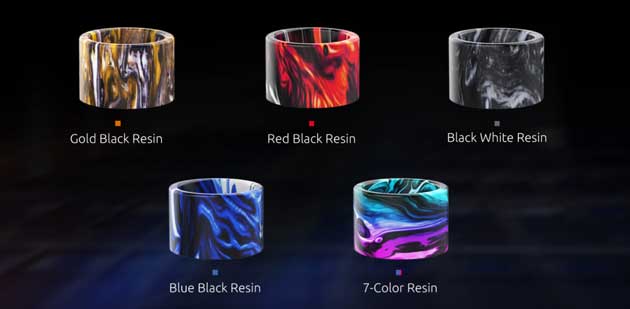 Another important characteristic of the tank is that it can hold up to 7.5mL of e-liquid, thus extending the time before a necessary refill.  To add e-liquid to the reservoir, you only push a button on the top cap that permits it to swivel open, thus uncovering a juice fill port.  Compatible with almost any juice bottle, one should note that it is essential to let the coil saturate for 5 minutes to ensure the cotton is completely wet.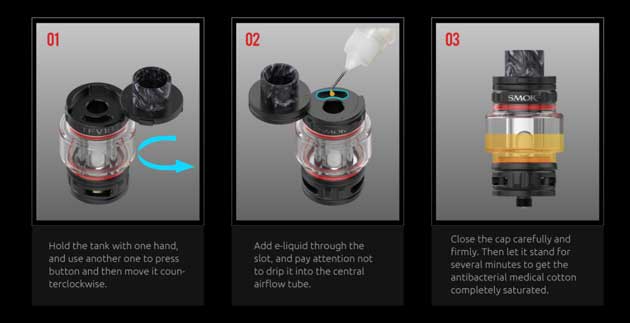 With the kit, you get two meshed coils, both of which should be used with e-liquids under 6mg nic strength to avoid potential nicotine poisoning.  Pre-installed in the kit, you'll find the 0.33ohm TFV18 meshed coil that produces a mellow taste and fires with up to 140 watts of power.  Also in the package is a 0.15ohm dual mesh coil head with the same wattage range, but its purpose is to provide faster, denser flavor while optimizing taste.  If you have a TFV16, you'll be glad to know that the coils from this predecessor are also compatible.  And the icing on the cake may be the RBA head for vape veterans who enjoy coil building.  It has pre-built coils with 0.33ohm resistance and is best fired between 55 and 65 watts.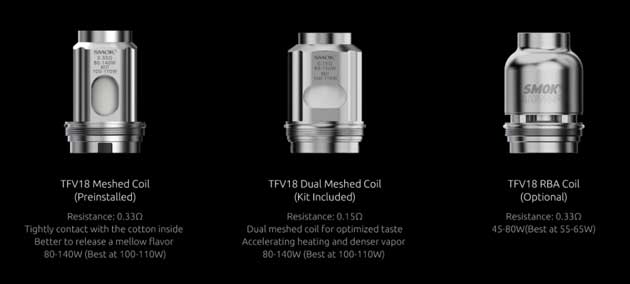 Finally, you may note three large air slots at the bottom of the tank that can be rotated from fully open to completely closed or anywhere between.  These intakes direct air to the coils from the bottom, creating immense velocity for faster heating and dense vapor production.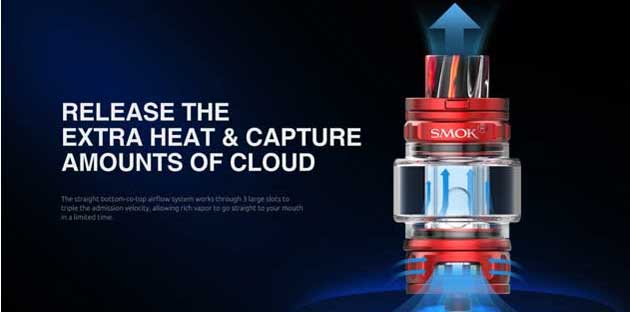 Colors
Features & Specifications
The mod measures 88.25mm by 55.6mm by 30mm and weighs 145 grams.  The output ranges from 5 to 230 watts, but the maximum capability in temperature control mode is 80 watts or 315 degrees Celsius.  Moreover, the unit is compatible with atomizers starting at 0.10ohm in variable wattage mode or 0.05ohm during temperature operation.  Powered by dual 18650 batteries, there's a 2A Type-C USB port to recharge the cells quickly.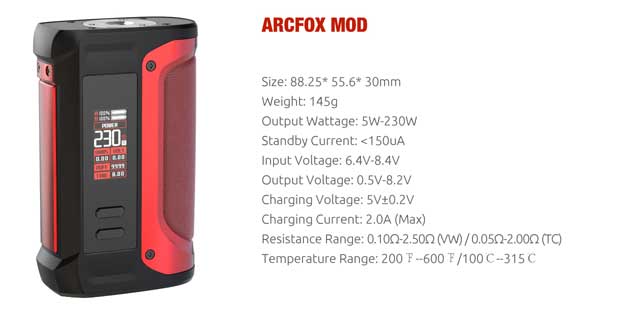 The tank in the kit measures 31.6mm by 66.3mm and weighs 93.3 grams. With a 7.5mL juice capacity and 510 threaded connection, this device is compatible with other mods in the vape marketplace.  If you are in the EU, you are limited to a 2mL juice capacity due to regulations.  Therefore, your kit will include a TFV-Mini V2 Tank with 25.4mm by 54mm dimensions and a 65-gram weight.

In The Box
With the purchase of the Arcfox Kit, you will get the mod, a TFV18 tank, a TFV18 meshed 0.33ohm coil, a TFV18 dual meshed 0.15ohm coil, a bulb glass tube replacement, a Type-C charging cable, and a manual.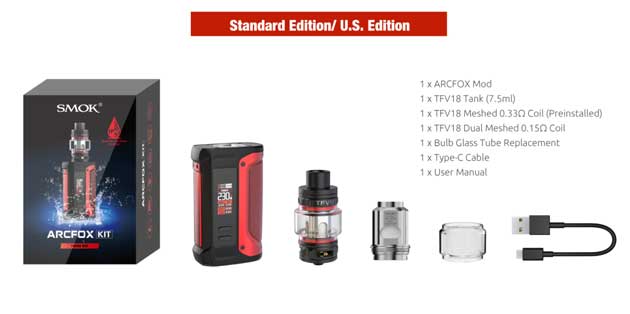 People in EU member states will get the mod, charging cable, and manual a well, but will receive a TFV-Mini V2 Tank instead. It comes with a Mini V2 S1 0.15ohm single meshed coil and a Mini V2 A2 0.2ohm dual coil.
Similar Products
Total Views Today: 1 Total Views: 11,836