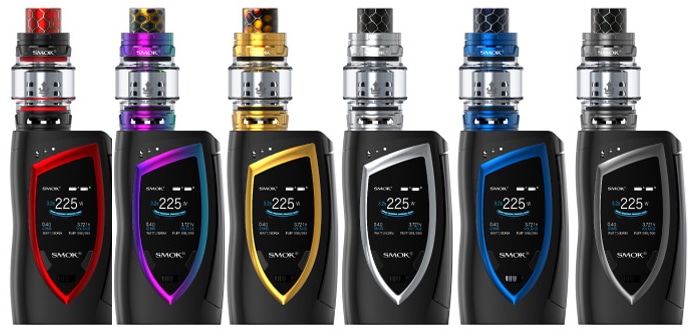 Here's a discount for the SMOK Devilkin Box Mod Kit.  This item is out of stock everywhere, so check for similar products below.
Overview
The Smok Devilkin Kit combines the TFV12 Prince Tank with a 225 watt mod. This all-in-one setup features a full color display, blade shaped accent lines, versatile temperature control, low resistance capability, an outstanding cobra drip tip, an 8ml juice capacity, a top fill system with lock and amazing vapor production.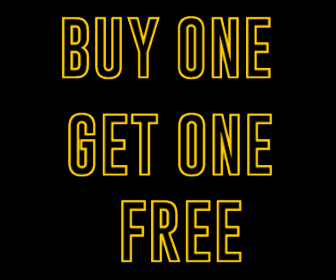 Available in black, the Devilkin Box Mod's has a blade shaped accent lines on the front and back which exude quality. These lines have red, prism, gold, chrome, blue and gun metal color options. The design of the entire box mod is lateral and is ergonomic for convenience and comfort. The side is of the device is built with a big fire key which is almost invisible and comfortable to operate.  Inside the front blade-shaped accent line, you will see a full color 1.3 inch OLED display that has the same menu as previous mods by Smok.  On the screen, you will see the Smok logo, two battery bars, puff time, wattage/temperature, resistance, mode, taste mode, voltage and a puff counter.  What's great is that you may set the screen's font to blue, purple, brown, red, white or green to your liking.
Technically, the Devilkin Mod in this kit is capable of a 0.05ohm resistance, 225 watts of power and 600 degrees temperature control. Operating modes are as follows: Power, four temperature control modes (nickel, titanium, stainless steel, TCR) and memory mode in which you may access your favorite settings at any time. Several taste modes are also built into the device such as the ability to set power during variable temperature operation and soft, normal, hard, maximum modes in variable wattage.
Powering this mod are dual 18650 batteries that are not included with purchase. The cells are installed by sliding the bottom battery door which then flips open to reveal the battery bay. The device also has the capability of charging the batteries while they are stored inside via the micro USB port.
For safety, the Devilkin is built with multiple protections such as intelligent atomizer recognition, puff monitoring, short circuit protection, overheat prevention, 10 second cutoff and over-discharge protection.
Included in the Devilkin Starter Kit is the Smok TFV12 Prince Tank. It features a massive 8ml capacity, a top fill system with patented lock button, a wide range of coil options including an RBA head, massive vapor, an exquisite cobra drip tip. For more information on the TFV12 Prince Tank, you may visit this page.
Devilkin Kit Features & Specifications
Devilkin Box Mod
Dimensions: 86mm x 49.6mm x 34.2mm
Weight: 177g
Colors: black/prism gun metal, black/prism blue, black/prism chrome, black/prism gold, black/prism, black/red
Exquisite design

Ergonomic
Blade shaped accent lines

1.3 inch OLED display
Springloaded/gold-plated 510 threaded connection
Large firing switch

Stealth (almost invisible)
Spans the entire side
Easy to operate

Technical specs

Works with two 18650 batteries

Onboard micro USB charging
Sliding/hinged battery door

Operating modes: VW/TC-Ni/TC-Ti/TC-Ni200/TCR/Memory mode

Power mode taste control: soft, normal, hard, maximum
Capbility to set preheat power output in temperature control

Power mode output range: 1W to 225W
Output voltage range: 0.5V to 9V
Temperature control range: 100℃ to 315℃ or 200℉ to 600℉
Resistance range (VW): 0.1Ω to 2.5Ω
Resistance (TC/TCR): 0.05Ω to 2.0Ω
Firmware upgrades via the micro USB port
Safety protections:

Puff monitoring
Intelligent atomizer recognition
Overpuff protection
Short circuit protection
Overheat protection
Over discharge protection
TFV12 Prince Tank
Dimensions/weight: 28mm x 63mm/60g
Colors: match the Devilkin Mod
Stainless steel with food-grade glass tube
Bulb shaped tank reservoir

8ml capacity
Top fill system
Patented lock system

510 threaded connection pin
Cobra drip tip

Colorful snake pattern
Many optional colors available
Optional  neon drip tips

Included coils

0.12Ω Decuple Prince T-10

Rating: 60W to 120W
Recommended: 80W to 110W.
Huge vapor production with rich taste

0.40Ω Quad V12 Prince Q4

Rating: 40W to 100W
Recommended: 60W to 80W
Rich vapor production
With purchase
Devilkin Box Mod
TFV12 Prince Tank
2 x coils
Replacement glass section
Micro USB cable
Manual
Spare parts
Devilkin Starter Kit Pictures
Related Deals
Total Views Today: 1 Total Views: 1,107