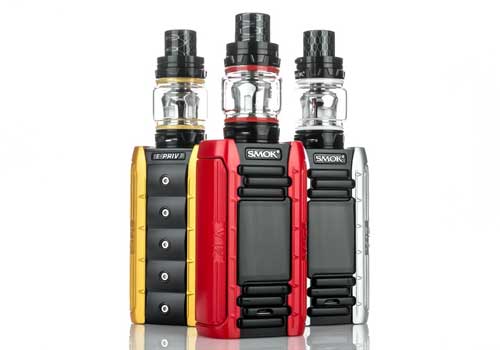 Smok E-Priv
Here are cheap deals for the Smok E-Priv 230W Kit with Mod and TFV12 Prince Tank. The mod features 230 watts of power, meticulous design with an engine-like appearance, a large fire button, dual 18650 battery support, micro USB charging, multiple protections, versatile temperature control and a high definition screen with 6 color settings and newly designed menu. The TFV12 Tank features massive vapor, brand new dual mesh coils for unprecedented fast heating, an 8ml capacity juice reservoir with top fill, a protective anti-slip ring to prevent damage, a cobra drip tip and massive airflow for huge vapor. This kit retails for $99.99!
Deal
Similar Products
Engine Like Theme & HD Display
From a design perspective, the E-Priv Mod utilizes an engine like theme thanks to five consecutive convex pieces on the back. These are made with hexagonal bolts to result in a engine intake manifold appearance. The finishes look to be exquisite and available color options include black red, black gold, black blue, black green and black silver. The centerpiece of the Smok E-Priv is perhaps the front-located 1.45 inch high definition TFT display which is newly designed to look like a vehicle type information system. The font on the screen can be set to 6 alternate colors. Data that is included on the main menu includes a puff counter, two battery bars, current wattage or temperature, mode/atomizer material, resistance, voltage and more. There are also three sub-menus to change settings for the modes including wattage, temperature and memory. On the side of the E-Priv, you will see a large fire mechanism that seamlessly integrates into the design to be almost invisible and has four V12 marks for a premium look.
Dual 18650 Battery Support
Powering the E-Priv are dual 18650 cells that are inserted into the mod via a bottom-located battery cover that flips open via a sliding lock. Charging the cells can be done via a micro USB port underneath the display and occurs at a decent 1.3A current. Firmware upgrades also occur via this port.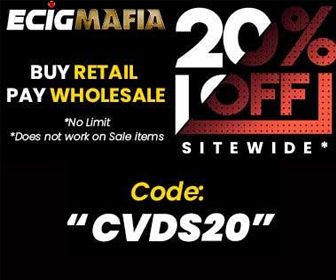 230 Watts Of Power & Versatile Temperature Control
On the technical level, this mod has very similar features as its predecessors. Wattage tops out at 230W, temperature can achieve 600 degrees Fahrenheit and the minimum resistance comes in at 0.05 in temperature mode and 0.10ohm in power mode.
Temperature control works with nickel, titanium and stainless steel and you may store your favorite settings in three memory slots for easy access. During variable wattage (power) operation, there are also several ramp taste modes that include soft, normal or hard, so you are sure to get the exact type of puff you would like.
Smok E-Priv Kit with TFV12 Prince
If you get the Smok E-Priv Kit, you will also receive the Smok TFV12 Prince Tank which features dimensions of 28mmx 63mm, a weight of 60 grams and has the same o-ring color as the mod's finish. And, the tank is made with a bulb-like juice reservoir that can hold up to 8ml of e-liquid and is refilled by way of the sliding the top cap via a patented lock button.
What sets this version of the TFV12 Tank apart from the previous ones is the fact that you will get the latest V12 Prince Dual Mesh Heads that are built with two mesh coils for unprecedented and fast heating to increase the speed and amount of vapor exponentially. And, the tank has an exquisite Cobra drip tip at the top that is widebore to ensure the best possible airflow in combination with the dual adjustable massive air inlets at the bottom of the device.
In The Box
Included with purchase, you will receive a protective anti-slip ring that not only looks great, but also protects the pyrex glass from breakage and damage. Also, with purchase of the kit, you will get the Smok E-Priv Box Mod, the TFV12 Prince Tank, one V12 Prince Dual Mesh 0.2ohm coil, one V12 Prince Max Mesh 0.17ohm coil, an extra glass section, an anti-slip ring, a micro USB charging cable, a manual and some extra parts.
Features & Specifications
E-Priv Mod
Made from zinc alloy
Dimensions: 85mm x 47mm x 31.88mm
Weight: 194.5g
Colors:  lack red, black gold, black blue, black green and black silver
Engine design with intake manifold like parts and bolts
Large fire mechanism
Utilizes dual 18650 external batteries

Bottom flip battery cover
1.3A micro USB charging system
5V charging voltage

1.45 color TFT display

Set font two 6 different colors
New engine-like interface

Power mode range: 1W to 230W
Temperature range:200℉ to 570℉ or 100℃ to 315℃
Output voltage range: 0.5V to 9V
Intput voltage range: 6.4V to 9.0V
Resistance range power/variable temp:0.1Ω to 2.5Ω/0.05Ω to 2.0Ω
Standby current: <300uA
Firwmware upgrades
Safety features:

Intelligent atomizer recognition
Puff monitoring
10 second overpuff cutoff
Short circuit protection
Overheat protection
Low battery warning
Smok TFv12 Tank
Standard version

Dimensions: 28mm x 63mm
Weight: 60g
Bulb type tank tube
Capacity: 8ml

EU version

Dimensions: 25.5mm x 63mm
Weight: 62g
Standard tank tube
Capacity: 2ml

Chassis constructed from stainless steel

Glossy finish
Durable
High density
Resists corrosion
Strong
Non-toxic

Colors: black with o-ring that matches mod color
Food-grade glass tank tube

Non-toxic
Resistant to high temperatures

Top fill system

Top cap rotates open
New patented locking mechanism

Prevents accidental opening
Prevents leaking

510 threaded connector
Cobra drip tip

Colorful snake pattern
Many optional colors available

Included coils

Pre-installed: 0.2Ω V12 Prince Dual Mesh Coil

Range: 50W to 80W
Best: 65W to 75W
Large heating area
Fast heating speed

0.17Ω V12 Prince Max Mesh Coil

Range: 70W to 130W
Best: 100W to 120 W
Massive vapor

Optional coils

0.15Ω Prince Triple Mesh (60W to 100W)
0.15Ω V12 Prince Q4 (40W to 100W)
0.15Ω V12 Prince X6 (50W to 120W)
0.12Ω V12 Prince T10 (60W to 120W)
0.17Ω V12 Prince M4 (30W to 70W)
0.25Ω V12 Prince RBA (can't use 8ml bulb glass)
Gallery
Total Views Today: 1 Total Views: 1,765