Smok Fetch Mini: 1200mAh/40W/3.7mL Pod System
The Fetch Mini is the latest pod system by Smoktech.  It features high-end glass on both sides, an exquisite texture, a 1200mAh integrated battery, fast charging, a light & practical design, 40 watts of adjustable power, a full color 0.96-inch display screen, 3.7mL refillable pods, easy refills, mesh coils and extended coil life. 
Review
2.5D Arc Edge Glass
The panels on both sides feature 2.5D arc edge glass. This type of finish refers to a small bend at the edge of the glass panel and is often referred to as a contoured edge.  It is something you will often find on smartphones as the glass sits on top of the chassis for a seamless edge and a notable 3D effect.  These glass panels will also make the Smok Fetch ergonomic and aesthetic. The designs under the glass panels are made with laser UV transfer texturing, further adding to the 3D effects.  One of the materials used in the construction of the Fetch Mini is PCTG which is known to be eco-friendly and approved by the FDA and EU for any type of applications with food contact.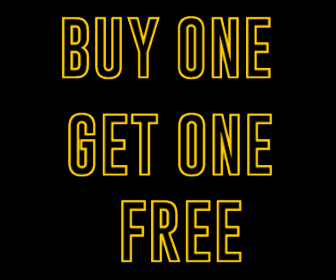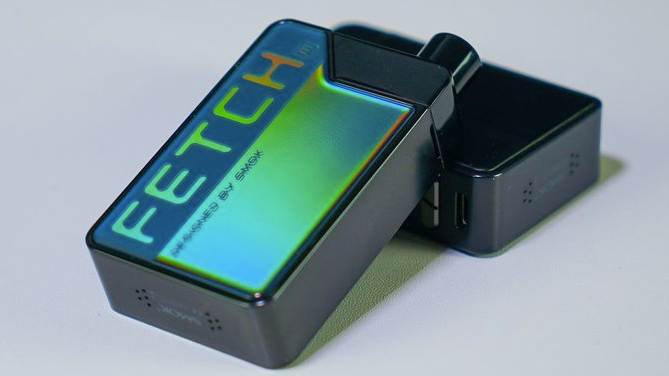 Durable, Ergonomic Design
Both sides of the Fetch are made with high-quality glass which results in a smooth, pleasing touch. And with 7H hardness, the device will withstand time and won't easily scratch.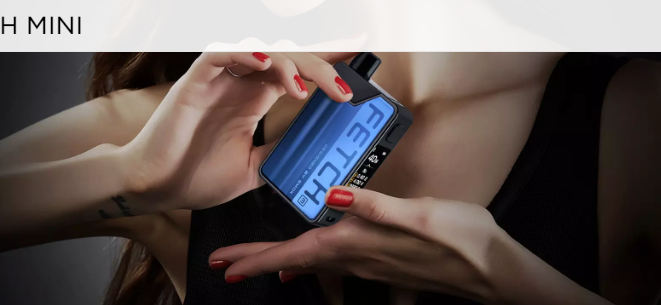 Adjustable Power
As a pioneer device in the vaping industry, the Fetch is capable of 40 watts of adjustable power. And, you may alternate between light or heavy vapor production according to your liking with either standard or nicotine salt based e-liquids.

Powerful Integrated Battery
Designed with a 1200mAh battery, the unit will easily fire with 40 watts of power for an extended period. And since the unit only weighs 105 grams, the Fetch is both powerful and portable.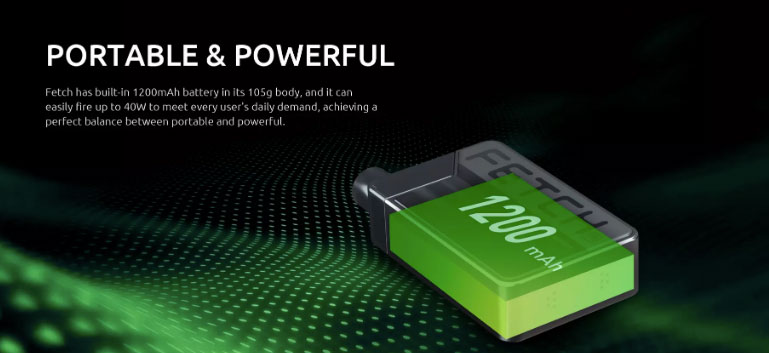 Fast Charging System
With the new design, the charging system has been updated to attain 1.2 amps of charge. This results in a full charge in less than an hour.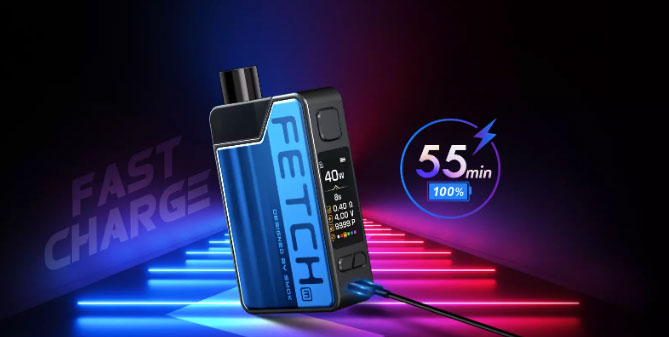 Waterproof & Dustproof Pod Base
This new kit's pod base is dustproof and waterproof.  This eliminates the chance of any e-juice or dust entering the device interior.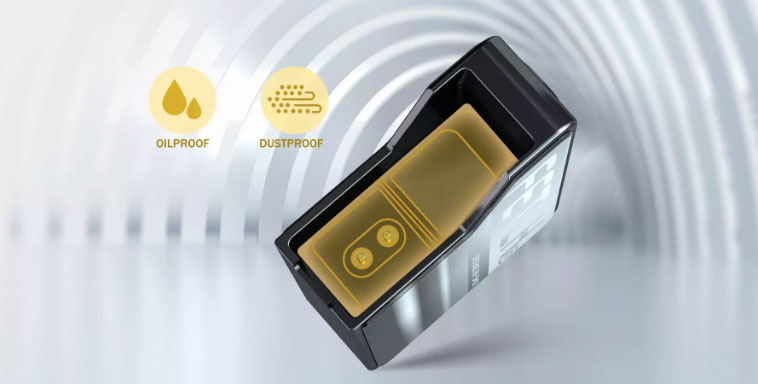 Exquisite Flavor
Thanks to dual air intake channels that hit the coils from above and the side, flavor production is much improved. And, the mouthpiece is wider adding to the exquisite taste in combination with the mesh coils.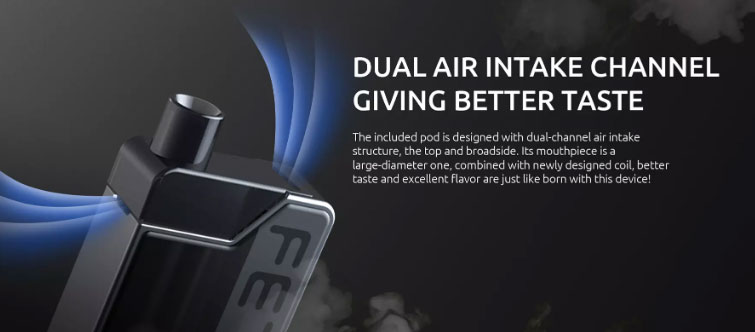 Tight Magnetic Connection
To overcome the friction between pod and mod, the magnets have a much larger surface area for a strong bond.  Even if shaken, the pod will never move around, once installed.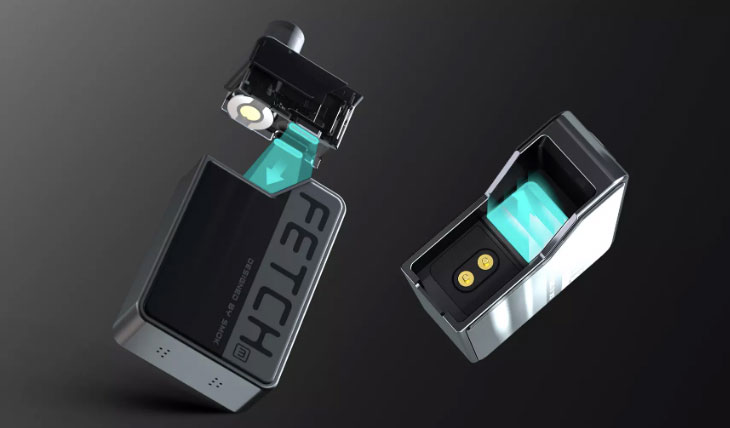 Food-Grade Material
The Fetch Mini pods are made from PCTG, a food-grade material that is also utilized in food packaging and cosmetic products. This matter is not only safe to use, but also stops UV rays from altering the chemical properties of e-liquids, making it the ideal matter for use in a vaping device.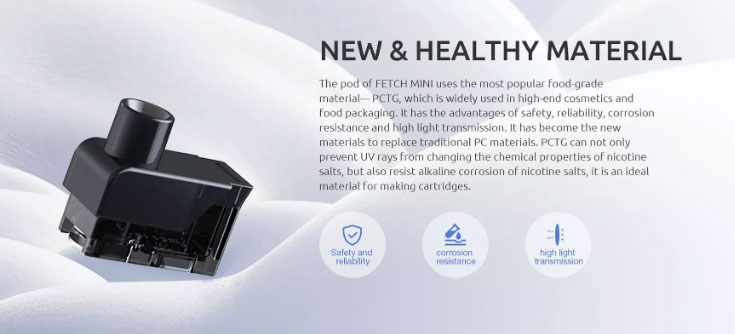 Fully Upgraded Mesh Coils
The RPM coils have been fully upgraded with more cotton and large wicking slots to produce massive vapor with plenty of taste. Plus, the Fetch Mini is compatible with Nord coils. These coil options can be distinguished as the RPM coils have a red rubber plug, while the Nord heads have a black rubber stopper. Additionally, the 0.6ohm Nord and 0.4ohm RPM Mesh coils can fire with up to 25 watts of power for instant vapor production and their lifespan has been extended saving you a bundle on replacements. Finally, the coils are lead-free, making them safe to use and harmless to the environment.

Technical Operation
Not much has been published in regards to the Fetch Mini output settings or modes. What has been released is that output ranges from 5 to 40 watts and that the entire system is powered by a large capacity 1200mAh battery with micro USB charging port. The cartridges look to hold about 3.7mL of e-liquid and have a bottom refill system similar to other Smok pod kits. We will release additional details shortly.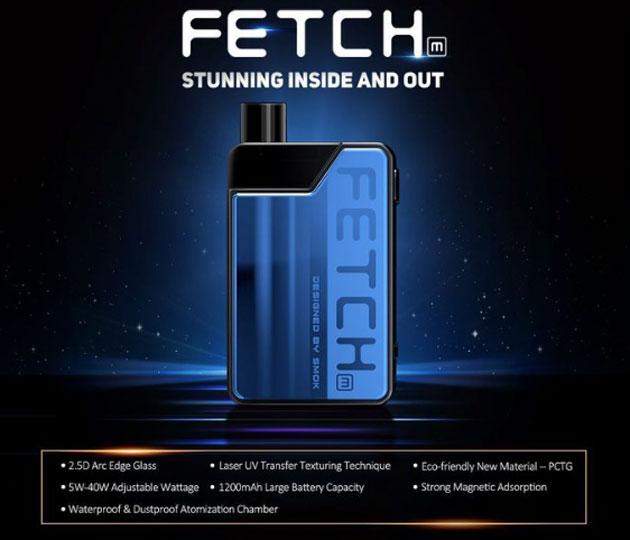 Smok Fetch Mini Features & Specifications
Dimensions: 76mm x 42.8mm x 18.4mm
Made from zinc alloy
Weight: 105g
0.96″ screen
Portable
Compact
Colors: black, orange, blue, dark brown, green, acrylic fluid purple, acrylic fluid green, acrylic fluid blue, acrylic fluid gold, acrylic fluid red
3.7mL refillable pods
Easy bottom fill system with silicone plug
0.6ohm RPM Triple coil
0.4ohm RPM Mesh coil
Coils are replaceable
Waterproof chamber
Dustproof chamber
Laser UV transfer texturing technique
Eco-friendly PCTG
Easy bottom fills
1200mAh internal battery
1.2A micro USB charging system
Output power range: 5W to 40W
Atomizer resistance range: 0.3ohm to 2.5ohm
Voltage output range: 0.5 to 4.1V
Strong magnetic absorption
0.0015s firing response time
Safety protections

Low voltage
8s cutoff
High temperature
Short circuit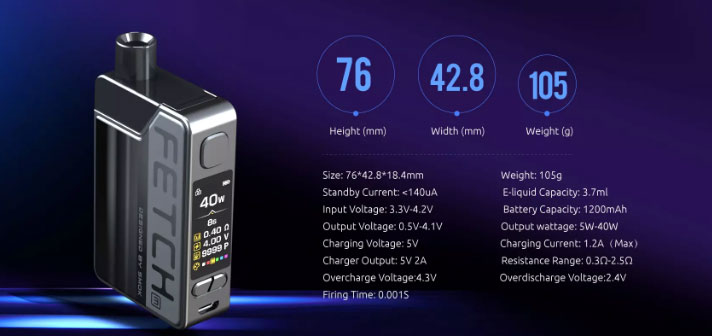 Related
Total Views Today: 1 Total Views: 1,708