Update: The Smok Fetch Pro Has Been Discontinued – Check  Newer Smok Pod System Kits Below
Here are cheap deals to buy the Smok Fetch Pro at a low price and it is the more powerful version of the Fetch Mini by Smok.  It features 4.3mL juice capacity with easy refills, 80 watts of variable power, airflow control, a single 18650 battery, a type-C charging port for effortless charging, a massive 0.96 inch full color display, a 510 drip tip, 2 pod options and mesh coils for exquisite vapor with tons of flavor. This pod mod system kit is on sale in a myriad of colors.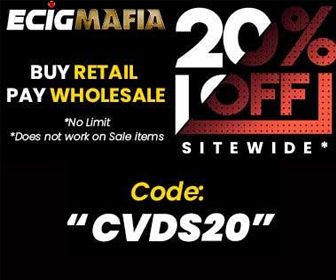 Exquisite Design
The Fetch Pro utilizes composite materials for a luxurious appearance and incredible ergonomics for a unique texture and hand-feeling. It is said to be the ideal combination of technology and aesthetics.

Components
With dimensions of only 93.5mm x 46mm x 22mm and a weight of 102 grams, the Fetch Pro has a compact design for easy transportation. On the large control face, you will find an air inlet, a full color display screen and adjustment buttons underneath. The user interface on the display has vape data in vertical orientation and a new layout for easy viewing and menu navigation. Here you can see indicators such as current battery charge level, current power output, current voltage, atomizer resistance, puff time and number of puffs. At the bottom of the Fetch Pro is where you access the battery bay that contains a single 18650 battery which is opened via a slide/flip cover. One of the sides is built with a fire key that spans the entire length of the device and a type-C charging port is located underneath for an easy recharge process.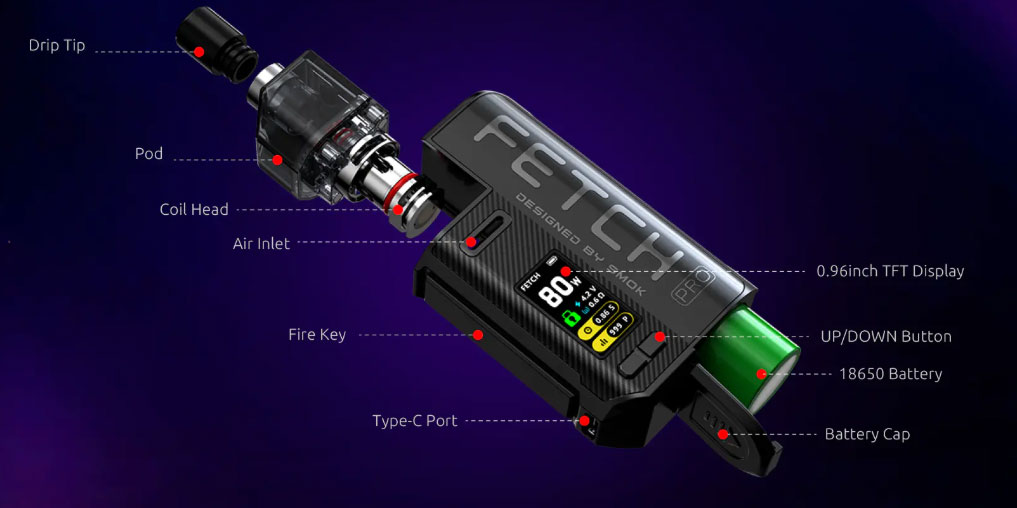 Direct Airflow To Enhance Flavor
On both large sides of the Fetch Pro, there is an air inlet that directs airflow directly to the pod's coils. This produces a dual vertical airflow channel for exquisite flavor and massive vapor production.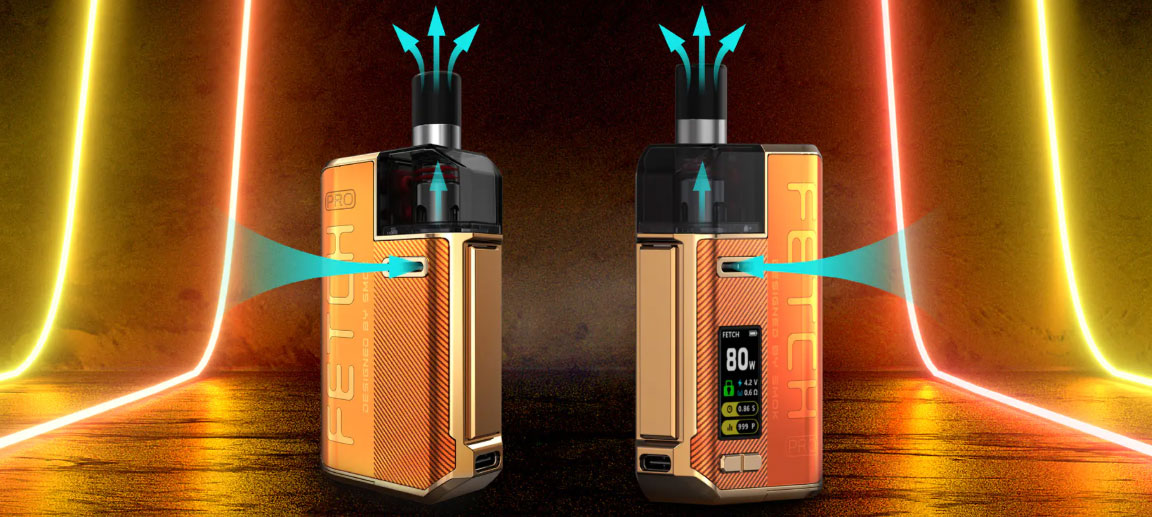 Enhanced Performance
Continuing the amazing performance of the Fetch Mini, the Pro version achieves significant overall improvements in performance. This is due to a brand new chipset that improves overall performance, doubles power to 80 watts and also permits an enhanced full-color user interface.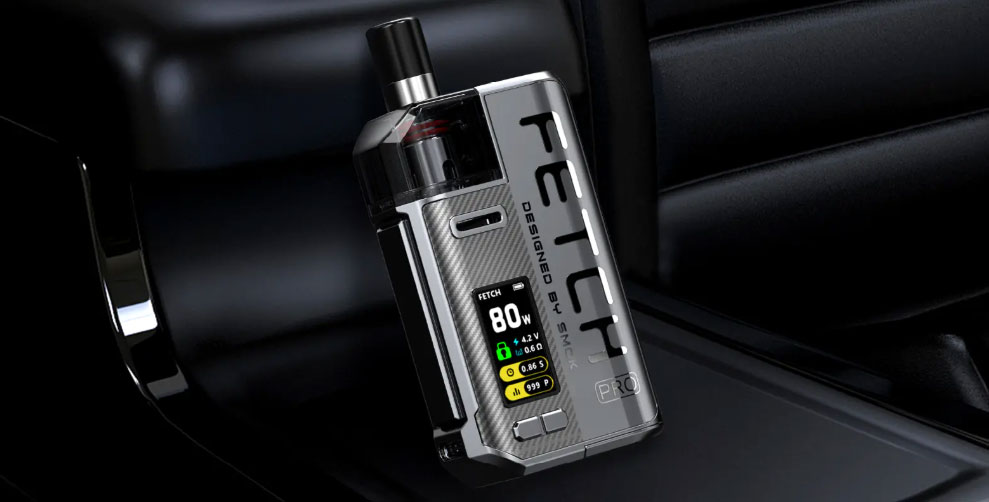 USB Type-C For Fast, Effortless Charging
If you hate figuring out which way to insert the USB cord on previous Smok devices, you are in luck with the Fetch Pro. It employs a USB type-C charging port which is smaller, is almost 100% efficient and has reliable and fast transfer speeds. More importantly, type-C plugs are reversible, so you don't have to flip the cord around 2 or 3 times to find the right direction.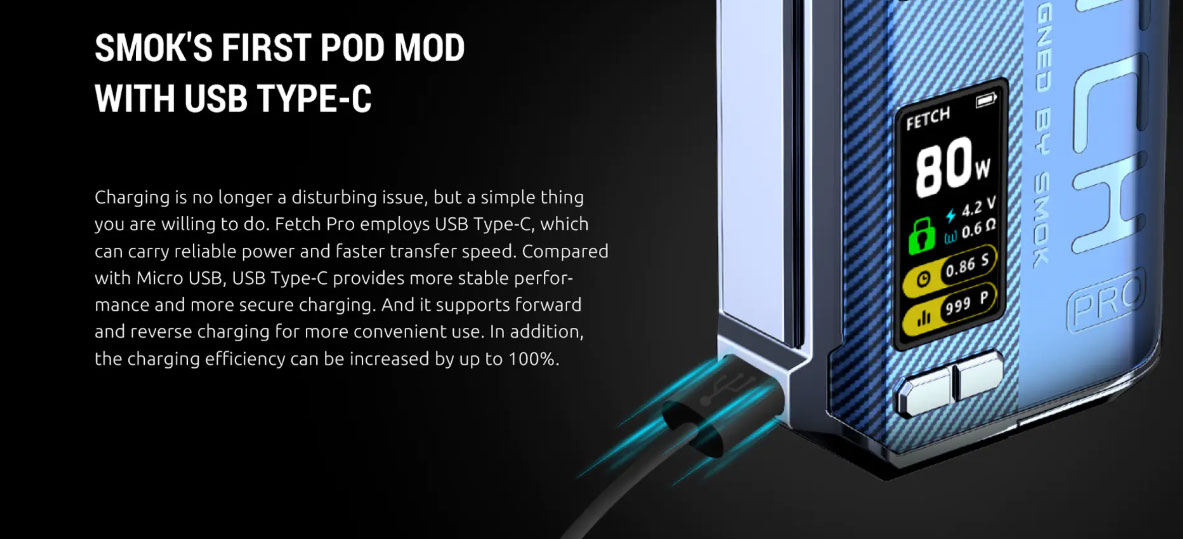 Powered By A Single 18650 Battery
A single 18650 cell powers this new device for long vaping times. The battery is easily replaced via an effortless battery cap at the bottom.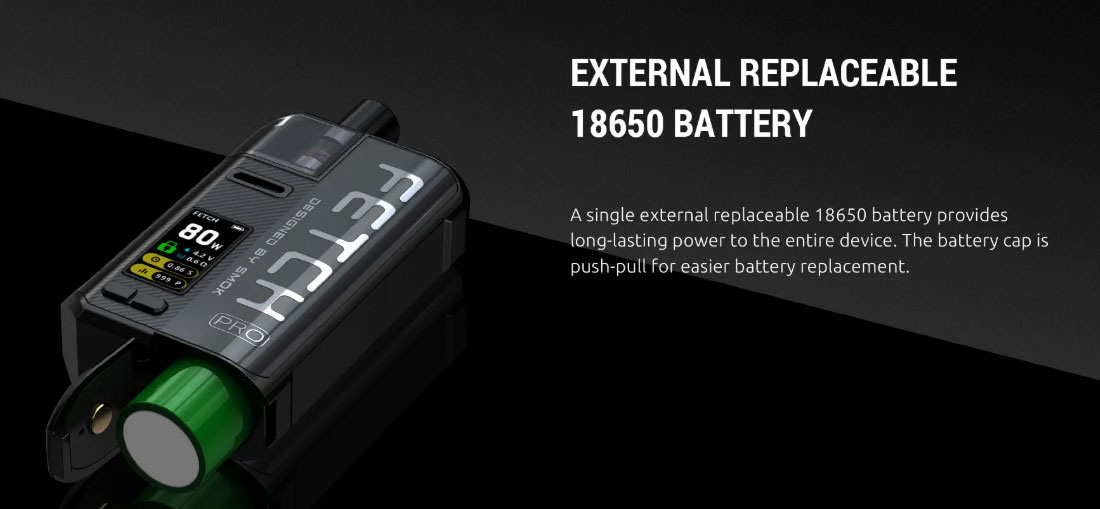 Smaller Than The Competition
Compared to other 80 watt box mod style pod systems in the marketplace, the Fetch Pro is about 20% smaller. This means you can easily travel with a compact, but powerful, vape device that operates similarly to a large box mod kit.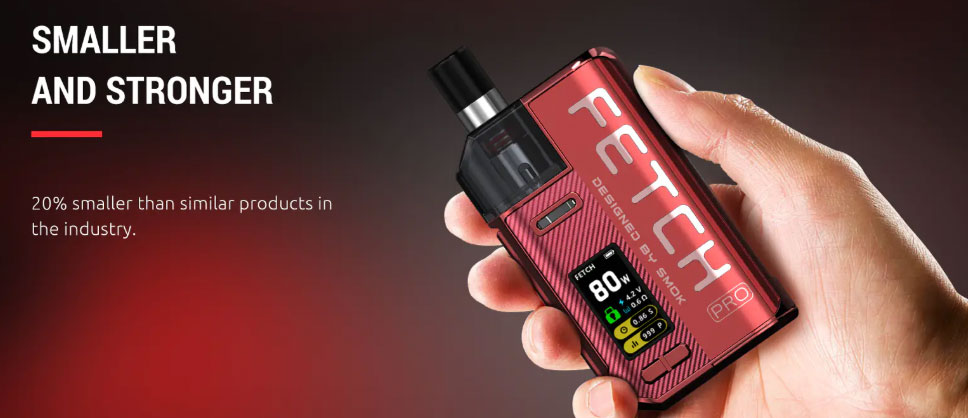 80 Watts Of Variable Power
Versus the Mini, the Pro comes equipped with a powerful new core that permits power adjustments in the range of 5 to 80 watts. In this way, you can easily switch between a low power vape experience or one that produces intense vape clouds. And, the kit is perfect for both standard vape juice or a nicotine salt based e-liquid.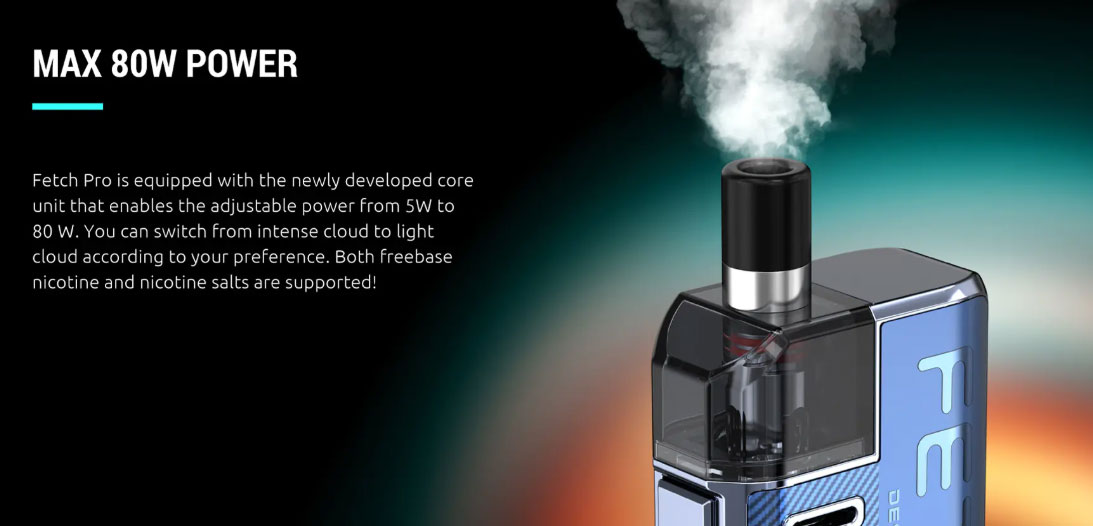 Powerful Pod/Mod Magnets
In order to have a strong connection between the mod and replaceable pods, the Smok Fetch Pro adopts magnets that span a large area. This perfect connection means the cartridge won't move around or make a sound when the kit is moved around or shaken.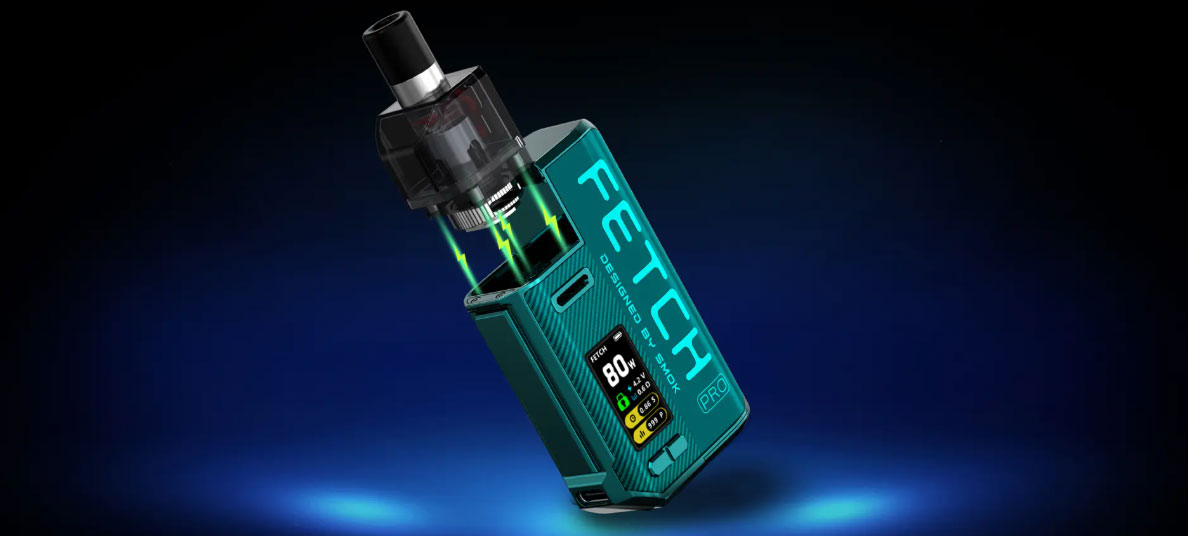 State-Of-The-Art Pods With Adjustable Airflow
Two different pods are available for this new setup. Both the Fetch Pro RGC Pod and the Pro RPM Pod feature airflow control which is adjusted by rotating a ring right above the coils.  The RPM Pod also works with RPM40 coils in case you already own the Smok Fetch Mini, but don't want its coils to collect dust.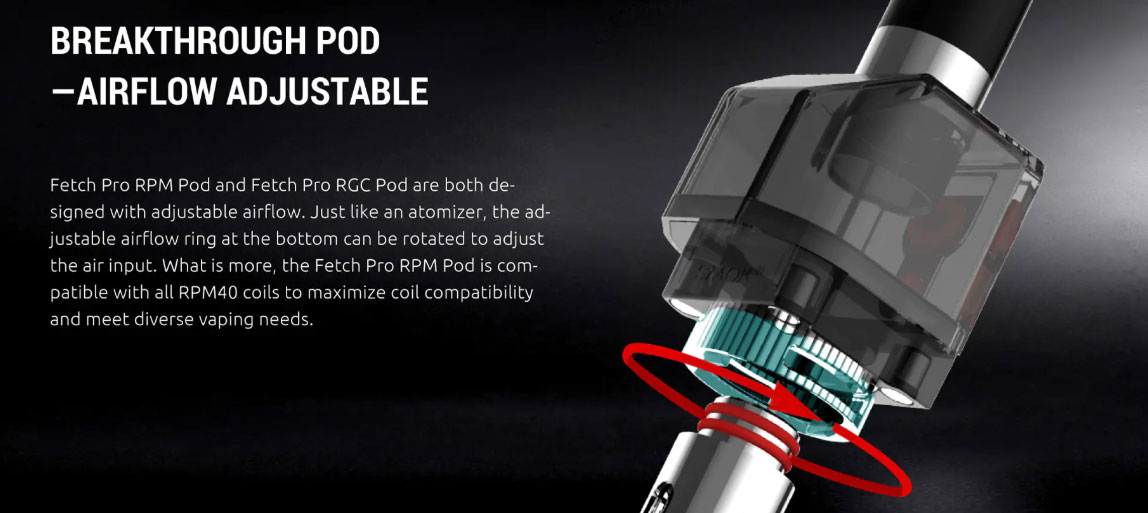 Massive Fire Button
The side of the device features a huge firing bar for easy firing and the best possible user experience.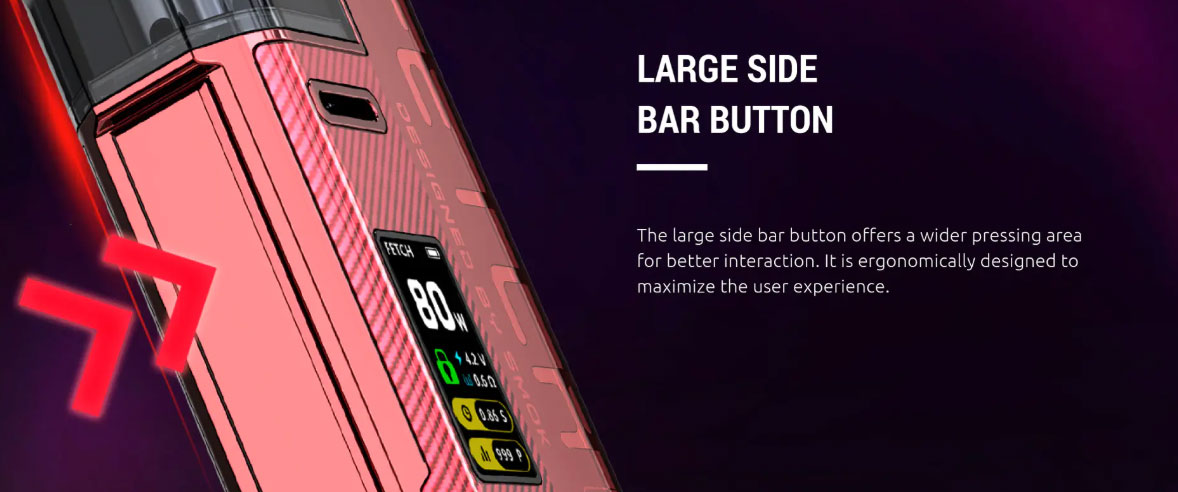 Upgraded Coils
The new coils that power the Fetch Pro have been completely updated with thicker cotton, larger airflow holes and they are also larger. This results in similar vapor which you would experience with Nord coils or the TF series of atomizers.  And, the materials used are of the highest quality for an enhanced user experience.
New: RGC Conical Mesh Coil
The Fetch Pro adopts a brand new RGC Conical Mesh coil with a 0.17ohm heating elements that adopts nexMesh technology. This new head was made specifically for a powerful vape with warm throat hit and very good flavor. Its unique cone-shaped design improves the bottom airflow size and also condenses vapor as it travels thru the coil to the 510 drip tip for an incredible burst of flavor. And, its low resistance means it heats fast for instant vapor production.

A Plethora Of Safety Protections
This kit adopts six different integrated safety features: low battery warning, overheat protection, short circuit protection, 10 second cutoff, puff monitoring and intelligent atomizer recognition.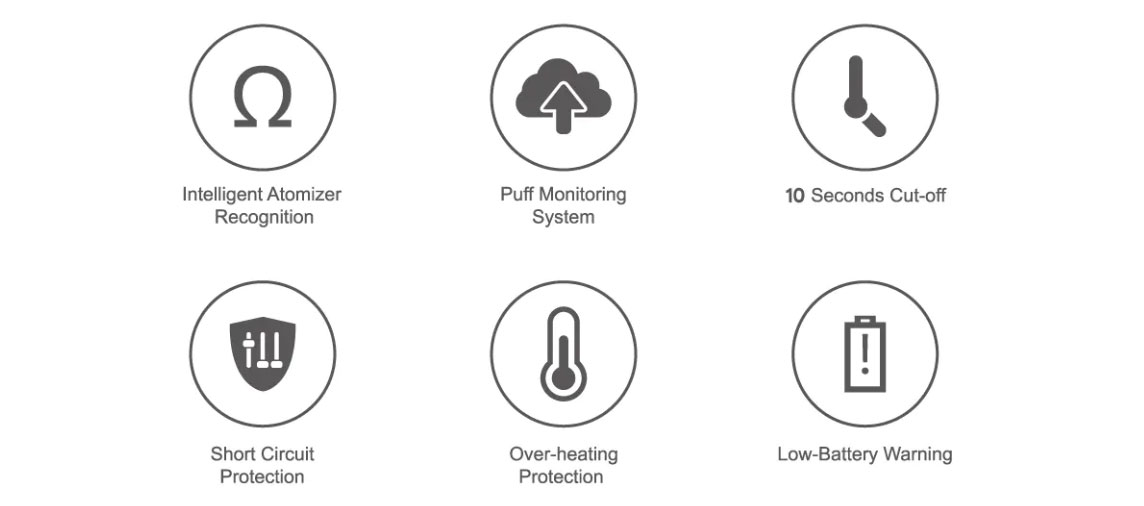 Easy Pod Refills
Adding e-liquid to the pods is easier than ever. All you do is remove the pod, pull out the side rubber plug and add juice through a large filling slot.

One RGC & One RPM Pod Included
In the package you will find an RPM pod with a pre-installed 0.4ohm RPM Mesh coil. It produces the best flavor, fast heating and operates at 25 watts. There are six other coil options, including an RPM RBA coil that supports builds with a minimum resistance of 0.25ohm. Also in the box is an RGC pod that comes with a 0.17ohm conical mesh coil. It is built with a conical structure, produces a warm throat hit, heats up fast and produces massive vapor and flavor. You may operate this head in the range of 40 to 80 watts.  RGC pods also have an RBA coil option that utilizes 0.6ohm Clapton heating elements with a large heating area for dense vapor and well-balanced flavor. For a tutorial on all the coil options, please visit the Smoktech Fetch Pro information page.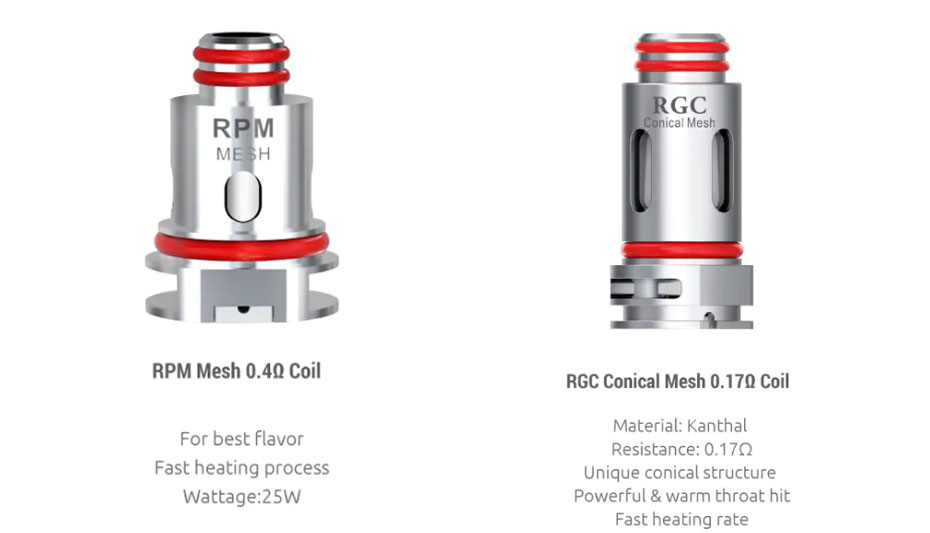 In The Box (Standard Edition)
With purchase, you will get a Fetch Pro mod, an RPM Pod with 0.4ohm coil pre-installed, an RGC Pod with a 0.17ohm conical mesh coil pre-installed, a type-C USB charging cable and a manual.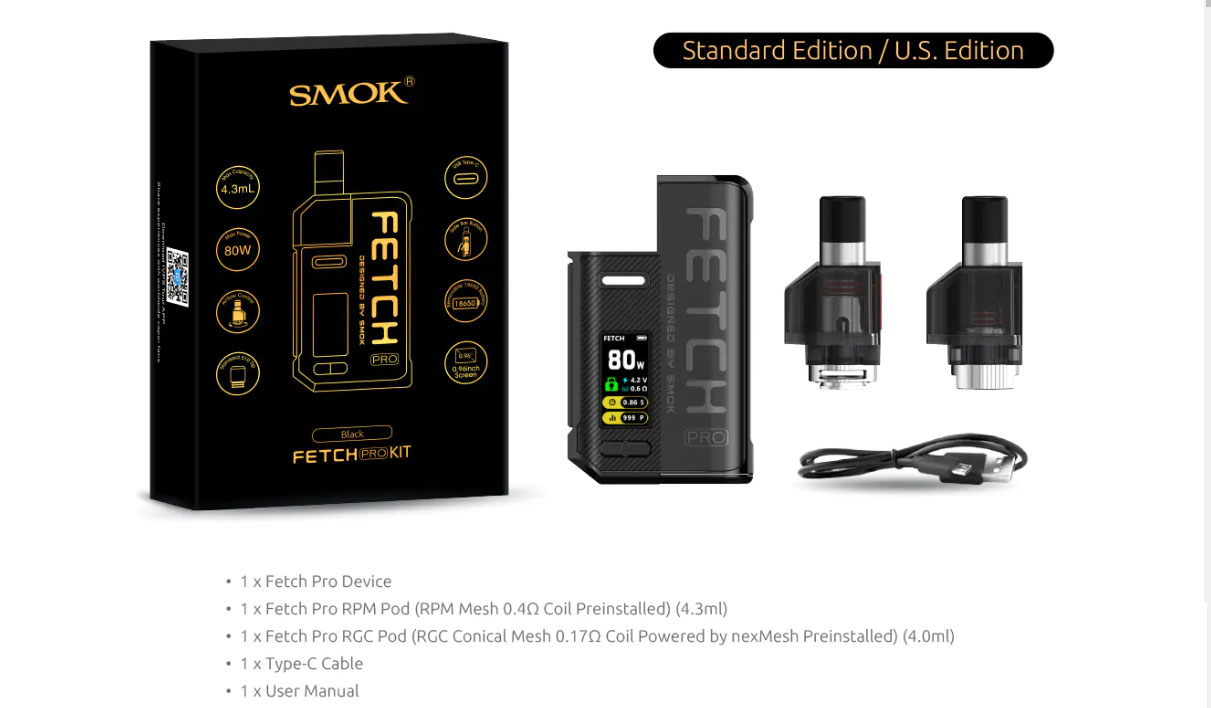 Related
Total Views Today: 1 Total Views: 1,229