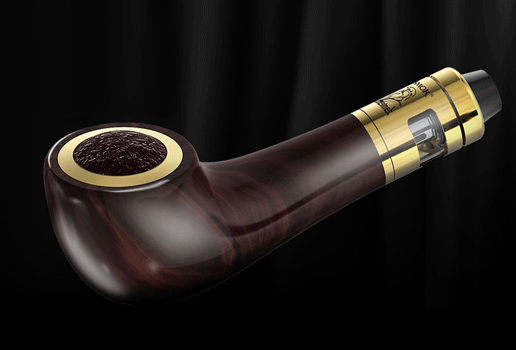 Update: The
Smok Guardian Sub Kit
Has Been Discontinued – Check  Newer Smok Mods & Kits Below
Summary
If you like the look of a pipe, you'll definitely love the Smok Guardian E-Cigarette Sub Kit.   The golden rings on the bowl section and on the connection bezel in combination with the golden Helmet tank really makes this bundle stand out.  You can also get the kit in all black.
The Guardian Sub Mod is made of ABS and PC for durability and to make it fireproof. It has dimensions of 109.2mm x 55.2mm x 47.7mm.  It features an ergonomic design that is comfortable to hold and the device looks exactly like a pipe.    The fire key is located on the bowl section and is round, large and ergonomic.  A red LED will flash or remain lit to indicate normal or abnormal operation.
At the top of the shank section, there's a golden elastic spring loaded pin that will fit any atomizer with a 510 connection.  The connector doubles as the charging port for the powerful internal 1900mAh battery.  The cell was made specifically to be safe and easily charged for a worry-free vaping experience.
The Guardian Sub's highest input voltage is 4.2V and it can fire atomizers with resistance as little as 0.2Ω.   The unit is also made with multiple safety features including 12 second puff time, smart atomizer recognition, short circuit protection and low battery warning.
The Helmet Tank was built in accordance with the EU TPD regulations so you know it's a safe sub ohm tank. The device is made from stainless steel and the e-juice viewing window is medical glass.
It features a top airflow setup with a U-shaped tank which is enclosed to ensure it never leaks.  Air intake can be changed freely so you can have a very open or completely closed draw.
The top cap on the Helmet uses a top pressure spinning system to ensure children can never gain access.  To add e-liquid, you simply remove the cap which will reveal a fill port that encompasses almost the entire diameter of the device.  You can put up to 2ml of e-juice in the Helmet.
With the kit, you'll get two coils, one of which fires with a resistance of 0.4Ω and the other 0.6Ω.   They are made with organic cotton to ensure a safe vape and pure taste.
Kit Features & Specs.
Guardian Sub Mod
Dimensions: 109.2 x 55.2 x 47.7mm
Constructed from ABS and PC
Fireproof and durable
Automatic adjustment chip: change wattage output according to  resistance
1900mAh internal battery
Multiple safety features
Resistance range: 0.2Ω to 2.5Ω
Ergonomic large fire button with LED located on bowl
510 spring loaded connection
Helmet Tank
Dimensions: 24.5mm x 24.5mm x 32.5mm
Stainless steel and medical glass
Leakproof U-shaped e-juice tank section
Top adjustable airflow
Top cap threaded with pressure design to make child proof
Easy top fill system
510 connection pin
Video Review
Not available
Total Views Today: 1 Total Views: 410