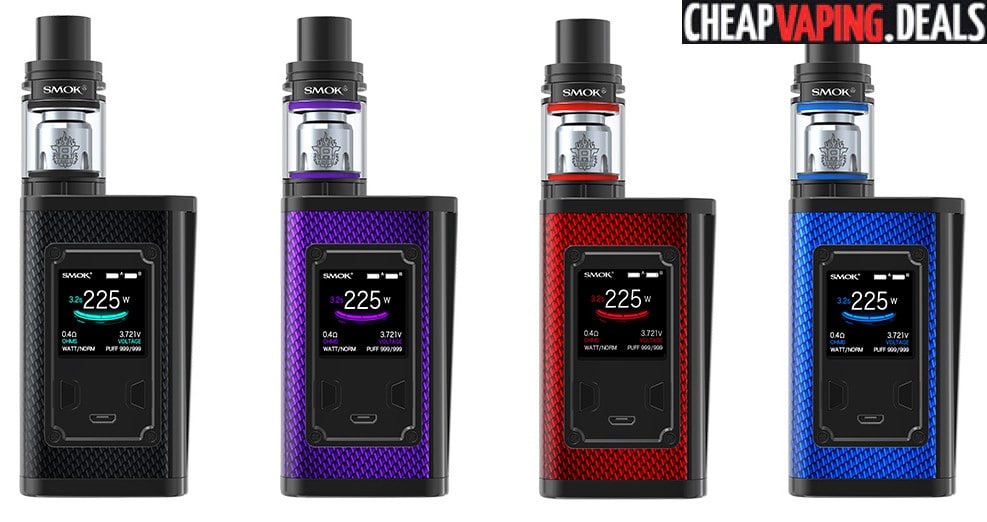 Here's a cheap deal for the Smok Majesty Carbon Fiber Box Mod or Starter Kit.  
Full Kit Deals

:
Overview
The Majesty Box Mod Starter Kit Carbon Fiber Edition  is a newly released vape kit from Smoktech. It features a colorful carbon fiber finish, up to 225 watts of output, flexible temperature control modes, a color screen with new interface and the TFV8 X-Baby tank that puts out huge vapor, has a 4ml top-filled tank and dual adjustable top airflow.
The box mod in the Majesty Kit has dimensions of 85.1mm  x 46.1mm x 30.6mm and a weight of only 161.9g, without the batteries.  As a result, the unit is compact, should be easily transported and comfortable in the hand.  What stands out about the design is the premium carbon fiber finish that can be obtained in bright colors that include black, purple, red or blue.
Designed with a new user interface, the Majesty mod is made with a color screen that has the capability of displaying fonts in green, silver, gold, purple or blue.   To allow easier reading of vape datta, the menu is completely different from previous Smok mods.  On the screen, you will see two battery bars that keep track of each cell's charge level.  Below, there are the standard indicators in vertical orientation that include current temperature/power, last puff time, current mode, current voltage, current resistance and total puffs taken. Navigating the menu is said to be effortless and is done by using two adjustment buttons underneath the display.  A large firing mechanism, that looks to be ergonomic, encompasses an entire side of the box mod for easy firing.  It features a hidden design, so it perfectly integrates into the entire mod.  A 510 connection bezel is located at the top that allows for installation of any standard build or tank.  The center pin looks to be spring-loaded for flush installations.
The Majestin Resin Box Mod uses two 18650 batteries that can be swapped out by opening an easy sliding panel at the bottom. The battery bay is made with clearly marked polarities to ensure the cells are never inserted the wrong way.  If you don't have an external charger, you may charge the batteries by plugging the mod into a wall outlet with a micro USB cable.
If you are looking for a versatile and powerful setup, you won't be disappointed with this kit.  The maximum output of the mod is a whopping 225 watts, the highest temperature output is 600 degrees Fahrenheit, while the lowest atomizer resistance is 0.05ohm. Variable temperature operation works with nickel, titanium, stainless steel and there's a TCR mode for custom DIY settings. Safety features include atomizer detection technology, puff monitoring, short circuit protection, overheating protection, over-puff time and low battery indication.
With the Majesty Carbon Fiber starter kit, you will also get a black TVF8 X-Baby Tank that is made with an o-ring that matches the Majesty's mod color finish. Depending on your location, this atomizer will either have a 2 ml capacity (European Union customers) or 4ml (rest of the world).  This cloud pumping tank weighs 59g and has measurements that come in at 24.5mm x 59mm. Adding e-liquid occurs via a top fill system that allows the top cap to rotate to reveal a hidden fill port.  Unlike other TFV8 tanks, airflow is located at the top to prevent leakage and produce massive vapor. To avoid burning of the lips, and further enhance airflow, a wide bore heat-resistant Delrin drip tip is included with purchase.
Features & Specifications
Majesty Box Mod
Measurements: 85.1mm  x 46.1mm x 30.6mm
Weight: 161.1g
Material: carbon fiber
Colors: black chassis with black, purple, red or blue carbon fiber
New display and menu

Vertical menu
Customizable fonts: purple, green, silver, red, gold, purple, blue
Battery bars for each cell

Large stealth firing button

Lateral
Ergonomic
Easy firing

510 threaded connector with springloaded center pin
Power output  range: 6W to 225W
Voltage range: 0.5V to 9.0V
Power mode / temperature mode resistance: 0.1Ω to 3.0Ω / 0.05Ω to 3.0Ω
Standby current: < 500uA
Safety features

Low battery detection
Overpuff cutoff
Overheat protection
Puff counter
Short circuit protection
Intelligent atomizer detection

Micro USB charging/upgrades

Mod uses two 18650 batteries
Easy bottom battery door (hinged)
Firmware upgrades
TFV8 X-Baby Tank
Stainless steel chassis
Pyrex glass tank tube
Measurements: 24.5mm x 59mm
Weight: 58.5g
E-liquid capacity: 2ml (EU)/4ml (worldwide)
Patented top fill system
510 threaded connection pin
Colors:

Black chassis
Colorful o-ring (matches mod color)
Black heat-resistant Delrin drip tip

Top adjustable airflow

Huge vapor
Prevents leaking
With purchase
1 x Majesty mod
1 x TFV8 X-Baby
Cores

1 x V8 X-Baby Q2 0.4Ω dual core (pre-installed)
2 x V8 X-Baby T6 0.2Ω core

Extra tank tube
Spare parts
Micro USB cable
Manual
Pictures
Total Views Today: 1 Total Views: 185