Here are cheap deals to buy the Smok Morph POD-40  kit at a low price.   It features 40 watts of power, a display screen, a 2000mAh battery, adjustable airflow control, 3.7ml pods, effortless refilling, a comfortable grip, a variable wattage mode, and much more.
Deals
Ergonomic, Portable & Meticulous Design 
Inspired by its predecessors, such as the Morph 3 and Morph 2, the Smok Morph POD-40 is slightly different because it is a similar pod system that operates at lower wattage but can easily be stored in the pocket.  From the design perspective, the setup integrates aesthetics and creativity to produce an incredible appearance for sale in grey, black-carbon fiber, black-blue, black-green, black-brown, brown, black-red, and black.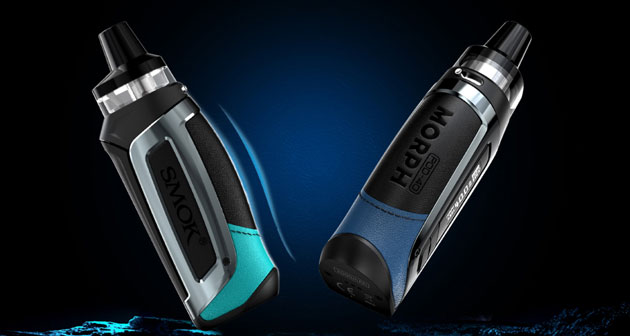 This AIO device is also ergonomic, mainly thanks to the arch design that provides an excellent grip.  And, when you touch it, you'll be stunned at how good the luxurious, textured surface feels in the hand.  At the top, the mouthpiece is also comfortable in the mouth and features a narrow bore to enhance the throat hit with each puff.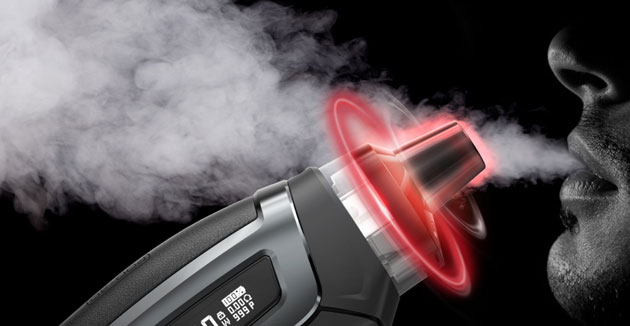 On one of the large sides of the Morph POD-40, you will find an improved UX that shows vape data optimally for maximum convenience and access.  Moreover, you may flip the screen horizontally or vertically to your preference.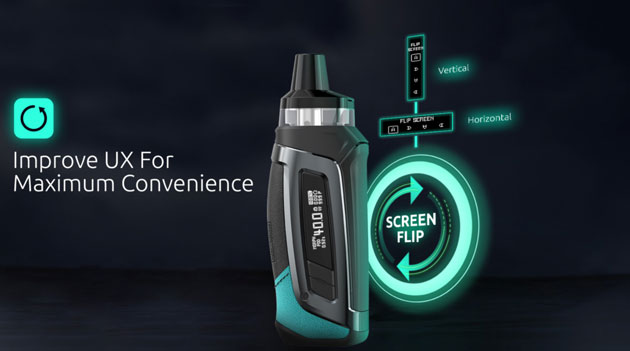 40 Watts Adjustable Power
With the Smok Morph Pod-40, you'll never need an external charger because it has an integrated 2000mAh battery that will last long on a single charge.  Moreover, you may recharge this cell quickly thanks to a 1.4 amp USB-C interface that will top off voltage in no time.  The included cable is also USB-C, which is quite easy to plug in as it is reversible.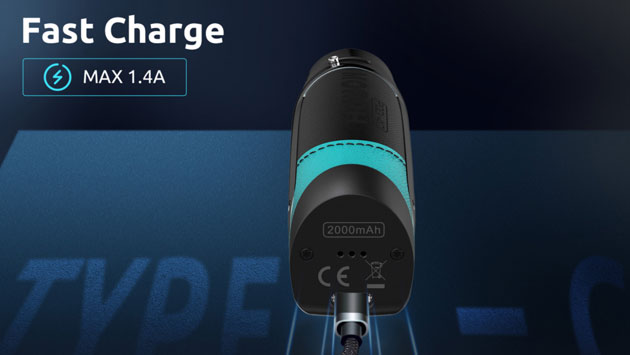 You can set the device in the 5 to 40 watts range by pressing the up/down button underneath the screen.  For safety, there is also a myriad of safety features to keep you secure during the vaping process.  These include 8 seconds cutoff, low voltage warning, atomizer recognition, lithium-ion protection, short circuit protection, and high-temperature protection.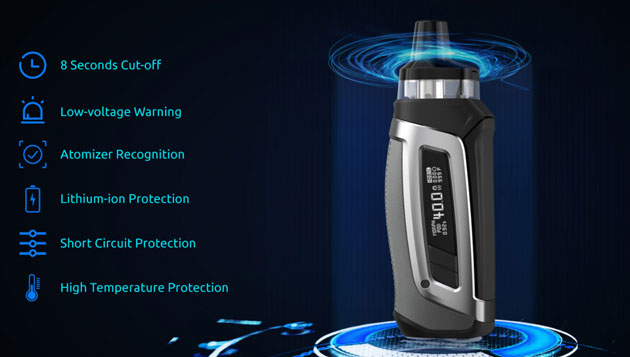 3.7mL Mesh Pods
Held in place by powerful magnets, the Smok Morph POD-40's pod can store up to 3.7mL of vape juice and is instantly refilled by a top filling slot.  The refill process is so easy that it only involves opening the rubber plug on the top slot and injecting e-liquid into the juice port.  On a side note, always be sure to firmly push the plug back into place and let the coil saturate a few minutes before use.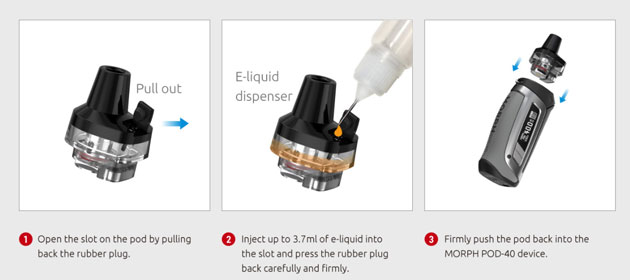 For convenience, you may use this setup with any RPM series coils that will provide plenty of throat hit and produce smooth flavor.  With purchase, you'll get one RPM Mesh 0.4ohm coil that heats fast for best flavor production with up to 25 watts.  The kit also includes the RPM 0.6ohm Triple Coil that has a fast ramp-up time for massive vapor with excellent flavor at 25 watts of power.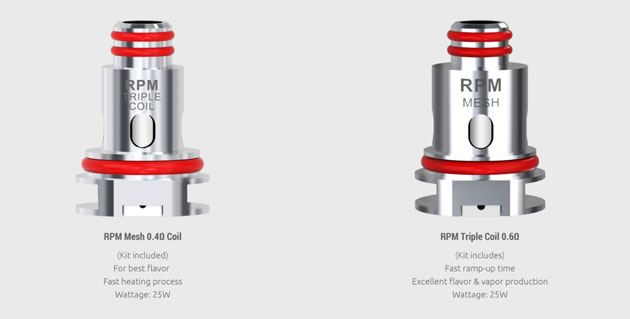 Also important is the versatility of airflow to the coils, and the Smok Morph POD-40 does not disappoint here either.  You see, you may set the unit to MTL or DTL style of vape or somewhere in between by adjusting a sliding airflow valve on the pod.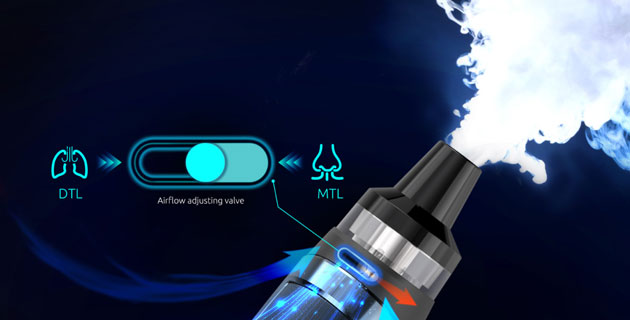 Features & Specifications
Dimensions: 37.2mm x 28.32mm x 108.35mm
Weight: 119.5g
Finish options: grey, black-carbon fiber, black-blue, black green, black-brown, brown, black-red, black
Ergonomic grip
Ergonomic mouthpiece
Flippable user interface
1.4A Type-C charging
Enhanced chipset
Output Mode: VW
Power mode output range: 5W to 40W
Standby current: <120uA
Output voltage: 0.5V to 4.0V
Input voltage: 3.3V to 4.2V
Resistance range: 0.3Ω to 2.5Ω
Safety protections: 8 seconds cutoff, low voltage, atomizer recognition, battery, short circuit, high temperature
3.7ml pods
Top refillable
Adjustable airflow
Works with RPM coils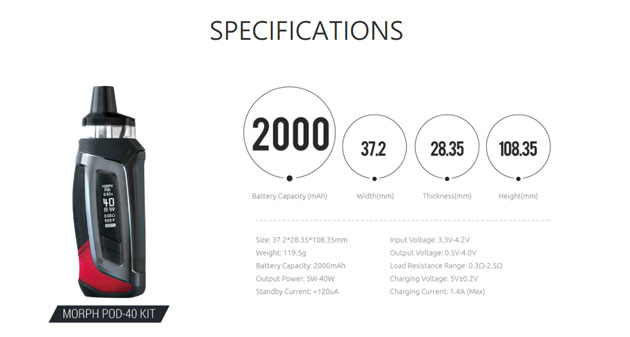 In The Box (Kit)
Smok Morph POD-40 Mod
3.7mL empty ROM pod
RPM Mesh 0.4Ω coil
RPM Triple 0.6Ω coil
Type-C Cable
User Manual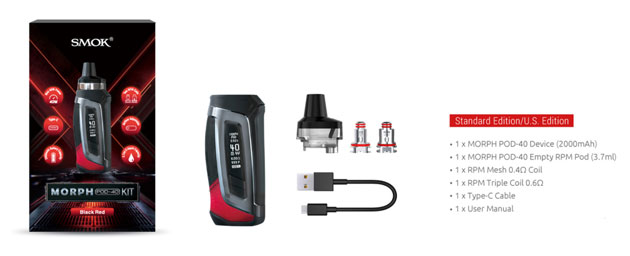 Similar Products
Total Views Today: 1 Total Views: 4,477