Here are cheap deals to buy the Smok Morph POD-80 or Smok Morph S Pod-80  kit at a low price.   The difference is that the S version works with a single 18650 battery, while the Pod-80 works with a single 18650 cell.  And both kits feature 80 watts of power, 2-hour charging, 5mL pods, fast-firing response, adjustable airflow control, LP2 meshed coils, MTL, RDL, and DL-style vaping.
USA Deals
Morph & Morph S Pod-80 Mod
Inspired by the popular Smok Morph Pod-40, the new Morph S & Morph look almost identical to the preceding device.  However, the dimensions are slightly bigger, with the S slightly taller and wider than the regular version.   The shape and materials used to produce this setup also emphasize incredible ergonomics, so both vape kits are easy to grip and effortless to carry wherever you go.  And there are plenty of colors to choose from: black/green, grey, black/brown, black/red, black carbon fiber, brown, black/blue, black, and black/carbon fiber. The leather grip also looks fantastic.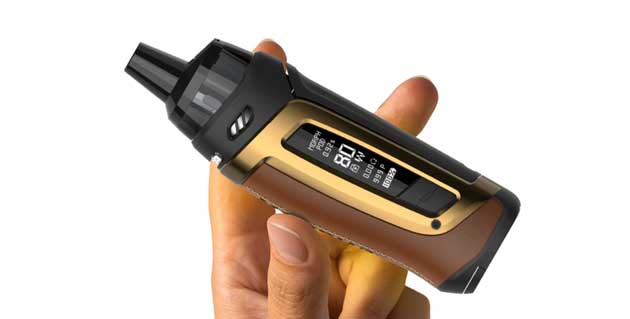 The appearance is more refined with a large fire key that spans the entire setup.  The mechanism is also more ergonomic, making it ideal whether to press with your fingers or your hand's palm.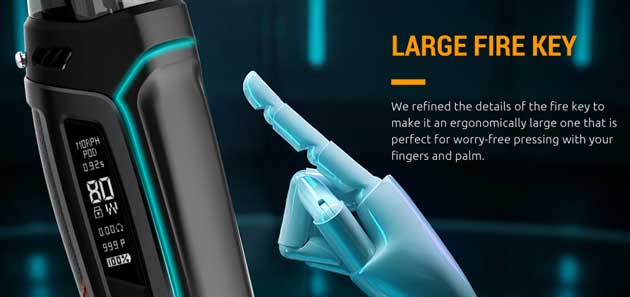 Both kits can generate up to 80 watts of power, adjustable via a monochrome display screen with vape data such as current puff time, wattage, atomizer resistance, puff counts, and battery percentage.  However, the S uses a single 18650 battery, while the other is built with an integrated battery.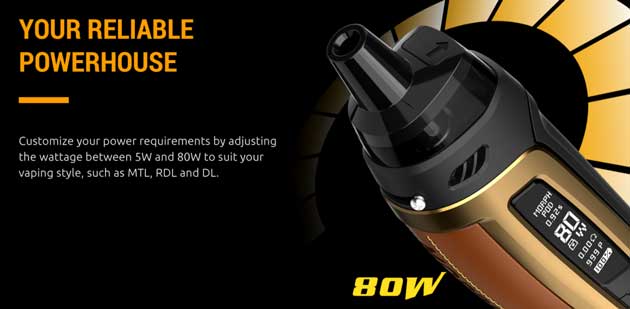 For versatility, the device's screen can have a vertical or horizontal orientation for maximum convenience and crystal-clear observance of vape data.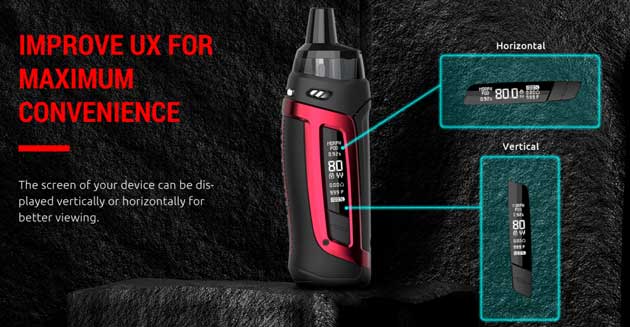 Charging is easy, thanks to a USB port underneath the fire key.  This USB-C interface utilizes a 1.5 amp current to complete the charging process in about 2 hours.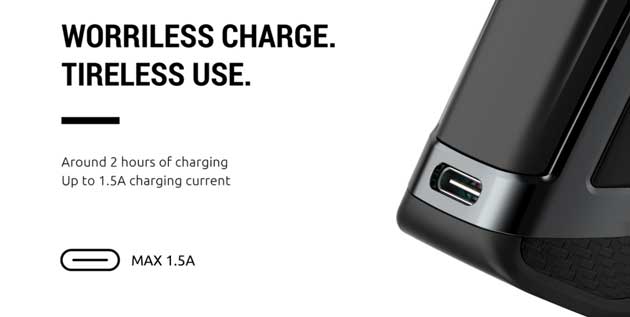 In addition to permitting 80 watts of power, both pod systems fire almost instantaneously, within just 0.001s.  This means vapor will hit your mouth as soon as you engage the device with tons of flavor from start to finish.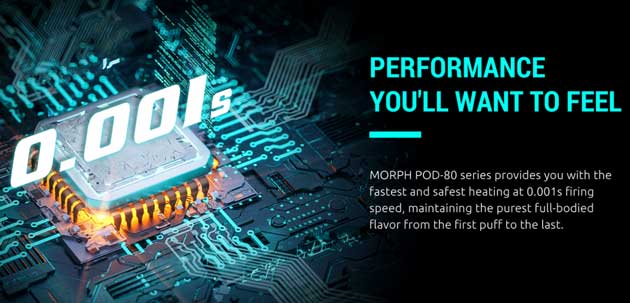 Finally, the mod is safe due to reliable protections preventing risky operations.  These include high temperature, short circuits, low voltage protection, an 8-second cutoff function, and the ability to recognize the coil inside the atomizer.

Morph S & Morph Pod-80 Kit
If you buy the kit, you'll receive an LP2 Pod holding 5mL vape juice and an effortless refill system.  To access the e-juice port next to the mouthpiece,  lift the plug and inject e-liquid.  If the coil is new, let the cotton saturate for about 3 minutes before puffing.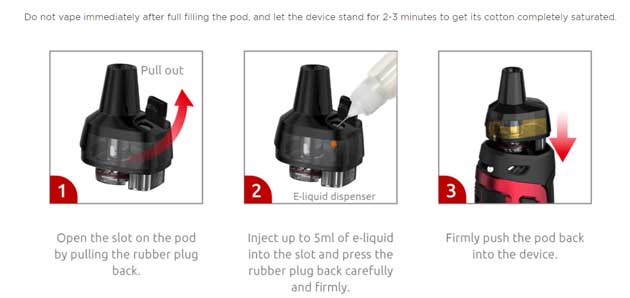 While we are on the subject of coils, both utilize LP2 meshed coils, two of which are included.  The first is the leakproof LP2 0.23ohm mesh coil which features DTL-style vaping and works between 20 and 45 watts.  Or, you can use the leakproof LP2 meshed 0.4ohm version of the coil, which features smooth flavor at 25 watts of output.  If you prefer an MTL-style vape, you can optionally buy the LP2 DC 0.6ohm coil with dual coils that work from 15 to 25 watts.

Another important aspect of the Smok Morph and Morph S Pod-80 is the leak-resistant design that utilizes 3 silicone rings to stem any unwanted juice flow from the coils.  These coils use a push/pull installation process, so you won't get your hands messy when swapping out the head.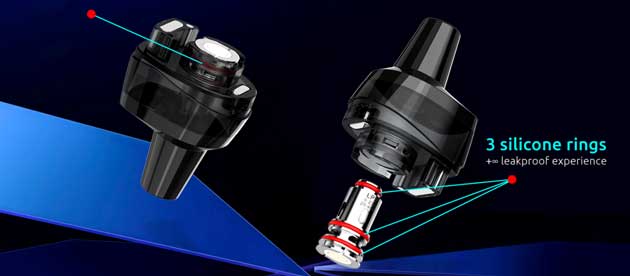 Also important to note is that the pod is held in place by extremely strong magnets, so no matter how hard you shake the kit, it won't move around or make a friction sound.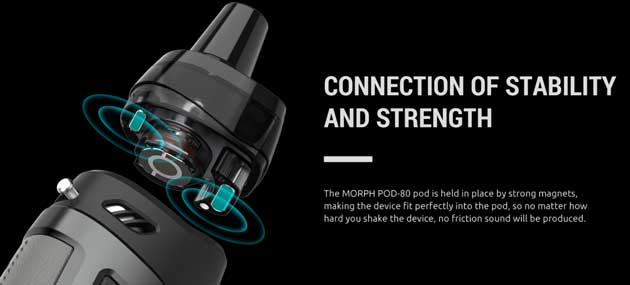 Finally, you can adjust the airflow to the pod via a physical slider at the top of the mod that permits a  DL, RDL, or MTL setting.  While adjusting the airflow was more difficult on previous Smok vape kits, this toggle-style switch won't be frustrating.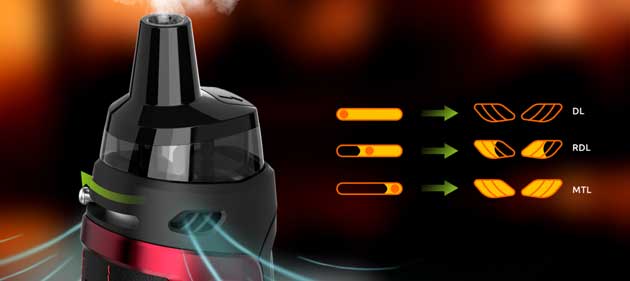 Features & Specifications
Smok Morph Pod-80 Kit
Size: 39* 30* 113.9mm
Weight: 133.59
Output Wattage: 5W-80W
Battery Capacity: 3000mAh
Standby Current: < 1000A
Input Voltage: 3.3V-4.2V
Output Voltage: 0.8V-4.1V
Resistance Range: 0.150-2.5092
Charging Voltage: 5V+0.2V
Charging Current: 1.4A (Max)
Overcharge Voltage: 4.3V+0.05V
Over-discharge Voltage: 2.4V+0.05V
Overcharge Current: 2A+0.6A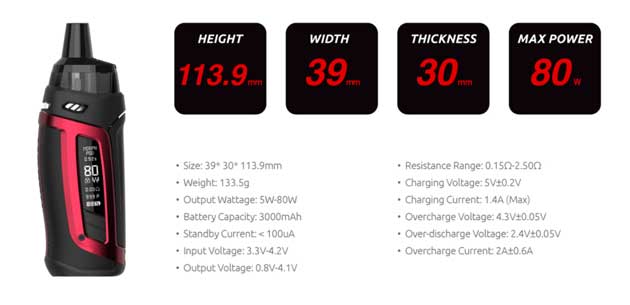 Smok Morph S Pod-80 Kit
Resistance Range: 0.150-2.5022
Charging Voltage: 5V+0.2V
Charging Current: 1.5A (Max)
Size: 39.50* 29.9* 123.35mm
Weight: 105.59
Output Wattage: 5W-80W
Standby Current: < 1000A
Input Voltage: 3.3V-4.2V
Output Voltage: 0.8V-4.1V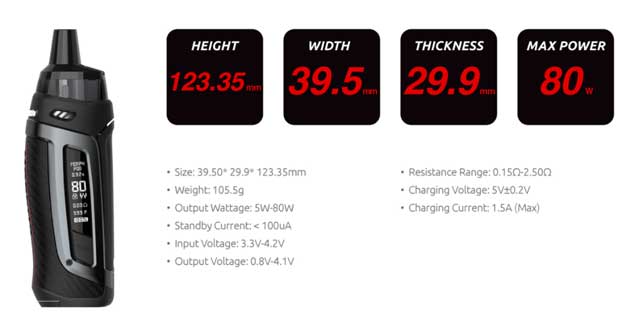 In The Box (Kit)
Battery Mod
LP2 Pod
LP2 Meshed 0.23Ω DTL coil
LP2 Meshed 0.4Ω  coil
Type-C Cable
User Manual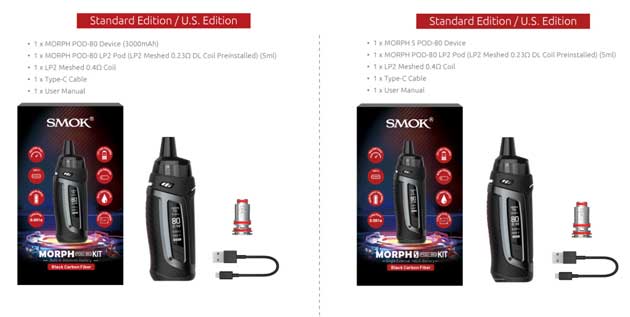 Total Views Today: 1 Total Views: 4,231