Here are cheap deals to buy the Smok Nord 2 at a low price. This is the upgraded version of the Smok Nord Pod System. With this update, Smok has improved the integrated battery capacity from 1100mAh to 1500mAh, and the pods can now hold up to 4.5mL of e-liquid for all-day vaping without a recharge or refill.  Additionally, the Nord V2 features a mesh sub ohm coil, an MTL coil for nicotine salt vaping, an RBA option, upgraded software, new finish colors, 40 watts of adjustable power, fast 2 amp charging, a 0.69 OLED screen, and a plethora of safety features.  Just released: the Smok Nord 5 Kit.

Deals
USA Warehouse

$19.49

| CN-SZ Worldwide Shipping Warehouse:

$18.49

  Use coupon code  Nord2k  at checkout
Breakthrough Upgrades
The integrated chipset inside the Nord 2 allows for more power and incredible performance. Plus, the pods have been updated to hold 4.5mL of e-liquid.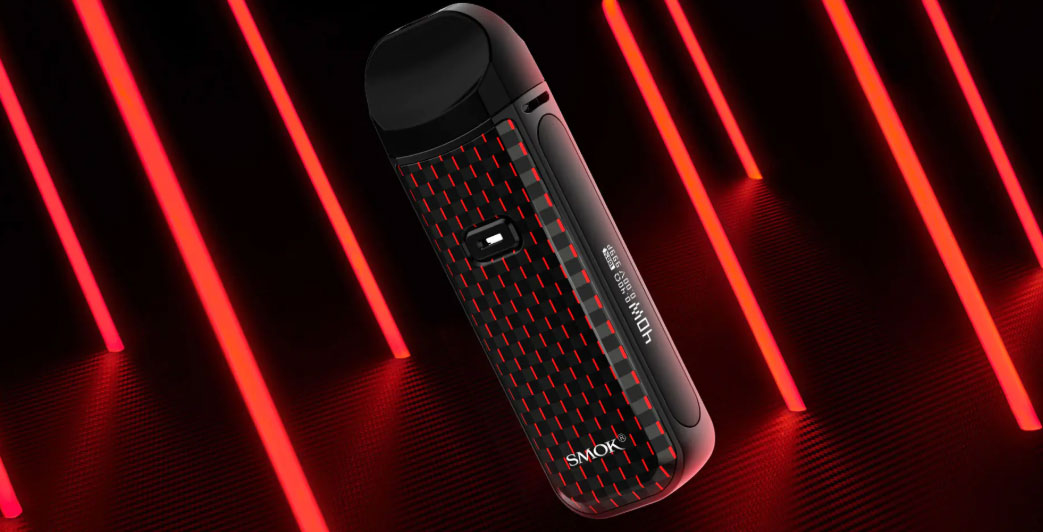 0.69 Inch Display
Operating the Nord 2 Kit is easier than ever, thanks to a 0.69-inch OLED display on the side. Whether you are a beginner or an expert vaper, accessing information and making adjustments is effortless.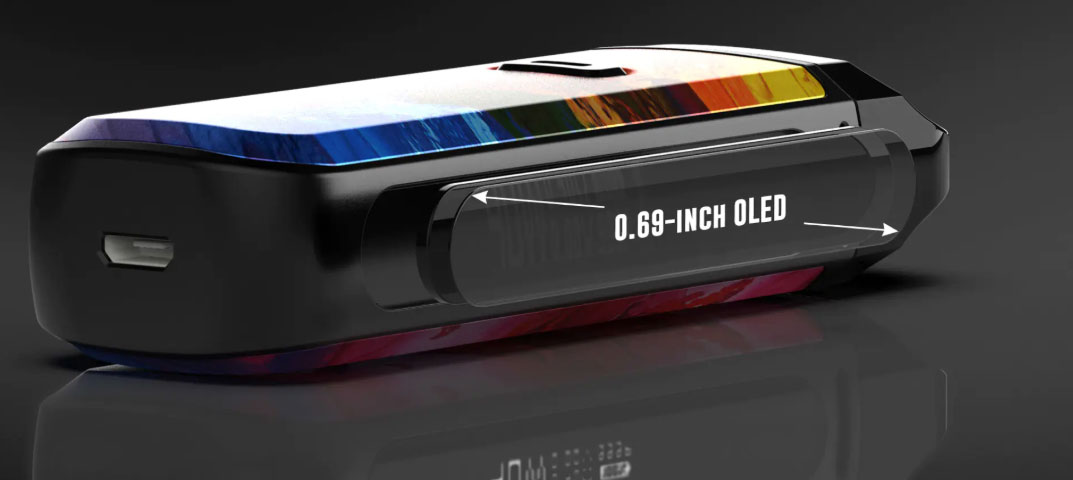 Variable Wattage Settings
Unlike many other pod systems in the vape marketplace, this device allows for wattage adjustments of 1 to 40 watts. To change output, press or  the power button 3 times, or you may also push and hold it for faster adjustments.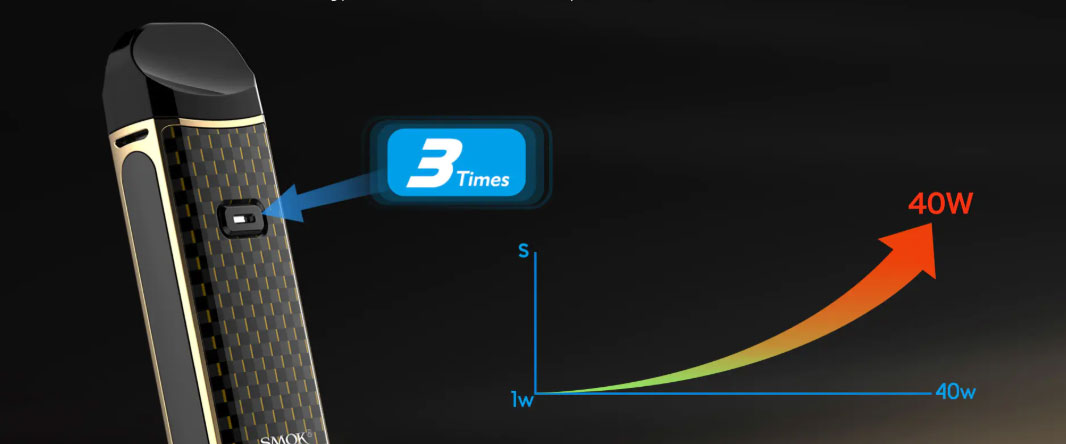 Nord Versus Nord 2
The Nord 2 is slightly larger than its predecessor but weighs less. The new device also has 400mAh of additional battery capacity, 35 watts more power, and another 1.5mL of e-juice. And the charging current has been improved to 2 amps.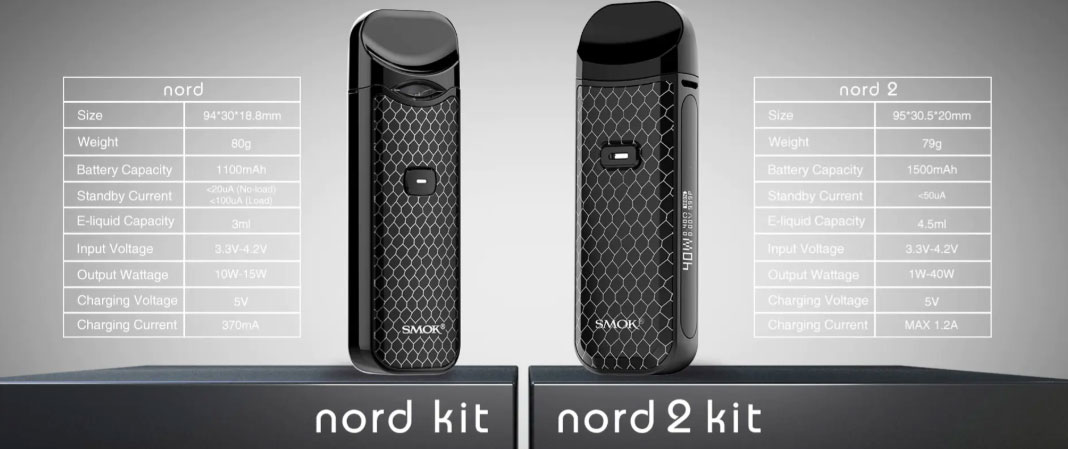 Pods
The Nord 2 package has two pods that work with a wide range of coils. These cartridges have been marked with their name on their rubber plug to avoid confusion.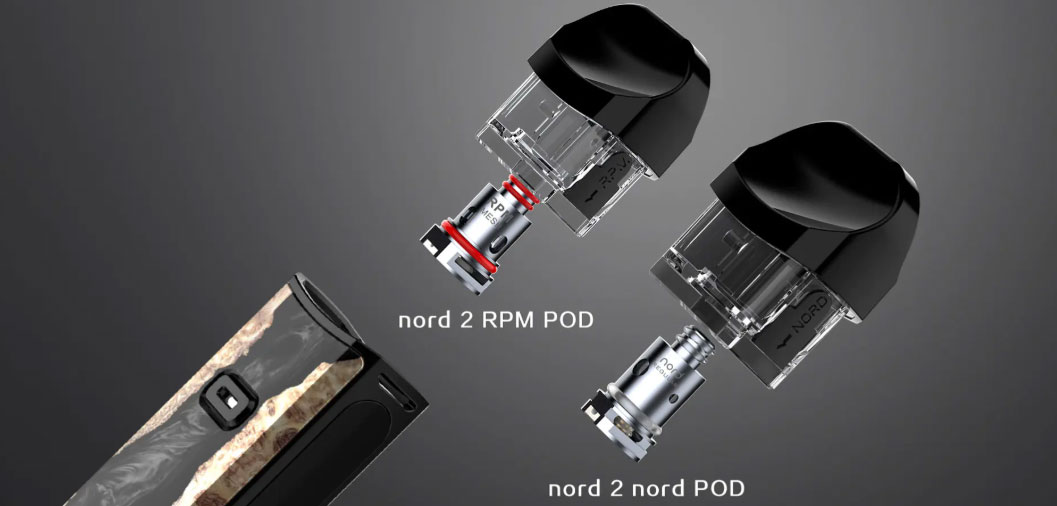 RPM Pod Coils
The RPM cartridge comes pre-installed with the Mesh 0.4ohm coil, producing the best possible flavor,  fast heating, and 25 watts of power. This particular head should only be used with standard e-liquid to avoid nicotine poisoning. Other options include the Triple coil 0.6ohm (flavor & vapor, 25W), the Quartz 1.2ohm coil (pure flavor, fast heating, 12W), the SC 1.0ohm (intense vapor, dense vapor, 14W), MTL mesh 0.3ohm (mouth-to-lung, massive vapor, excellent flavor, long lifespan, power efficient, 15W) and DC 0.8ohm MTL coil (mouth-to-lung, fast heating, dual wicking, huge vapor, quality flavor, 16W). There is also an RPM RBA for coil-building enthusiasts.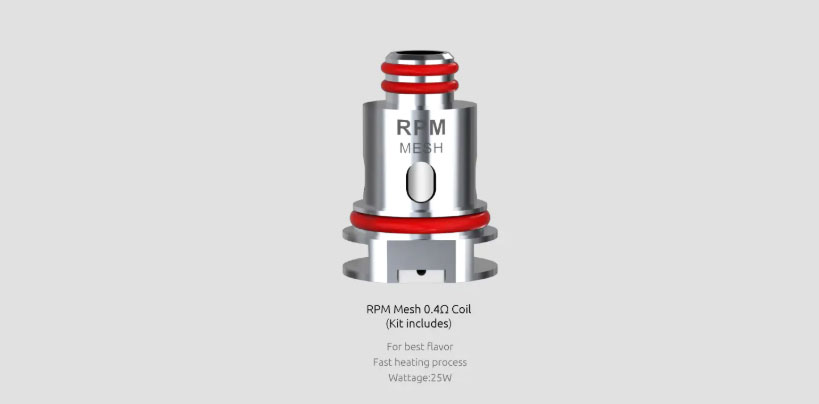 Nord Pod Coils
The kit includes the Nord DC 0.8ohm MTL coil built with dual MTL vaping coils. This head features a large surface for fast heating, 2mm inner holes for amazing coil saturation, huge vapor, quality flavor, and 16 watts of power. Other Nord coil options include the Mesh-MTL 0.8ohm coil (mouth-to-lung, huge vapor, longevity,16 watts of power), Regular DC 0.6ohm (fast heating, intense flavor, 20W), Mesh-MTL 0.8ohm (mouth-to-lung, huge vapor, intense flavor, longevity, 16W), Nord 0.6ohm Mesh (sub ohm vaping, massive vapor), and Nord 1.4ohm (mouth-to-lung, high vapor concentration, mouth-to-lung).
Charging Status Display
When you plug in the Nord 2 to top off the integrated battery, the display screen will show the current battery percentage and the estimated time for the charging process to end.

Intelligent Safety Features
To ensure a safe vape experience, the Nord 2 features low voltage protection, short circuit protection, and 8 second cutoff. And the mod also automatically detects which pod and coil are installed to operate correctly and with the right settings.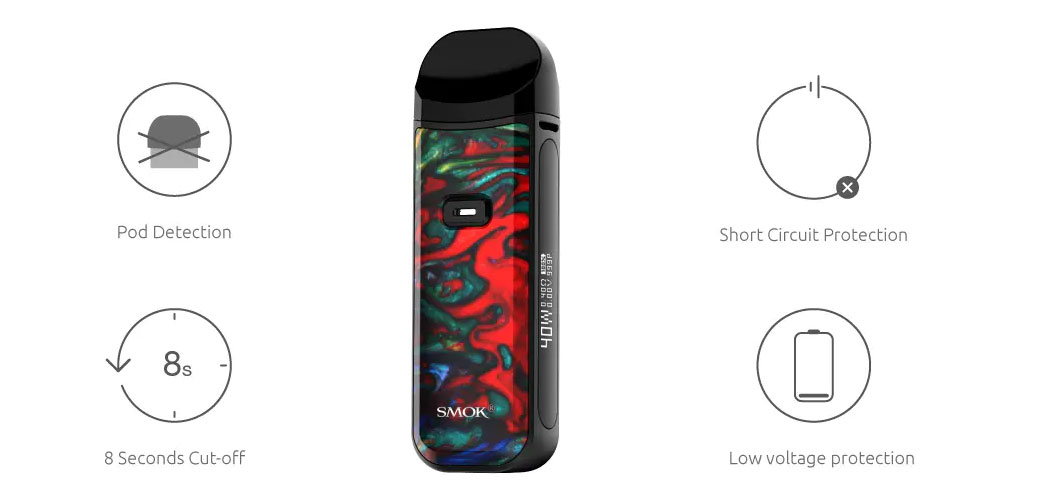 9 Color Options
This kit can be purchased in the following colors: red, black cobra, 7-color, gold, 7-color cobra, white cobra, 7-color resin, black stabilizing wood, and red stabilizing wood.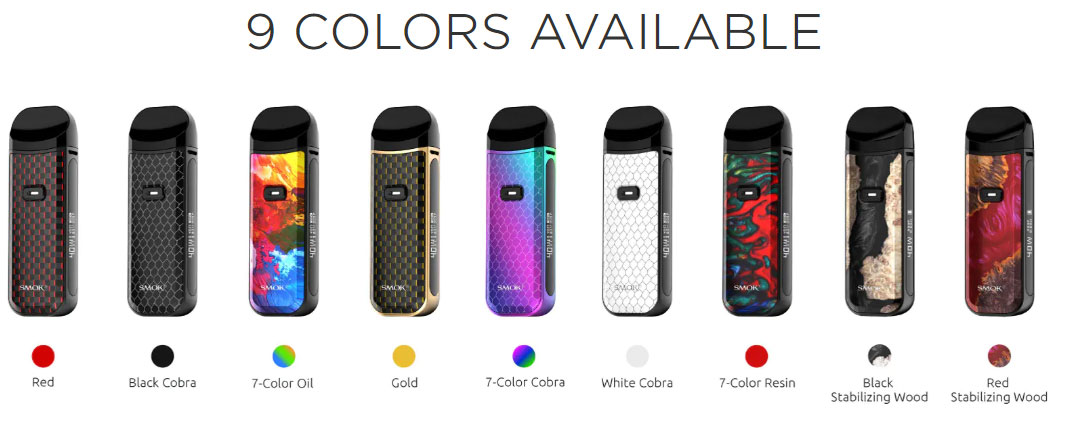 Features & Specifications
The pod mod measures 95mm x 30.5mm x 20mm and weighs 70 grams making it easy to transport. The output range is from 1 watt to 40 watts, and power is gained from a powerful integrated 1500mAh battery which is recharged via a fast 2A micro USB interface. The mod has a resistance range between 0.3ohm and 3ohm.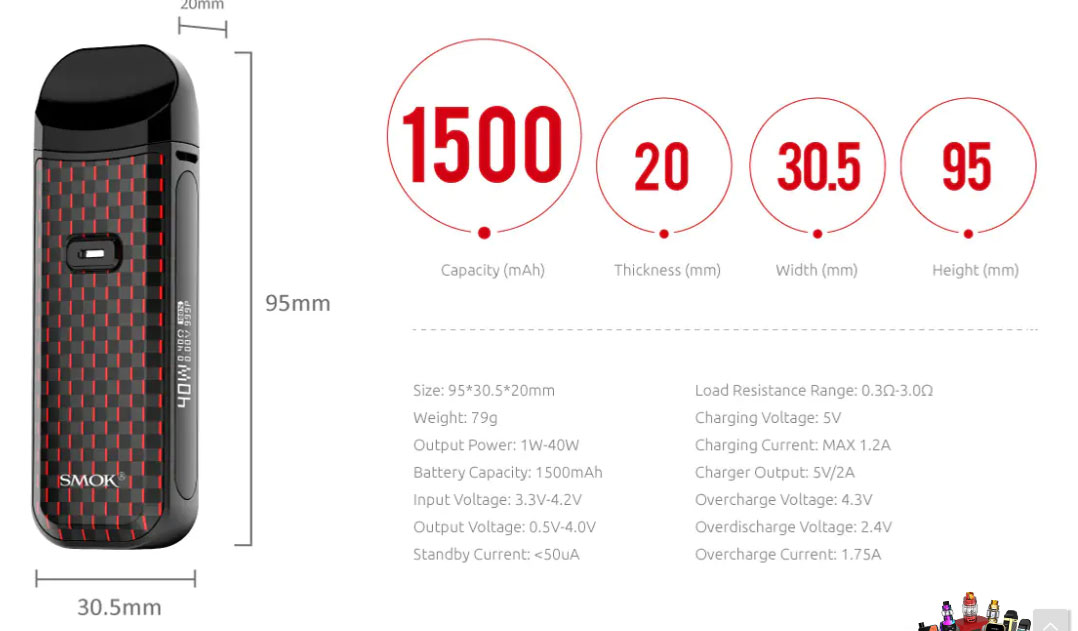 In The Box
With your purchase of the standard edition, you will receive the Nord 2 Device, an RPM Pod with RPM Mesh coil, a Nord Pod with DC MTL coil, a USB charging cable, and a manual.

Similar Smok Pod Kits
Total Views Today: 1 Total Views: 6,738